In 2017 we have seen some fantastic smartphones from various OEMs, while some of them were ground-breaking while other's just followed their previous path and just made some small yearly upgrades. We have already reached an era where there's very little room remaining for improvement, and only incremental changes and gimmicks are possible for the future. However, we can expect something different from these OEMs to bring their concepts to life as everyone is still looking forward to that all screen true bezel-less phone.
And in this post, we'll talk about all such possibility in the world of smartphones and what the upcoming future beholds for us tech-savvy as well as regular consumers. Here're the top upcoming smartphones you should be waiting for in 2018, and we have compiled a mix of Android as well as phones from Apple and Microsoft. So, there's something for everyone be it Android fans or Microsoft or Apple followers.
Samsung Galaxy S9
Kicking the list is the none other than the Samsung Galaxy S9, which is what first everyone will be looking at in 2018. And there's some good news as well as bad news, this era of the Galaxy will follow just some incremental changes, won't be experiencing any ground-breaking tech upgrades in the next Galaxy S9.
However, what you must expect is a much more refined version of the Galaxy S8, and Samsung is also rumored to bring back the mini variant, and in total there'll be three variants of the Galaxy S9; the standard one, a plus and the mini version. And the most notable changes apart from screen sizes will be seen on the Plus variant sporting Dual-Camera's, while the latter two versions will have to settle with just a single shooter.
We have a complete post talking about the Galaxy S9 and the Galaxy S9 Plus so you can check it out about it everything at one place, it includes all the rumors and leaks we have spotted in the last couple of weeks. From benchmarks to cad designs, you got it there.
Google Pixel 3 and Pixel 3 XL
Image Source: gallery.gizbot. Com | Image Courtesy: theleaker. com
Next up is from Google's camp, that's the Pixel 3 and the Pixel 3 XL. 2017 was a year full of hick-ups for the Pixel 2 as the device had many small issues and Google had to release more than two statements for the same in just one week. So, this just indicates, that no matter what big you score on DxO-Mark, if it can't nail the basic build quality right at a flagship price, you're just doomed.
However, next will again everyone will jump on the Pixel hype train as this time around Google has more than 2000 engineers from HTC, under the ex-President of Motorola, working on the Pixel 3, and after the Pixel 2 XL issues, they might drop LG completely and just focus on what they got.
On the specs, you expect a Snapdragon 845 4GB/128GB and 6GB/256GB RAM and storage options, and if you're thinking about Dual-Camera's, then it may or may not happen. As Pixel does all those things that everyone does with dual-sensors, sure you won't get the 2x lossless zoom and the wide-angle, but these are highly possible in the upcoming Pixel 3/ Pixel 3 XL. Moreover, in the next Pixel 3, we'll see substantial use of AI and dedicated processors being used for each distinct function.
Possible Specs and Features
Neural AI and Camera processors
Dual-Cameras
New design language
And it will be running on the latest Android Oreo 8.2 or might debut with Android P(Pancake?) 9.0. For now, the rumor mill has nothing for us about the Pixel 3 or its larger variant.
Motorola Moto Z3 Force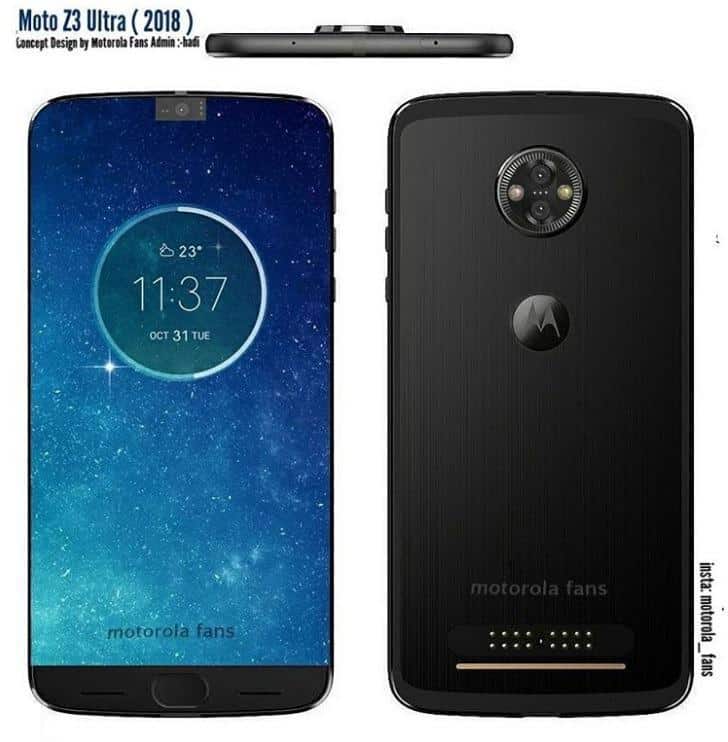 One of the most innovative and modular phone on the market the Moto Z series is an interesting series of smartphones, it has a shatter-proof display, and it also lets you customize the look as well as the functionality of the phone with the use of its modular accessories which are known as Moto-Mods. The Moto Z2 Force was a nice phone, but due to its decision on down-sizing on a battery! Made, it somewhat of a controversial phone to consider.
However, Motorola has learned from this, and we are expecting the Moto Z3 force to have a larger battery and continue the modular trend, which means the design dimensions will remain the same, but Motorola will add in various antenna designs to make it look different.
On the front, Motorola this time have to have the new 18:9 aspect ratio, but here're some problems in doing so. All the phones sporting the 18:9 display have their fingerprint scanner at the rear, but Moto Z series can't place them on the rear because that's where the Moto-Mods will be attached. The only are now remains the front and the side, unless Motorola decides to implement it under the display. Which then again might sacrifice the shatter-proof display tech?
Now talking about the shatter-proof display on the Moto Z, Motorola has filed a patent for a self-healing display! This display can repair by itself as soon as it detects cracks, now that's some mind-boggling stuff right there. You can read about it in detail here.
Possible specs and Features
18:9 display Self-healing display
New Moto-Mods DSLR Mod, HQ speaker mod, Physical keyboard mod and more
Larger 3500mAh battery with Quick charge 4.0+
New Moto actions and Amazon Alexa integration
Furthermore, here are some leaked upcoming Moto-Mods for the Moto Z family!
LG G7
Next up on the list is the LG G7, and in 2018 we'll again see Samsung being the first OEM to use the Snapdragon 845 for a couple of months exclusively. So, this time LG might wait for a few weeks and won't just release the G7 with a Snapdragon 835, the G6 fell into that trap, but this won't.
It's kinda tough for the G7 to stand out as its cousin from the V series always overshadows it, anyways new leaks about the LG G7 shows a new bezel-less design which looks inspired a lot from the Essential phone. We have a top-notch design here, but interestingly, if you look at the first render, it seems like LG's about the bring back the secondary display again? And is being used for some quick essential short-cuts, in-around the notch.
However, now in the second image, you can see the slant lines expanding through the display, and also going into the notch area, which explains that the short-cut keys area around the notch are software and isn't a secondary display, it's just mimicking it. And the giant circular front camera is coming inside the screen just like the essential phone.
Moving further, this will also feature dual-camera, and we can see this time with a telephoto lens and the same wide-angle lens.
Possible Specs and Features
True Bezel-less screen
Dual-Camera (Tele-photo + Wide-vision)
Flexible display?
The renders could also end up being a design of LG V40 if we don't see it on the LG G7.
Apple iPhone X and iPhone X Plus (2018)
The iPhone has already reached and passed its most fundamental change, and the successor to the iPhone X will be just an incremental update, just like the S versions of the iPhone 6s,7s, and 8s. So, a new chip like an A12 is not possible, but we could see the iPhone 8 's standard variant to stay on an LCD. However, the Plus variant is rumored to sport an OLED display, just like the iPhone X, a huge 5.9-inch display is highly possible. Because new reports from Top apple insiders point out that there will be two variants of the iPhone X with the Plus variant being the new member with its huge 6.4-inch display, both will have OLED displays of different sizes.
Apart from that, AR will be the big focus in the next coming months and so will be AI enhancements, on the upcoming iPhone. Most probably we could see the bezels around the iPhone X shrink a little bit more but other than that Apple won't be changing much in the next iteration of the iPhone 11.
Again, the device will be priced similarly to its predecessor, that's $1000 or more for the base variant.
OnePlus 6
The OnePlus 5T was just recently launched, and here we're talking about the OnePlus 6, which anyway let's try to speculate something about this one. The upcoming OnePlus 6 will step into the true bezel-less display era because we have seen the 5T jumping into the 18:9 bandwagon. Other than that, One Plus will improve upon its camera, as the flagship killer was never able to go head to head with the likes true flagships. In some previous renders, we have seen a vertically implemented camera cluster similar to the iPhone X.
Moreover, the company isn't shy about cloning other OEMs designs, so a One Plus with a similar curved display like the Galaxy S8 isn't such as bad thing at all. Lastly, the company might bump up the resolution of the 6th iteration up to Quad-HD, because since the launch of the One Plus One all we have seen is a 1080p display.
The things that fans want is a micro-sd card slot and water resistant for One Plus to bump up the price with the One plus 6 in 2018. As far as the price is concerned here, you can expect One Plus 6 could start from $549 and goes up to more than $600 for the top of the line variant.
Nokia 9
HMD's has been taking care of Nokia and the company this year launched its first proper flagship device, but it disappointed most of the crowd, and the device didn't have anything going on for it except the bothie gimmick, and certainly, HMD learned that playing the Nostalgic card isn't going to help it anymore. However, the device didn't disappoint in term of pricing as it was priced very aggressively. We already have the flagship killer One Plus in that range.
So, now all the burden is on the shoulder of the upcoming Nokia 9, and from the early renders spotted online, we think this is going to be a profoundly premium device. What we got here is an edge-to-edge curved display, which isn't bezel-less, but looks just right. The rear has the same story, curved side edges and it looks made up of glass.
On the specs front a Carl-Zeiss lens with Dual-Camera setup, and a rear-mounted fingerprint reader, because the display takes up all the front area. Other than this a killer Audio feature(Hi-fi Audio Dac/Dual Stereo Speakers) along with stupidly premium build-quality will make it stand true to its Nokia DNA.
Early reports point out that HMD will launch the device in early Jan 2018, alongside the Nokia 8 2nd Gen(2018 edition), pricing is expected to be around $600 to $700 bucks.
Xiaomi Mi 7
One of the most under-rated flagships are from Xiaomi, and the Mi 6 was a decent device but didn't saw a light in countries other than from mainland China. But Xiaomi can change that with the Mi 7, the device could take some of the design cues from its futuristic-looking cousin that's the Mi Mix 2 and go Bezel-less, and that's what every flagship will do next year, and also stuff in the highest specs possible in 2018.
A new take on MIUI making international users switch between Stock Android and MIUI. However, Xiaomi like many other Chinese OEMs namely Vivo could be the first to implement the highly desired under the display fingerprint reader and amaze everyone in the mobile industry.
The device will have all glass and stainless steel construction according to a Chinese source and is reported to also include AI (Artificial Intelligence) in its upcoming flagships at the World Internet Conference in Wuzen, China, And could be seeing its first AI glimpse in the Mi A1 Smart Speakers.
Galaxy X: A Flexible Dream
The last curved phone we saw from Samsung was the Galaxy Round back in 2013, which was not flexible but a curved phone. Another such application was fro LG with their LG G Flex, and Lenovo is also working on a flexible device. However, Samsung is also not very behind, and this year we have seen some substantial leaks about a possible Galaxy device which is bendable from the center.
And Samsung GALAXY X in Q3. 🙂

— 萌萌的电教 (@MMDDJ_) March 29, 2017
Moreover, an infamous leakster from China also pointed out a that a phone named Galaxy X could launch in Q3 2017? Or in 2018. And now the name Galaxy X is associated with a bendable phone, whose tech patents were spotted by SamClub and they look entirely legit.
A bendable device's support page was also spotted on Samsung's site once, and when asked about the same, the company's responded by saying that they are intended to release a bendable device in 2018 and is the most likely thing ever that makes us think that, a Galaxy X bendable phone will happen. Even though we'll be seeing a 1st Gen product. A 2nd Gen because a bendable display is already present on the Galaxy S8 with its display bending at the edges!
Microsoft Surface Phone
With the death of Windows Mobile, there's a new question in town, and even if a Microsoft Surface Phone happens on what OS will it run on is still a mystery. Microsoft's CEO now uses an Android Phone, so it Android could be the future? For the next Surface Phone. The device has been leaking in various avatar since two years now, and the latest spot of the week is now a foldable device, the patent aims at giving MS exclusive rights to use this hinge design for its next mystery device.
Microsoft, hás brought or we can say perfected some vital technologies such as the Continuum was a souped version of Motorola's Lap-dock concept, which now Samsung has its version called Dex. So, MS is also an essential player in the smartphone world, similar to Apple and Motorola; these OEM needs to exist to bring that revolution which other OEMs just won't be able to bring. Let's see if the Surface phone happen or not, or this is only a handheld version of the surface book? We'll find out all of these and everything mentioned above in 2018.