What is TutuApp? – If you are not a tech junkie, you might be wondering what TutuApp is. Tutuapp is a third-party app installer that helps you download tweaked or modded apps and games for free on your iOS and Android devices. TutuApp is considered one of the best alternatives to the Google Play Store and Apple App Store. With over 5 million users and downloads worldwide, TutuApp is the most trusted third-party app installer for iOS and Android platforms. In addition, users can download apps with premium features for free. Usually, one has to pay the price to get those features if they download the apps from the official App Store or Google Play Store.
TutuApp is self-proclaimed. THE BEST IOS HELPER EVER. In some regions, it is also known as Tutu Helper as it lets you download all the premium apps and paid apps for free on iOS, Android, and PC. Now, if you are wondering what you would need jailbroken or rooted device to download this app, let us inform you that developers of the TutuApp have made this app in such a way that you can download and install TutuApp without jailbreak your iPhone/iPad and without rooting your Android phone. It is compatible with iOS 8.0 and later versions of iOS. In Android, it supports the latest versions of Android released after Android 4.0.
TutuApp is a similar app installer like iOSEmus, AppValley, and Emus4U, but it is a dedicated alternative app store for iOS and Android. Since other app installers are web page-based whereas, TutuApp is a complete App Store. TutuApp provides a platform where you can download modded hacked games and apps for free. You can also download the tweaked and patched version of the free available applications. As we told you earlier, it works smoothly without jailbreak. It is said to be one of the best Cydia alternatives for iOS devices. Some of the best apps available on the TutuApp are PokeGo++, Snapchat++, Spotify++, Clash Royale Hacked.
Users can get TutuApp VIP membership, an offering by the developers of the app. With this TutuApp VIP membership, users can enjoy additional features like the priority to play new games. First, exclusive games and apps for VIPs and no annoying ads pop up. One can opt for Tutuapp VIP from its official website for $12.99/Year. So here, in this article, we will show you how to download TutuApp for free on iOS and Android phones, and you will also find how to get TutuApp VIP Membership.
TutuApp Features: The Best App Store Alternative
Fast and stable

– TutuApp is a dedicated app installer with its interface, so it is fast and stable compared to other alternatives.

No Jailbreak/No Root –

To download the hacked games and apps from TutuApp, you don't require jailbreak iOS devices or rooted Android Phones.

Global Apps

– It offers all the apps, whether the government has blocked them in your region.

Rating Option –

Just like the Apple App Store and Google Play Store, users of the TutuApp can give ratings to the apps, so other viewers can get to know which download option is trustable.

Multiple Device Support

– TutuApp supports almost every latest device.

Android users share active Community – All cracked and tweaked apps

all across the world.

Get access to

hacked and tweaked apps & games for free

and

download paid apps for free on Android and iOS.
TutuApp VIP
Users can opt for TutuApp VIP membership for $12.99 per year to enjoy the under-described features.
No Ads –

Free version contains ads, so if you don't want to go through the annoying ads, the TutuApp VIP is an option.

Priority to play newly released games –

TutuApp VIP Membership allows you to play newly released games and apps before any other users.

Exclusive games and apps

– Some tweaked and hacked games & apps are exclusively available for VIP members.
*Note*
To register for TutuApp VIP Membership, you must have to create an account on TutuApp for free. We will give a detailed walkthrough in the article's following topics on how you can get a TutuApp VIP Membership.
How to Download and Install TutuApp or Tutu Helper on iOS
TutuApp is an excellent App Market alternative for iOS and Android OS. As in the preamble and features, you might have to get that TutuApp is the best app installer service where you can get thousands of tweaked, hacked, modified, patched, and other payable apps for free. You can download many tweaks for the iPhone and iPad without Cydia. So don't worry and save some money in your pockets to buy pizzas and learn how to get premium featured tweaked apps for free on iPhone/iPad, and use TutuApp to install paid apps of iOS App Store at zero cost. Here is the step-by-step guide to install TutuApp on your iOS devices.
Step 1 – Open the given link on your iPhone or iPad. (Safari Browser is recommended for easier installation)
TutuApp Download Link For iOS (Now no need for below mentioned steps as you can directly download the Tutuapp Installer IPA file from here, but it is also recommended that you first visit the below-mentioned website for the latest version of the Tutuapp IPA file).
Installer. ipa Website link.
Step 2 – Tap on Install Showed in the green color on the webpage (After fully loading the page)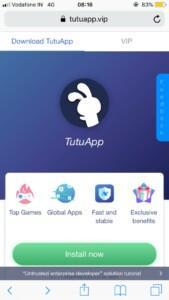 Step 3 – Now click on the Install icon shown in the next popup window screen.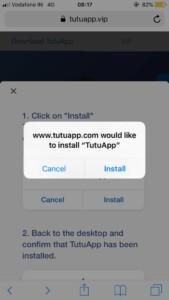 Step 4 – Wait for 2-3 minutes to download the app; after complete download, you will find it on your iOS device Home Screen.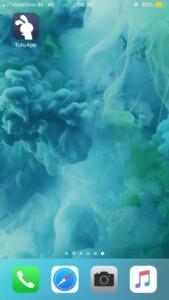 Step 5 – Click on the app to open, and you will get the prompt shown in the below image.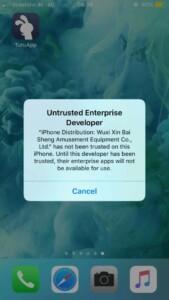 Step 6 – To grant permission, open 'Profile & Device Management' in 'General Settings'.
Step 7 – Here, under "Enterprise Apps," you would find the developer's name; tap on it to open.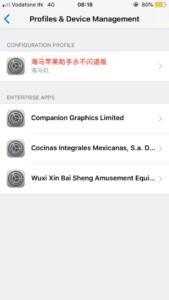 Step 8 – Click on Trust "Wux Xin Bai Sheng Amusement Equipment" shown in blue to grant permission.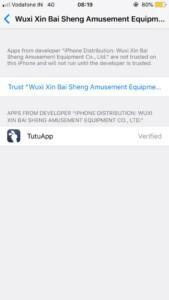 Step 9 – At last, you will get a prompt window. To complete the process, click on "TRUST."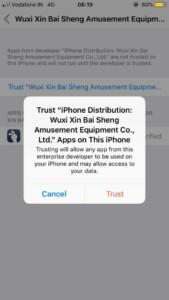 Step 10 – Open the TutuApp to access the vast world of free Apps.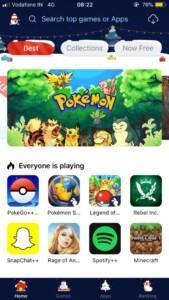 How to Download and Install TutuApp APK on Android Devices
TutuApp is officially available for both iOS devices and also for Android devices. So TutuApp has become popular amongst both platforms. Android users can get their hands on the patched versions of Android paid and free applications only available on the Google Play Store. Some iOS apps are also compatible with Android devices, and the user can use them in their home. So read and learn to get the TutuApp APK installation process for Android phones.
Step #1 – Download the TutuApp APK from the below-given link.
TutuApp APK Download For Android
***First, you must enable the "unknown sources" option in download settings***

Step #2 – Find the APK in the File Manager app and tap on the file to start the installation.
Step #3 – Accept all the terms & conditions and wait till installation finishes. (Wait for 2-3 minutes to complete the full installation procedure)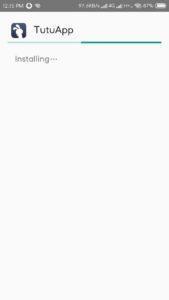 Step #4 – Now, you would find the installed app on your Android phone's Home Screen.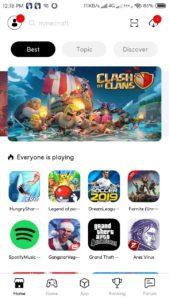 Step #5 – After all done, open and use TutuApp for Android and download paid apps and games for free on Android phones. Get free tweaked and patched games on Android at zero cost.
How to download TutuApp on PC Windows 10/8/8.1/7 and Mac
The developers have not released the official PC version of TutuApp. However, users can still download and install TutuApp on Windows PC/Mac with the Android Emulators software. After installing your preferred Android Emulator Software on your PC, follow the given process to install TutuApp APK on your Windows PC/Mac.
Firstly, install TutuApp APK on windows 7/8/8.1/10 PC and Mac. Next, you must download and install Android Emulator software on your computer. Some popular Android Emulators are Bluestacks, NoxPlayer, MemyPlay, or any of your trustable Android Emulators available in the market.
Secondly – Once, you have installed an android emulator on your computer, you can download the TutuApp APK from the given link.
Thirdly – Open the TutuApp APK file using Android Emulator and install it on PC.
Fourthly – After these steps, your TutuApp Android app would be downloaded to your PC/Laptop and Mac, and you can access its premium features.
Point to be noted: If you find any trouble or any error while installing TutuApp Apk in your iOS, Android, or PC/Mac, uninstall the complete app from the respective device and re-install it using the earlier given steps in the article.
How to get TutuApp VIP Membership
Enthusiastic users who still want more premium and add-ons features of TutuApp can opt for TutuApp VIP Membership. You can use this membership on multiple devices. The complete procedure to get TutuApp VIP is given below.
Step 1 – First, you need to create a free account on the TutuApp.
Step 2 – Open your profile and click on VIP.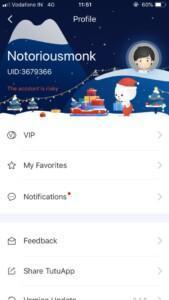 Step 3 – Next window will show you the amount payable for the VIP Membership.
Step 4 – Now, you will be redirected to the payment options like PayPal, Paymentwall, and others.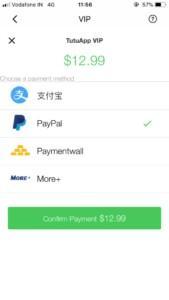 Step 5 – Pay the price and enjoy Full TutuApp VIP Membership on multiple devices.
Popular Apps and games available for free on the TutuApp
TutuApp is well designed and well-categorized app which offers thousands of premium apps and games for free. Its collection includes popular games and apps like PokeGo++, Snapchat++, Spotify++, Minecraft, YouTube++, Pixel Games Collection Clash Royal Hack, a hacked version of Instagram++, Facebook++ with additional features. And many more such apps are available on the TutuApp for free. Its collection named "Now free" shows the paid games and apps available only for VIP Members for free download for a limited time.
Farming Simulator 16 MOD
Gravity Galaxy MOD
Defense Zone 3 MOD
Panda POP MOD
Gigabit Off-Road MOD
Shadowmatic MOD
Full Pipe Adventure MOD
Township MOD
Guns MOD for Minecraft
Magicka MOD
Bloons SuperMonkey MOD
Galaxy Siege 2 mod
Car MOD for Minecraft
StickNinja smash MOD
Super SteamPuff MOD
The Y Cases: Invasion MOD
Pokemon GO MOD
Fix my car MOD
PPSSPP GOLD
Real Racing 3 MOD
Crossy Road mod
Bus Simulator 17 MOD
Stack MOD
Hot Wheels: Race Off MOD
Subway Surfers MOD
Kickerinho World MOD
Ninja Arashi MOD
SAS: Zombie Assault MOD
KINGS RAID MOD
Geometry Dash MOD
Bridge Constructor MOD
Archery Master 3D MOD
Critical Ops MOD
Hungry Shark: Evolution MOD
Hitman Sniper MOD
Pou MOD
Riptide GP: Renegade MOD
Rival Kingdoms MOD
Knots 3D mod
8 Ball Pool MOD
Soul Knight MOD
Epic Battle Simulator MOD
Dark Sword: Season 2 MOD
The Escapist mod
Rolling Sky MOD
Stickman's Legend MOD
Gummy Drop MOD
Vikings Gone Wild MOD
Earn to Die MOD
Disney Dreams Treats MOD
Sonic Dash MOD
Temple Run 1,2 MOD
Chroma Squad MOD
Pixel Strike MOD
Forge of Glory MOD
MADOSA MOD
Shadow Fight 2 MOD
Tetris MOD
Hill Climbing MOD
Angry Birds Blast MOD
Hell Rider MOD
4 Pics 1 word MOD
PIxel 3D GUNS mod
OK Golf MOD
Candy Crush Saga MOD
Tutuapp Pokemon Go HACK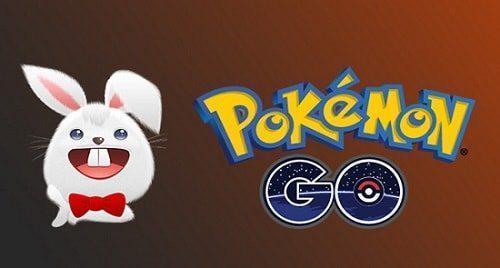 Modifying or otherwise cheating in the game with the way a player gains an advantage against others. While he plays the game, Pokemon GO is illegal and unauthorized by the game developers.
When the Developer's team discovers such players, they're banned from breaking the game rules because of unfair means. Niantic has the right to end the progress of your game and your trainer account. They can also otherwise delete your account at any time if caught.
Your account gets blocked on that phone, and you won't be able to re-access it, which will give you a permanent ban on Pokemon Go. These things don't usually occur, but you need to make sure you don't overuse these hacking and modifying methods now and then.
How does TUTU Pokemon GO Hack work?
These apps work in the background and what they do is, Spoof your location to the game. That's the mock your coordinates to the GPS using these Fake GPS and Fly GPS apps. This means when Pokemon Go receives the coordinates that are modified from the Spoofing app. So, ultimately Pokemon GO receives the modified information, and it adjusts your location in the world automatically according to the received data from the Fake GPS and Flies GPS apps.
With that said, you can be in any part of the world from the comfort of your couch. And play as if you're in Las Vegas.
With these hacks getting frequent and the developers at the Pokemon GO figuring out about this, they asked Google to fix it with an Android Security Patch Update for March 2017. Unfortunately, to again have to get this trick back to work. Here's what you have to do.
The only way you can achieve this is by rooting your Android smartphone. Then making the Fly GPS or FAKE GPS as a system App, again start using Mock locations.
Steps for the New method to get Fake/FLY GPS to work again
This process will ensure that the GPS location services are turned On and in high accuracy mode.
Step 1: Head over to the setting of your device and select Locations.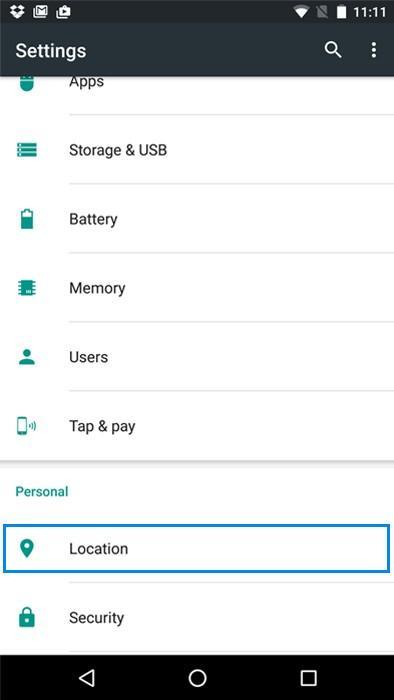 Step 2:  Tap on the "Mode" option and select "High Accuracy" to get the GPS's max location accuracy.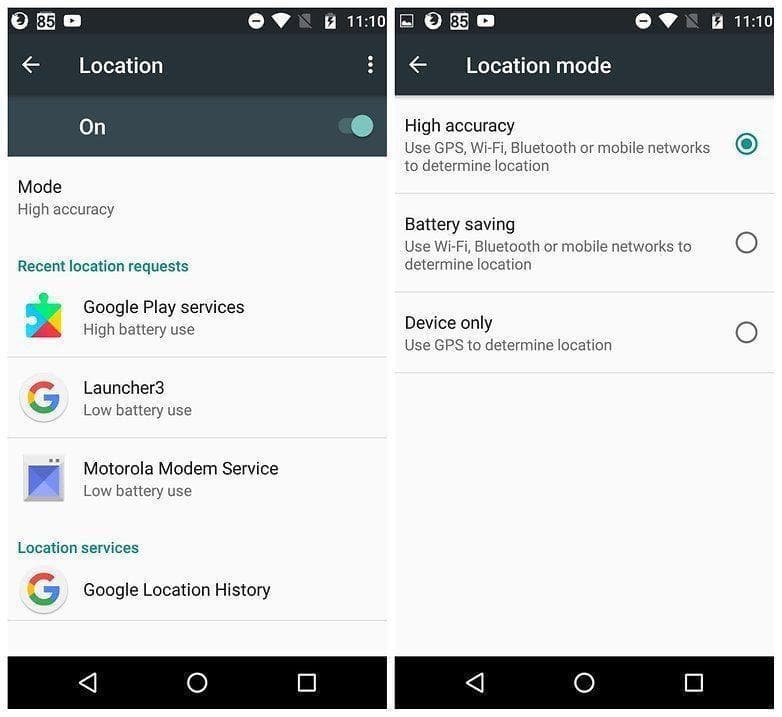 FAKE GPS/FLY GPS as a System App
Step 4: Root your device; rooting your device will help make the FLY/Fake GPS app a system app, and it will trick the GPS to mock location flawlessly. You can root your device just by heading over to XDA. As rooting each device from every other OEM is different and requires a different set of processes each time, it's not the same. You can also try KingRoot, which is a OneTap root available for all devices.
Step 5: After your device is Rooted. Now go into Tutuapp/Helper and Download the Fake GPS app from there.
Step 6: Now comes the central part of making the FAKE GPS app a part of your System App. For this, we need another app that's called the LINK2SD app. You can also get this from the TutuAPP/Helper market store. You can also get the LINK2SD Plus on the Tutuapp/Helper Store.
Step 7: Once the LINK2SD app is installed, select the FAKE GPS app and Move it to the System directory. By tapping on "Convert to system app."
Step 8: Once the app becomes a part of the system, you need to un-root the device by jumping into the SuperUser app (SuperSU), which gets installed when you root your phone. It also contains an inbuilt option to unroot your device with just one tap; use it to un-root the device.
Step 9: You can use the Root-Checker app to confirm that you're now unrooted. This action is necessary because if your phone is still rooted and this gets detected by Pokemon Go.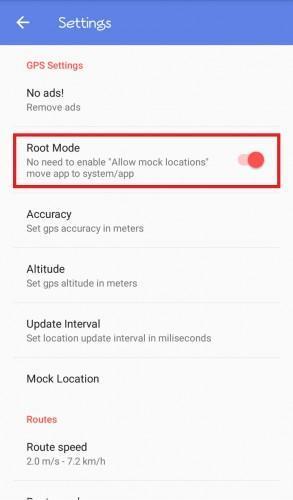 Step 10: Enable the Root mode in Fake GPS by heading over to Fake GPS GO on your device and going into "Settings." But before you do this, go and check if the "mock locations" option is disabled. Go to Settings, Developer Options, and disable Mock Locations. 
Step 11: With this, now you can spoof your location, where ever you want, with the Fake GPS app. And also, control your trainer's character with Built-in Joystick.
You can now also play your favorite Pokemon Go game with the app; with the TuTu app Pokemon Go feature, you can easily upgrade the game without paying a single penny.
Tutuapp/Tutu Helper Spotify++ on iOS 10 – No Jailbreak
Ever wanted to get the Premium version of Spotify APK? The latest is one of the most popular and best music streaming services that are trending nowadays. Or if you find Apple Music bland and boring. This method is straightforward. As it only requires one App, and that is the TutuApp store. Here's you can get it on TutuApp for free.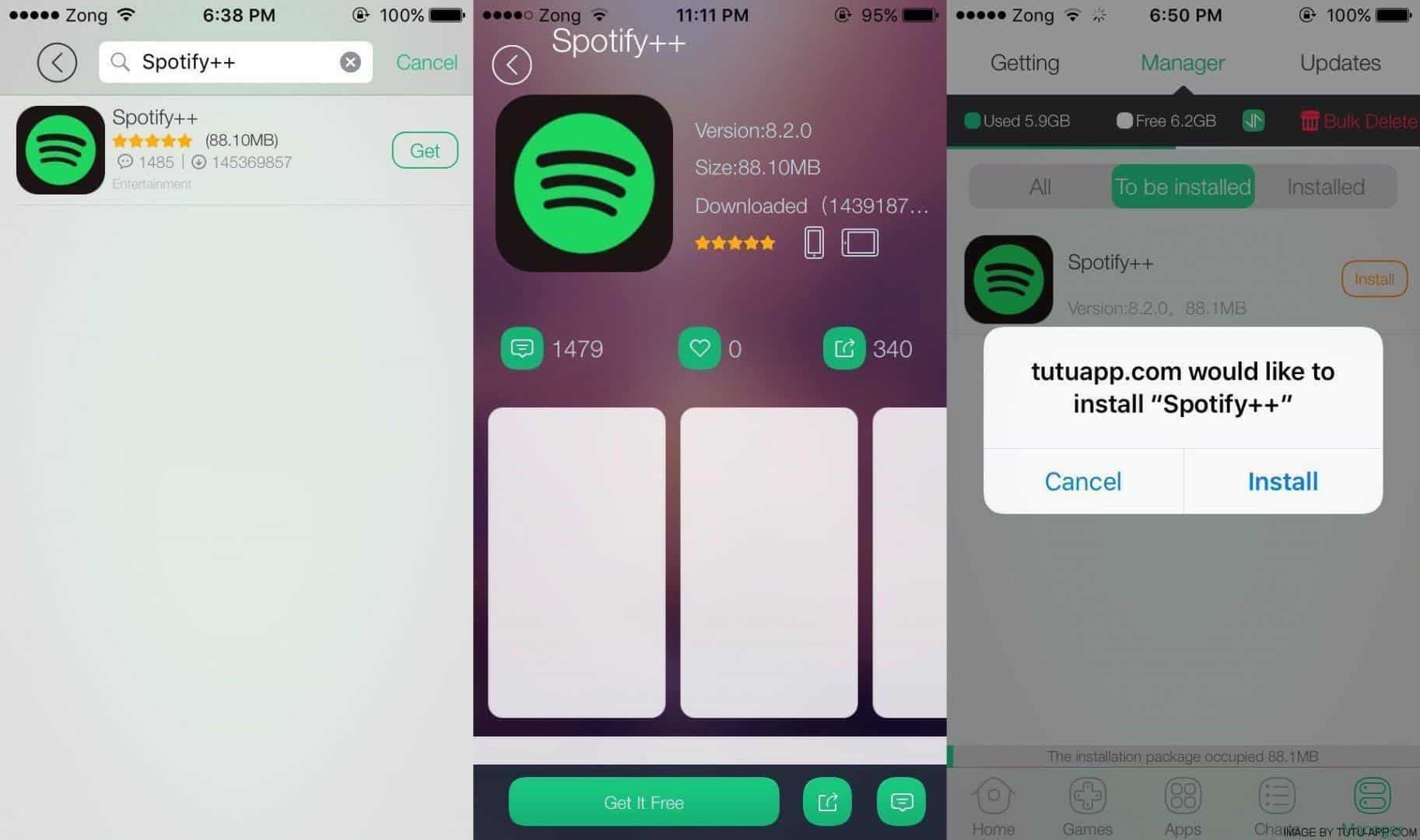 Open Tutu App on your iOS device.
Search for "Spotify++" in the search area.
Tap on Spotify++ and download it.
The Spotify++ app will get downloaded, and you will receive a confirmation pop-up from installing the app. Then, tap on Install and give it trusted app permission, as discussed earlier in this tutorial.
You won't need a jailbroken device or anything else for this method to work. You'll be quite in luck if you decide to get the TutuApp VIP version. Either you can buy it for $13 per year, that's what we recommend, or get it for free from Cyrusinstaller.com, as mentioned above.
Spotify's premium version offers more options for enjoying the music offline, providing a higher sound quality (320 kbps than 160 kbps). The premium also has no ads. You can use this to get an idea of the Premium service that Spotify offers; there's no guarantee that this premium version will be supported for much time.
Snapchat TutuApp Hack for iOS without jailbreak
Another excellent example to show you how many handy apps are present in the Tutuapp market. This is a Snapchat++ app, which brings a lot of features to your Snapchat experience. In addition, it gives you a lot of freedom compared to other similar apps.
Features of Tutuapp Snapchat++ iOS
You get many features in this the best Tutuapp Snapchat++ hack, which you won't get on a non-jailbroken iPhone. With that said, now you can upload photos and videos from your internal storage, and they'll look like you just took a picture of them without those borders. This will make it sound like you just Snapped the picture live, and it's not uploaded from memory.
The next feature the app offers is to record or screenshot as many pictures as you want, without every uploader knowing that you have seen it until you press the little eye icon seen at the leftmost bottom part. When you press that, it marks it to see if you don't think that the picture you're viewing is still unseen by you. And you can see it as many times as you want. Without anyone knowing that, you are seeing it many times.
Save Snaps Secretly, without the person knowing that you are viewing their snaps and videos.
It's up to you when you want the person to know that you have seen the picture or video. With this Snapchat++ version from Tutuapp, you take control.
There are also location filters with this modified version of Snapchat, which allows you to be anywhere in the world and snap pictures. When you do that, you also get access to all the filters available exclusively for that particular location. This is a neat trick to be anywhere worldwide and get the exclusive filters without being there from your home's comfort.
Wait, there's more. You can now also make your custom filters from your onboard storage and as well as from the Web.  This gives you a lot of flexibility. Make sure the image you choose has a .png extension and not a .jpeg or .jpg means it needs to be transparent so that you can lay over it on your Snaps.
This version of Snapchat, called the plus version from the Tutuapp store, doesn't require you to uninstall the original regular version, making it more versatile. In addition, it doesn't overwrite your original installed app.
And this allows you to keep both of them, the regular Snapchat and the modded version simultaneously, on the same iPhone. Besides that, you need to make sure you allow the app to pass as a trusted app by going into Device Settings and then scrolling down to General settings.
Another great feature this modded version of Snapchat has is to select which settings options should be visible on the main camera screen. Besides, you can also get rid of the discover feed if you don't need it. So make those small icons on the screen go away or bring them back as per your need.
Now, talking about account bans and suspension, it's all dependent on the developers if they find you messing around every time with these features. So there's a chance that you may get a Soft-ban for 2 hours and so.
Some features and hacks may work; some may not; it's all related to time and updates. The modded version is regularly updated to keep your Snapchat game ahead.
Best TutuApp Alternatives
Conclusion:
So now, by following the procedure given in the article above, anyone can easily download and install TutuApp on iOS, iPhone/iPad, Android, and PC/Mac. TutuApp is a vast world of patched and tweaked, and hacked games & Apps. If you find this post helpful and want to spread these tools to get paid and hacked games mods for free, share this article with your friends and family on Facebook, Twitter, Whatsapp, and other social media platforms. If you know any other methods regarding this, you can share them in the comment box with our beloved readers. If you find any trouble following the given steps, you can reach us through the comment section. Any suggestions and feedback are more than welcome, as they make us more efficient in providing more tricks like this to you.