It has been more than a year since the Chinese giant Xiaomi introduced the Redmi Note 4 smartphone in India. Xiaomi is on the forefront now in the Asian markets especially in the India, where it has sold more than 5 million Redmi Note 4 devices, and the phone is now considered to be the best selling smartphone in the country.
Now the most asked question by the Xiaomi fans is where the Xiaomi Redmi Note 5, the highly awaited sequel which has been in rumors and leaks ever since the launch of the Redmi Note 4.
The Chinese giant has been known very well for its affordable prices and a good spec sheet at least on paper. So, the Redmi Note 5 will be improving on what its insanely successful Redmi Note 3 and the Redmi Note 4 lacked and fell apart in front of its rivals.
Recently, the company has launched it's Android One based device called the Mi A1(Mi 5X) and the company's first entry into the Dual-camera budget segment. Apart from this, its next installment is the company's bezel-less jewel, Mi Mix 2, which showcased the OEMs designing capabilities and how it isn't afraid to push its design boundaries. So, this also means that you can see such bold design choices on the upcoming Xiaomi Redmi Note 5 and we have news just for that.
These are some of the most common requested questions by our readers about this phone, and we have answered each one of them down below.
How will the Mi Note 5 phone look?
What will be the specs of Redmi Note 5?
What will be the new features in Mi Note 5?
When will it be launched?
What will be the price of Redmi Note 5?
Now without any further ado, let's have a look at the upcoming Redmi Note 5.
Here are the complete specifications of the device.
Xiaomi Redmi Note 5 Specifications
Specifications
Redmi Note 5/ Redmi Note 5 Plus
Display


5.9 inches full HD
Display Type
IPS LCD Display
Display Properties


Resolution of 2160 x 1080 pixels
Pixel Density
403PPI
Display Protection


Corning Gorilla Glass
Processor
Qualcomm Snapdragon 625 Octa-core 2.0Ghz
CPU
Architecture

Cortex A53 architecture ( Snapdragon 625)
GPU
Adreno 506(625)
RAM
3GB/4GB
Storage
32GB /64GB
Expandable Storage
Expandable up to 256GB via micro SD card
SD card slot
Hybrid Sim/SD card slot
Dimensions
N/A
Weight
N/A
Fingerprint Sensor
Front mounted
Sensors


Accelerometer, Ambient light sensor,Infrared, Proximity sensor, Gyroscope
USB
Type C
Connectivity
4G dual sim, LTE, 3G WCDMA, 2G GSM, Bluetooth 4.1, Wi-Fi, Infrared, GLONASS
Primary Camera


12MP F/2.2
Primary Camera Features
Full HD video recording, Geo- tagging, Enhanced HDR, . Dual Tone Flash
Secondary Camera
5MP F/2.0 front camera
Secondary Camera Features
Live filters, Beauty mode, full HD video recording
Battery Capacity
4000 mAh
Fast Charging
Quick Charge 4.0 ( Charger not included)
Charging Time
N/A
Battery Life
N/A
Screen-on Time
N/A
Android Version
Nougat 7.1
MIUI
MIUI 9
MIUI Features
MI Remote, Theme support, MI Apps,
Android O ( MIUI 10)
Eligible for Android O update
Other Features
Fingerprint reader gestures, MI Apps, USB Type C, Quick Charge 4.0
Colors


Black, Gold,Light Blue, Rose Gold
Price in India (INR)
10,999 / 12,999
Price (USD)


$180/$210
Launch Date
14th Feb, 2018
Availability
Rumored
Design and Feel
The design looks largely similar except for the fact that now it features a trio of cutouts for the dual-camera and a fingerprint sensor. However, the front see's a more dramatic change, which will wow many as these displays are mostly seen in upper-mid range to flagships devices only.
If Xiaomi manages to bring this under the 20K INR price bracket, it will create huge havoc in the smartphone market. Because where do you get this type of layout with a really good specs sheet. The LG Q6 offers it but misses on fingerprint sensor a weaker processor and battery. That's a lot of compromises just for the 18:9 display. Meanwhile, Vivo has their V7 plus, but tech geeks won't drool over it because the device is simply overpriced.
Hence, Xiaomi could prove to be a saving grace here and has the fan following to make it a great success as well, if things did go as expected, because the specs are there, the camera's and MIUI's are also present, only the pricing needs to be right.
The device will come with MIUI 9 running on top of Android 7.1 Nougat.
Android O update once available will also be released for the device after some time from the official launch.
Display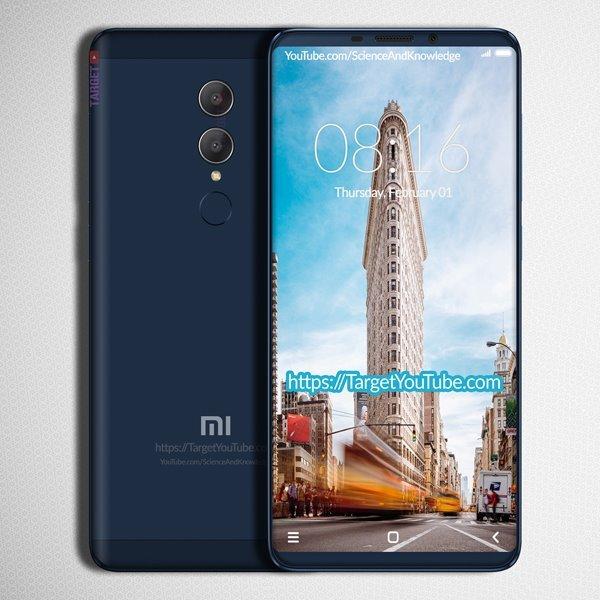 Recent leaks almost confirm that the Xiaomi Redmi Note 5 will sport the trendy 18:9 aspect ratio display, which would measure this time around more than 5.5-inches and might grow up to 5.8-inches to 6.0-inch; however, keeping the form-factor same as before. That's the benefit of this new layout, and this will also make sure the bezels are minimal, and from this leak, we can see the bezels are shrunken down as well as the screen to bezel ratio seems pretty close to 80%.
A 1080p IPS LCD or the LTPS panel is expected to be dominating the front of the Note 5, or we can get that on the Note 5 Plus, as we suspect the device here could be the Plus variant itself. An LTPS display is more efficient faster and better looking than your normal IPS LCD; this panel is also present on the Mi A1.
If Xiaomi reveals this even as a Redmi Note 5's plus variant with a little premium price tag, say up to $250, it will still shake the market and will force other OEMs, to do the same. And will keep prices competitive as well. That's one of the reasons why Xiaomi is essential for the mobile industry, as it pressurizes, undercuts and always delivers to the masses.
Camera
The camera isn't the strongest point for the Redmi Note series as it lacks in Low-light as well as indoors, but the Mi A1 surprised everyone with its spectacular image processing and portrait shots, even though it still struggles in low-light.So, we can see some huge improvement in this area.
Moreover, the previous reports also claim Xiaomi is employing the Dual-shooter set-up. However, we don't have the specs for the dual sensors, but from its previous implementations on the Mi A1 it could be similar to it, or Xiaomi might also opt for a monochrome sensor just like the Moto G5s plus and Honor 6X.
Now talking about the selfie shooter, Xiaomi could include a front-facing LED flash here, but in the image, we don't see any. And, OIS is difficult in this price range, but we wish EIS stabilization will surely make its way in the Redmi Note 5.
The company needs to figure out here a perfect balance, and also that the Note 5's camera won't be a serious threat to its own Mi A1. Because that might upset Google and its Android One project's desires.
Processor(CPU), RAM, And Storage
Xiaomi Redmi Note 5 might sport a Qualcomm Snapdragon 630 processor clocked at a higher 2.3GHz; the processor comes with the latest Bluetooth 5.0, Quick charge 4.0 for getting more juice in less duration. And this is what the Redmi Note 4 lacked its successor will inevitably fix upon this. However, some rumors also pointed out a Snapdragon 660 variant could also be made, but it felt pale in comparison to the leaks claiming a Snapdragon 630 SoC. While some say, a MediaTek Helio P25 variant might also work in works.
Apparently, the new processor will also be a step up in the graphics department, but with 1080p resolution display it's more than enough, so no complaints here. Whether an SD 630 or 660, the processing power on the Note 5 is sufficient enough for average to slight heavy usage. Keep in mind this a budget phone, with upper-mid range abilities.
Memory department will be as usual with 3GM RAM paired with 32GB storage, and the more premium 4GB RAM meets 64GB ROM, nothing special in here unless they decide to introduce any 128GB variant which has extremely thin chances. Yes, you get a sd card slot, which could be a non-hybrid this time around.
Battery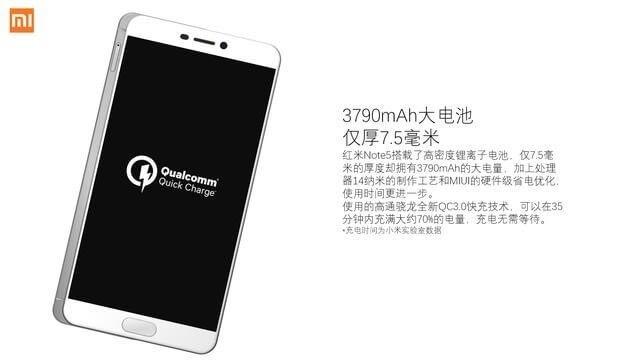 The Redmi line up always had an excellent battery performance with their 4000mAh power packs, but the leaks surfaced online suggests a slight drop in the capacity, which drops down from its 4100mAh to 3790mAh, which is expected on the Redmi Note 5.
However, we have a super efficient processor here, and OEMs strip on the battery size to make the device sleeker and refined, because many people still prefer looks over function and chunkier designs are not always on everyone's top list. Plus you also get quick charge 4.0
Frequently Asked Questions(FAQ)
When will the Redmi Note 5 release in India?
We cannot tell you the exact date yet, but it will be most likely released in February 2018 or March 2018.
What will be the price of Redmi Note 5 in India?
The device will be available in three variants most probably, the price will start from Rs 11,999 and will go all the way up to Rs 13,999. Variants will have different RAM and Internal Storage variants.
Where can I buy the Redmi Note 5 in India?
Both online and offline paths will be taken this time by Xiaomi. And with its new partnership with Big-bazar in India, you will also be able to grab it there. Furthermore, it will be up for Sale in several major authorized retailers across India and also will be solely available Online via Flipkart or Amazon in the form of flash sales; you can also buy it from Mi's online store.
Will Redmi Note 5 get MIUI 9?
The Redmi Note 5 will come with MIUI9 out of the box and will be eligible for MIUI 10 update as well. So, that means either you get Android 7.1.1 or Android Oreo 8.0 pre-installed, we hope its Oreo, and this will ensure Android P somewhere shortly or maybe Android 8.1 update.
Rumors and Features
The Redmi Note 5 was recently listed on the Chinese retail website Oppomart; the leaked listing revealed the design and the key specifications of the device.
The leaked specs are a bit disappointing and are different from the earlier leaks and rumors, the processor is the same Snapdragon 625 which we have earlier seen in the Redmi Note 4, and there is no dual camera setup or a bezel-less design which the recent leaks have predicted.
Well, we are not sure about the authenticity of this leak, and as the time progresses, we will have a better idea of the upcoming device.
Some other features which the Xiaomi might feature in the Redmi Note 5 are: –
Quick charge 4.0
MIUI 9
Faster Fingerprint Reader
More Integrated MI Cloud Services
USB Type C
Snapdragon 630/660( Possibility of Snapdragon 625 as well)

Sony Exmor sensor
13MP front camera
Redmi Note 5 Release Date
The phone will be launched shortly in the Asian subcontinent. For the people living in the West, there is a fair chance that the Mi Note 5 might officially release in countries such as United States, United Kingdom, and other European countries.
According to us, the device will be released around last week of February 2018.
Accordingly, it will be a direct competitor of highly popular Motorola's Moto G series upcoming smartphones Moto G5 Plus and also to the highly successful Samsung Galaxy J series.
Redmi Note 5 Price
The pricing here will make or break the deal for many, but the consumer won't be going towards other brands because this time there's a fairly high chance of people getting the Mi A1 instead of the Redmi Note 5 due to the sheer fact that its related to Google's Android One that means quick updates.
So, Xiaomi has to play very safely here regarding valuing the Redmi Note 5, what we think here is that Note 5 won't cross the 15K INR mark to make it not sell against the Mi A1, neither can it get too low, which also hurts the sales of Mi A1 again. So, a perfect spot and balance are needed here, which could be around 12K( $185 to $190) for the top variant and 10.5K ($165) for the base variant of the Xiaomi Redmi Note 5.
If a Snapdragon 660 variant with Dual cameras and the bezel-less display shows up; then there's a good chance of the price being higher for this Premium variant of the Note 5.
The 3GB/32GB will be the most affordable variant with a starting price of or almost Rs.11,000. We are pretty sure that the Redmi Note 5 will be the first place on our best phone under 15000 list.
Expected Pricing of Redmi Note 5 in different countries.
Country

 

4GB/32GB
4GB/64GB
India

 

₹11,999
₹13,999
 United States

 

$205
$220
 United Kingdom

 

£165
£182
Europe

 

€180
€195
Xiaomi is now gearing up to launch this device in the coming few weeks, and till then we will advise you to take every piece of information with a pinch of salt as the authenticity of these leaks and rumors cannot be confirmed as of now.
For further news regarding the Xiaomi Redmi Note 5th Gen stay tuned.
We will keep on updating this article as soon as more rumors and information surface.
For any question about the contents of this article feel free to drop a comment below.