Xiaomi is back in the market for the highly anticipated Redmi Note 5, and we have compiled everything you need to know about this upcoming smartphone.
Update: Xiaomi Redmi Note 5A retail box leaked. According to the source who sent us the image, the Redmi Note 5A will feature a Snapdragon 630 SOC while the Redmi Note 5 may feature Snapdragon 660 as previously rumored. As we have seen the A variant of Xiaomi smartphone usually equipped with a less powerful CPU, SO we might see a Snapdragon 660 Redmi Note 5 this year.
"Xiaomi" the tech giant known for its class apart products which are a premium in build quality and features but light on the pocket is again buzzing on the rumor sites for none other than Xiaomi Redmi Note 5 the successor of the insanely successful Redmi Note 3 and the Redmi Note 4.
The USP of the Redmi Note Series has always been the amazing build quality, great battery life, and much more and with a price tag of less than $200.
So you get the idea that why this particular series of smartphones are so popular and a huge success among the people, the Redmi Note 3 sold more than 7 Million units in India alone in a short time of mere three months.
The Redmi Note 4 is a decent upgrade over the Redmi Note 3 and is selling even better, the build quality is better, the phone is faster and the battery life well that's the highlight of the Redmi Note Series so it ought to be great.
There has been a significant leak recently regarding the Mi Note 5 from the house of Xiaomi, and here is everything you need to know about the device.
These are some of the most common requested questions by our readers about this phone, and we have answered each one of them down below.
How will the Mi Note 5 phone look like?
What will be the specs of Redmi Note 5?
What will be the new features in Mi Note 5?
When will it be launched?
What will be the price of Redmi Note 5?
Now without any further ado, let's have a look at the upcoming Redmi Note 5.
Here are the complete specifications of the device.
Xiaomi Redmi Note 5 Specifications
Specifications
Redmi Note 5
Display


5.5 inches full HD
Display Type
IPS LCD Display
Display Properties


Resolution of 1920 x 1080 pixels
Pixel Density
401PPI
Display Protection


N/A
Processor(Snapdragon variant)
Qualcomm Snapdragon 630 Octa-core 2.3Ghz
Processor(MediaTek variant)
MediaTek Helio X25 Deca core 2.1 GHz ( Low chances of a MediaTek variant)
CPU Architecture ( MediaTek Variant)
Cortex A72
CPU
Architecture ( Snapdragon variant)


Cortex A53 architecture ( Snapdragon 630)
GPU (MediaTek variant)
Mali -T880 MP4
GPU (Snapdragon)
Adreno 508(630)
RAM
3GB/4GB
Storage
32GB /64GB
Expandable Storage
Expandable up to 256GB via micro SD card
SD card slot
Hybrid Sim/SD card slot
Dimensions
N/A
Weight
N/A
Fingerprint Sensor
Front mounted
Sensors


Accelerometer, Ambient light sensor,Infrared, Proximity sensor, Gyroscope
USB
Type C
Connectivity
4G dual sim, LTE, 3G WCDMA, 2G GSM, Bluetooth 4.1, Wi-Fi, Infrared, GLONASS
Primary Camera


16MP F/2.0 CMOS rear camera
Primary Camera Features
Full HD video recording, Geo- tagging, Enhanced HDR, . Dual Tone Flash
Secondary Camera
13 MP F/2.0 front camera
Secondary Camera Features
Live filters, Beauty mode, full HD video recording
Battery Capacity
3790 mAh
Fast Charging
Quick Charge 4.0 ( Charger not included)
Charging Time
N/A
Battery Life
N/A
Screen-on Time
N/A
Android Version
Nougat 7.1
MIUI
MIUI 9
MIUI Features
MI Remote, Theme support, MI Apps,
Android O ( MIUI 10)
Eligible for Android O update
Other Features
Fingerprint reader gestures, MI Apps, USB Type C, Quick Charge 4.0
Colors


Silver, Black, Gold,
Price in India (INR)
10,999 / 12,999
Price (USD)


$180/$210
Launch Date
August 17, 2017
Availability
Rumored
Design and Feel
The leaks almost confirm that the successor to the Redmi Note series will follow the same design approach as the previous gen models.
However, a significant change is anticipated as the fingerprint is reported to be placed at the front of the device which is only seen in the more premium range Xiaomi devices such as the Mi 5, this change will be much appreciated as a front mounted fingerprint sensor gives the phone a more premium look and separates it from the other existing budget smartphones.
On an individual note, there will be a unibody design, same as the one which we have seen earlier in Redmi Note 4.
The Redmi Note 4 wasn't that much of an upgrade from Redmi Note 3 when it comes to design. But Xiaomi still did a lot of tinkering with the design to get rid of the flaws which were present in the Redmi Note 3 and the same strategy will be carried forward with the Redmi Note 5 as well.
The device will feature a 5.5 inch full HD display; we could see bottom faced speakers along with a Type C connector and a 3.5mm headphone jack on the top.
Now many people complain that the volume rockers and power button felt a little plasticky on Redmi Note 4, so that's one aspect Xiaomi will have to improve.
The device will feature a 16MP rear camera on the back along with a dual LED flash, and the front will have a 13MP front camera. The highlight of the front will be the front mounted fingerprint sensor only.
Now the design of the Redmi Note 4 is close to perfect and if Xiaomi takes cares of these minor flaws present here and there that would just seal the deal for the Mi Note 5.
The device will be launched with MIUI 9 running on top of Android 7.1 Nougat.
Android O update once available will also be released for the device after some time from the official launch.
Display 
The Redmi Note 5 will feature a full HD 5.5-inch display with a resolution of 1920 x 1080, the pictures and the colors will be more vibrant and crisp on the Redmi Note 5 with an increase in pixel density to 401 pixels per inch.
The display has been reported to as being more bright and visible under direct sunlight also it would have better contrast and saturation.
Camera
Coming to the Photography aspect of the Redmi Note 5, well Xiaomi always features amazing camera sensors in their smartphones and the camera quality is pretty excellent for the price, coming to the Mi Note 5 it will feature a 16-megapixel Sony Exmor camera sensor on the rear and a 13-megapixel F/2.0 Sony camera sensor on the front.
The camera has been improved in aspects where the Redmi Note 3 and the Redmi Note 4 lacked such as low light photography and indoor shots, some of the new camera features which the Redmi Note 5 will feature are Digital Image Stabilization, Geo-tagging, Live Filters, etc.
The significant bump in the front camera has been done following the trend of selfies and video calling which is on the rise in the county.
The video recording on the previous gen Redmi Note smartphones has been not up to the mark, and the company has spent a lot of time in improving it this time. 4k video recording is now supported, and videos under low light will look a lot better thanks to that Sony sensor.
Processor(CPU), RAM, And Storage
Xiaomi Redmi Note 5 features the latest Qualcomm Snapdragon 630 processor clocked at a higher 2.3GHz, the processor supports Bluetooth 5, and Quick charge 4.0 which is according to us the best part of the device as one of the shortcomings of the Redmi Note 4 was that there wasn't any fast charging support. Also, there would be support for USB Type c as well.
There is a newer graphic processing unit as well; the Redmi Note 5 will come with Adreno 508 GPU which will give a significant boost to the device when it comes to handling heavy applications and gaming.
The Mi Note 5 will be available in three variants when it comes to RAM; the 3/4GB RAM models will be enough for day to day use while the 4GB model will be the one to look out for if you are a heavy user like myself. There will be three variants 3GB-32GB, 4GB-32GB, and the  4GB-64GB model, the phone will also have a hybrid sd card slot for storage expansion as well.
Battery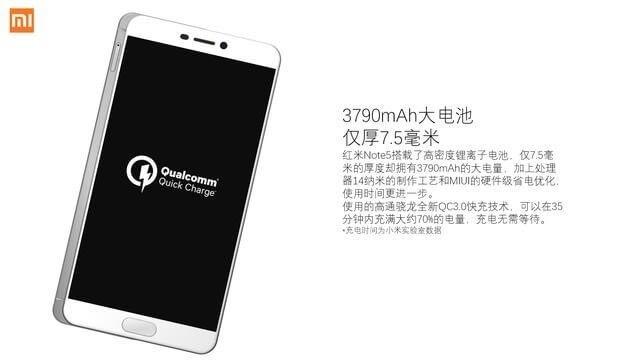 The battery life of the Redmi Note series is excellent with devices having more than 10 hours of screen on time.
The upcoming device will feature a smaller 3790 mAh battery which might seem a bit disappointing at first, but with the newer processor, the phone will be even when it comes to resource management which will result in an even battery life.
The battery has been made smaller in the context of making the phone more sleek and slim, and it would be interesting to see if fans appreciate this move by Xiaomi or not.
The highlight of this section will be of course the Qualcomm's Quick Charge 4.0 which is supported by the Snapdragon 630, if the company decides to make the phone quick charge compatible and hopefully it will, the phone will stand out from the competition as no device in this range features fast charging support.
Rumors and Features
Some other features which the Xiaomi might feature in the Redmi Note 5 are: –
Quick charge 4.0
MIUI 9
Faster Fingerprint Reader
More Integrated MI Cloud Services
USB Type C
Snapdragon 630/660
Sony Exmor sensor
13MP front camera
Redmi Note 5 Release Date
Redmi Note 5 will be a step up in everything from hardware to software and will release in September, but we are expecting an early release in the 3rd week of August this year. According to the sources, Redmi Note 5 will release on 17 August 2017.
There is a fair chance of an early release date, and we could see the device at the end of July 2017 as well.
The phone will be launched first in the China, and then after a month's time, it will be available in rest of the Asian countries. For the people living in the West, there is a fair chance that the Mi Note 5 might officially release in countries such as United States, United Kingdom, and other European countries.
Accordingly, it will be a direct competitor of highly popular Motorola's Moto G series upcoming smartphones Moto G5 Plus and also to the highly successful Samsung J series which will have a fresh release of 2017 models of the very popular Samsung Galaxy J7 2017.
Redmi Note 5 Price
The most interesting feature of the Redmi Note 5 won't be its massive battery or the latest Octa core processor, but its price point as Xiaomi will stick to their aggressive pricing strategy launching Redmi Note 5 at a very affordable price tag. Xiaomi Redmi Note 5 price in India will be around 11000INR, and the phone will be available on Flipkart India.
The 3GB/32GB will be the most affordable variant with a starting price of $175 or almost Rs.11,000. We are pretty sure that the Mi Note 5 will be the first place in our best phone under 15000 list.
Expected Pricing of Redmi Note 5 in different countries.
Country

 

4GB/32GB
4GB/64GB
India

 

₹11,999
₹13,999
United States

 

$205
$220
United Kingdom

 

£165
£182
Europe

 

€180
€195
For further news regarding the Xiaomi Redmi Note 5th Gen stay tuned.
We will keep on updating this article as soon as more rumors and information surface.
For any question about the contents of this article feel free to drop a comment below.