Once, holding the flagship status in Motorola's line-up was the Moto X, and "the Original X" series indeed has come a long way; and now the Moto X5 will continue the X series in 2018. In 2016 Motorola entered the Modular smartphone era and unleashed its revolutionary Moto Z which took the flagship status away from the Moto X, leaving it as an upper-range phone in this crowded market.
However, the Moto X kept the basics intact and followed its legacy which aimed at granting a premium experience regarding the superior build quality of the smartphone; pure vanilla android touched with its Avant grade Moto suit of apps (Moto-Display, Moto-Voice, and other Moto-Gestures) without digging a hole in your wallet.
But unfortunately, the smartphone lost its customizable ability which it had with its Moto-maker. Which allowed its users to tailor their Moto X with excellent luxurious materials such as Horween leather, Bambo Walnut wooden backings and also with custom engraved text accompanied with plenty of accent color combos as per their desires making it one of a kind.
It was true with the Moto X Pure Edition (X Style, 2015), but when Moto Z took the stage, the Moto X skipped a year and when it returned it seemed quite limited, but still followed its predecessor's footsteps. The Moto X4 was a classy looking device featuring an all-glass design which had a unique 3D looking back panel which did wonders when light reflects over it. With that said, this year everyone is looking forward to the next Gen Moto X and will be its 5th generation. In this post, we'll talk about what to expect from the Moto X5 or the Moto X 2018 by having a look at what the latest rumors and leaks suggest about the Moto X5.
Design and Display 
The name Moto X5 even though being an obvious numerical naming scheme for the successor of the current gen Moto X4. Which was brought to light by none other than the popular leakster Evan Blass, when he confirmed the device's existence with the Moto X5's official text logo on his Twitter handle.
https://twitter.com/evleaks/status/935486969022435328
Interestingly, the major ice was broken when one after another, almost the entire 2018 line-up of moto devices were leaked not just in naming schemes but in actual renders. However, it is still debatable whether these new leaked renders were legit or not. Still, they gave us a clear look at how 2018 Motorola devices will look like, and one of them happens to be the Moto X5.
Looking sharp and modern, however, havoc broke pit when people noticed that it had a top-notch similar to the iPhone X. However, many people don't know that Motorola did a Notch display back in 2006 with its Motorola F3 feature phone, which had a notch display and the Moto X5 does take those design cues from the F3.
As per seen in the image renders, you can see the Moto X5 has a top-notch and within which their sits two front-facing camera's, which says a lot about the Moto X5. But we think Motorola won't display it like the iPhone X, and you'll always be seeing the network, battery and time in those top corners as most apps aren't ready for full-screen yet.
The design from the rear remains unchanged and now with the new color looks quite bold, while the front has a major design overhaul. This time on the upcoming smartphone Moto X5 will, at last, get the highly anticipated 18:9 all-screen bezel-less display carrying a 1080p resolution and if they want to keep the notch, bring in the AMOLED displays like earlier.
While another signature feature the Moto X5 might feature is a rear-mounted fingerprint scanner which will be embedded within the Motorola Batwing logo. However, there's also a possibility, which we could see an under the display fingerprint scanner, take a close look at the bottom of the screen above the Motorola logo, what's that a gesture-based navigation key or somewhat indicates an in-display fingerprint scanner?
Furthermore, new information leaked by @HeyAndri suggests that the Moto X5 might completely ditch the fingerprint reader for a 3D front facing cameras as its security feature which is quite a bold move. Also, expect the waterproof and dustproof IP68 ratings.
Specs: Processor, RAM, and Storage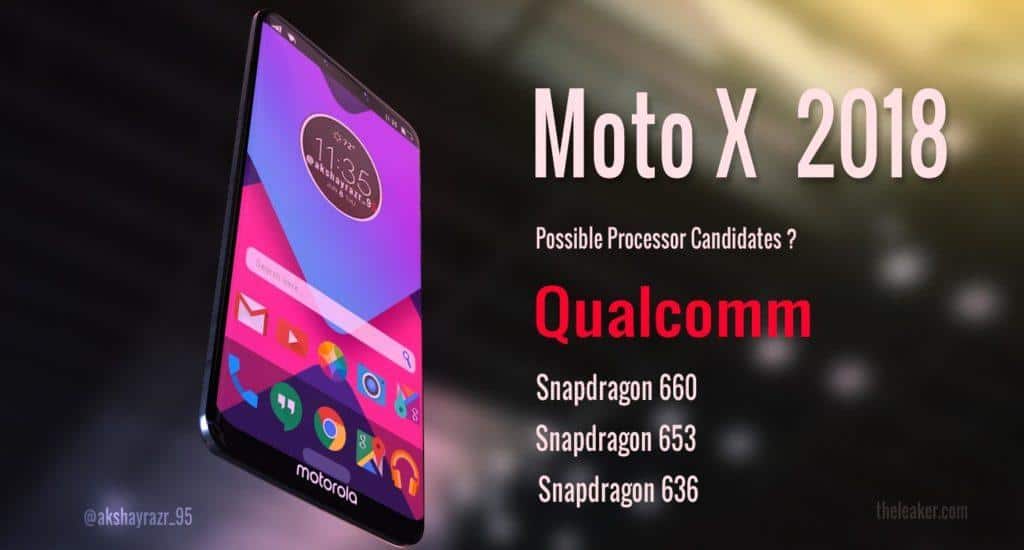 Snapdragon 600 series chip or older SD 821 chips
6GB RAM for the range-topping variant
128GB or 256GB onboard storage
With the arrival of the Moto Z, the Moto X series took a back seat and are now rather upper-mid range phones in the spec department, but keeping the flagship premium feel like they did earlier. So, do not expect the Snapdragon 845, the Moto X5 is expected to run on a Snapdragon 660 or a 670, however, keeping in mind the current generation, we should not rule out the possibility of a Snapdragon 635/636, but something from the 600 series will end-up under its hood, for sure.
In the memory department, there were many surprises this year for the Moto X4 as Motorola introduced it with 6GB RAM, which is the highest in any Motorola phone we have ever seen. So, the top-end trim of the Moto X5 will undoubtedly have a 6GB RAM with 128GB storage variant, followed by the 4GB/64GB and 3GB/32GB models.
Now let's not forget that along with the normal Snapdragon processors, Moto X since its debut had a special chip(co-processors) which Motorola calls it as the Motorola Mobile Computing System, which houses a total of 2 dedicated chips for basically listening to your voice 24/7(Natural Language Processor) without draining your battery along with a contextual computing unit for calculating all the gestures that are used with Moto-display.
Now that there's this AI boom in the industry expect a new AI chip to be fused within this special Mobile Computing System.
Camera: Dual Front and the Rear Camera's
Leaked renders confirms dual front shooters
Tele-Photo + Wide-angle
Similar to last year, Wide-angle + Primary RGB shooter?
Camera's will be a big deal on the Moto X5, and Dual-camera on the front and the on the rear are in plans is confirmed as per the leaked renders. However, the front-facing flash is nowhere to be seen, which the Moto X4 had. Apparently, the Moto X5 will also have some smart camera functions such as landmark detection, some AR abilities(Project Tango Legacy?) and an improved depth mode is what the users are begging for in the upcoming moto x5.
Nonetheless, the dual-front selfie snappers are still a mystery whether these are only for selfie portrait modes or Motorola also wants to jump in the facial recognition game remains to be seen.
Software: New Moto's XP AI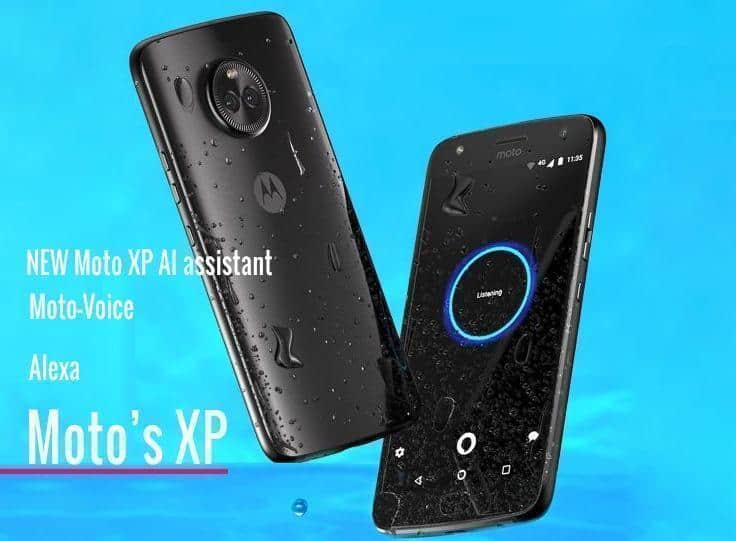 New AI assistant (Also mentioned in leaked renders)
New Moto-Gestures
Might comes with Android P 9.0
Motorola even under Lenovo's umbrella still provides the tried and tested Stock Android experience and with essential apps that don't get in your way. The upcoming Moto X 2018 will follow the same footsteps but this time we get to see the Moto-Voice on another level, with the leaked Moto XP's AI is any indication.
Moto X4 had Alexa in some markets along with the Moto-Voice app, so this time we could see, Alexa leaving the scene or Motorola and Amazon partnering and baking together a new AI, which could be Moto-Voice + Alexa = Moto XP? Or it may altogether be an entirely standalone Artificially Intelligent assistant, just like a much better version of Bixby.
Coming towards the software updates, this is the area where Motorola excels and with the Moto X4 despite numerous claims that Motorola being late to the update party; the American tech-giant proved everyone wrong by rolling out Android Oreo 8.0 to the Moto X4 before, Google's Android One devices. So, when it comes to its old flagships models, Motorola won't disappoint. However, it's a different story for the Moto G's, M's, E's, and the Cs.
Battery and Pricing details
The battery was just average on the Moto X4, so this is another area where we could see Motorola giving a slight bump to the Moto X5's battery capacity. Expected battery capacity should be anywhere from 3200mAh to 3500mAh. Also, a turbo-charger will come in handy to top it up quickly.
As far as pricing is concerned Motorola went all aggressive in the Indian Market and priced the Moto X4 at an exceptional 22K and the newer 6GB model for just 25K.
| Variant | Pricing |
| --- | --- |
| Moto X5 3GB/32GB | 20K INR ($329.99) |
| Moto X5 4GB/64GB | 22k INR ($349.99) |
| Moto X5 6GB/128GB | 25k INR ($400) |
While the Moto X5 will be a step-up from the inside and out, expect a premium price as well for the top-end variant,  the base model could start from 22k($349 US), and the range-topping one could be priced at 25k ($400 US).