OnePlus 6 is now official and will take on the best flagships of 2018, with its top of the line specs, which comes at super affordable prices, offering the most bang for your buck.
OnePlus 6's top competitor is none other than the Galaxy S9 and Galaxy S9 Plus which have been selling like hotcakes ever since. Without any ado, here is a brief rundown of comparisons between these smartphones to help you in deciding which one is better for you.
OnePlus 6 vs Galaxy S9/S9+: Design & Display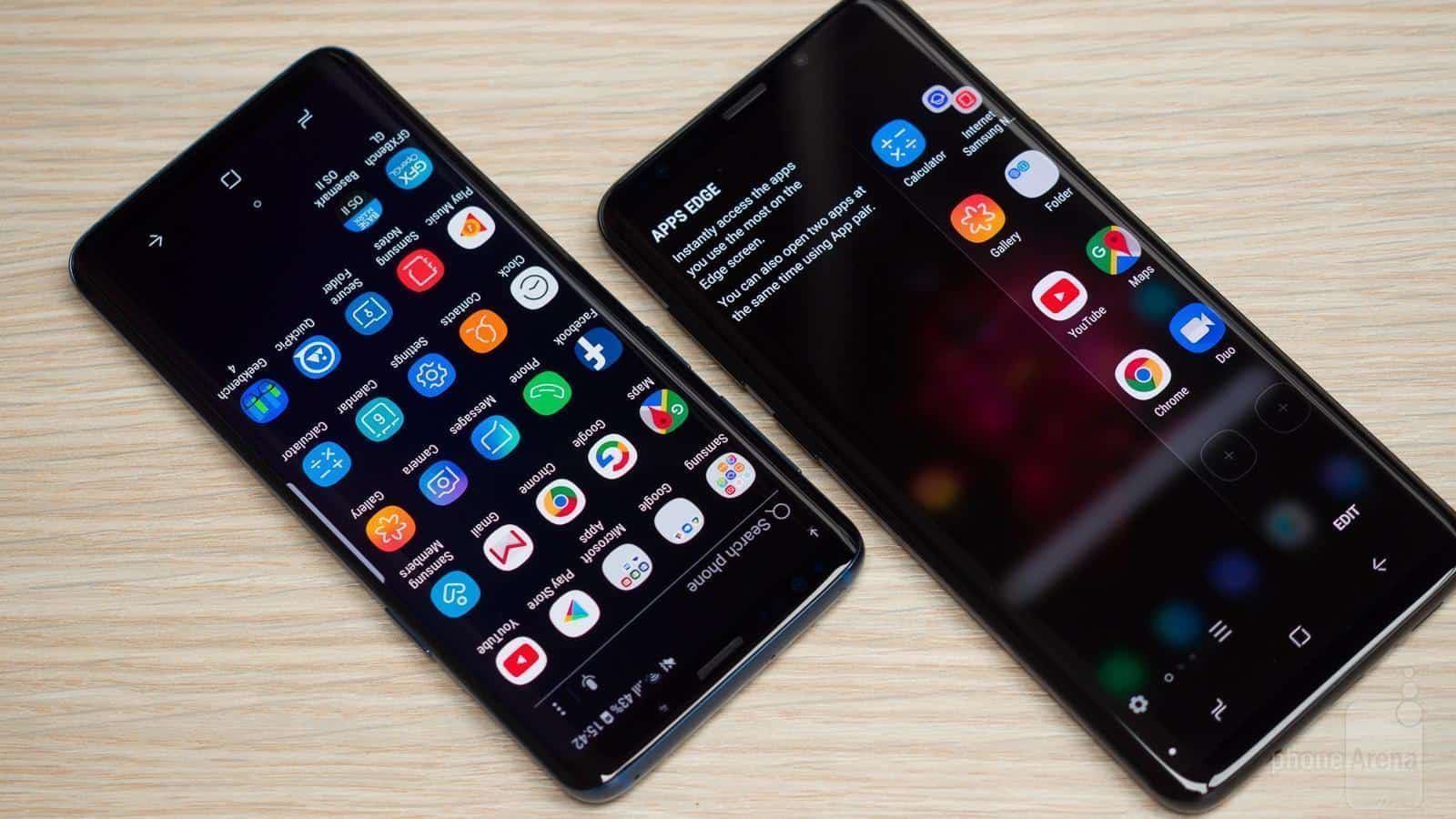 OnePlus 6 – 6.28-inches Full-HD+ AMOLED, 19:9, 401ppi under 1000 nits brightness

Galaxy S9+ – 6.2-inch QHD+ AMOLED, 18:9 530ppi, goes up to 1200 nits: brightest panel

Galaxy S9 5.8-inch QHD+ AMOLED, 18:9, 568ppi, similar brightness count
Both the Galaxy S9 and the new OnePlus 6 comes with glass designs on the rear, and both of them feature the fingerprint scanner on the rear as well. But the OnePlus 6 also comes with a shimmery matte finish, which isn't prone to smudges and fingerprints. Both have all screen edge-to-edge 18:9 and 19:9 displays on the Galaxy S9/S9+ & the Oneplus 6 respectively. However, the OnePlus 6 following the 2018 trend comes with a notch on its display, which fortunately can be unseen with a software toggle. Speaking about the display sizes both the Galaxy S9+ and the OnePlus have a 6.2-inch display with the OnePlus 6 being a tad taller with its 19:9 ratio, also both flagships use an AMOLED display. While the Galaxy S9 screen measures at 5.8-inch.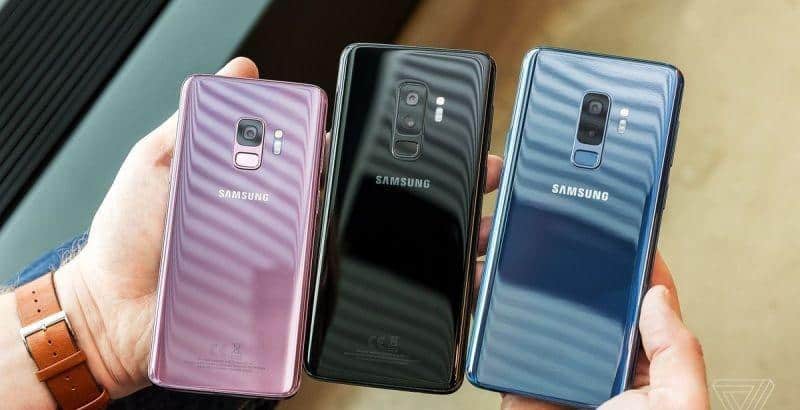 However, the differences come down to the resolution with the OnePlus 6 sticking with their old formula and still running on (Full-HD+)1080p+ resolution which accounts for a pixel density of 401ppi. Which doesn't stack up against Samsung's super high QHD+ resolution of the Galaxy S9 with its 568ppi and 530ppi on the Galaxy S9+ model.
Both devices should be quite ergonomic to hold as the duo features a slightly curved edge on the rear for a better in-hand feel. Overall both qualify as modern smartphones, but the Galaxy S9 sticks with a more symmetrically design, and the headphone jack is also present on both of them.
OnePlus 6 vs. Samsung Galaxy S9/S9+: Camera
OnePlus 6: Dual rear camera system, 20 MP + 1 6MP, f/1.7 aperture, OIS on the primary lens, 16MP selfie camera

Samsung Galaxy S9: Singel 12 MP, Dual Pixel focusing and Dual variable aperture f/1.5 to f/2.4, both OIS, 8 MP selfie camera

Samsung Galaxy S9+: Dual 12 MP + 12 MP, Dual Pixel focusing and Dual variable aperture, dual OIS, 2x optical zoom support, 8 MP selfie camera
The OnePlus 6 might offer top notch hardware at an affordable price, but it same case doesn't hold up when it comes to cameras and image quality. The Galaxy S9 Plus features a variable aperture camera, with its dual camera setup, as per lightning changes. While the OnePlus 6 does portrait mode very well with its dual camera's.
Apart from that, the Galaxy S9/S9+ goes ahead with Dual OIS with on all sensors, while the OnePlus 6 has just a single rear sensor supporting OIS.
OnePlus 6 vs. Galaxy S9/S9+: Specs
Galaxy S9/S9+ -Exynos Octa-core @4×2.7 GHz Mongoose M3 & 4×1.8 GHz Cortex-A55

Galaxy S9/S9+ -Snapdragon 845 Octa-core @4×2.8 GHz Kryo 385 Gold & 4×1.7 GHz Kryo 385 Silver

OnePlus 6 -Snapdragon 845 @Octa-core 4×2.8 GHz Kryo 385 Gold & 4×1.7 GHz Kryo 385 Silver
The OnePlus 6 and the Galaxy S9/S9+ are powered by the most powerful chips available in 2018, and that's the Qualcomm Snapdragon 845. While the Galaxy S9/S9+ also comes with Samsung's homegrown Exynos chip, which is a tad bit faster than its Qualcomm counterparts. Interestingly, the OnePlus 6 on Antutu score about 276K while the Galaxy S9/S9+ scores 245k with the Exynos chip.  But remember benchmarks should not be the only parameter to measure a device performance as both Samsung and OnePlus were caught earlier manipulating benchmarks for achieving higher scores.
However, in this case, the OnePlus 6 will no doubt will be a faster device naturally due to stock android and less bloat. In the memory department, OnePlus 6 leads the way with its 6GB and 8GB RAM variants which for some may be overkill. While the Galaxy S9/S9+ settles for 4GB and 6GB of RAM. In case of onboard storage both have 64GB and 128GB memory options and special 256GB variants are also available in some markets. Nonetheless, if you care for expandable storage options, then the Galaxy has got your back.
OnePlus 6 vs. Galaxy S9/S9+: Software and Battery
OnePlus 6 -3300mAh
Galaxy S9+ -3500mAh
Galaxy S9 -3000mAh
The software is where OnePlus 6 punches back on the Galaxy S9/S9+ and history is evident that the OnePlus flagships are always the one runs more smoothly than any skinned version of Android. Here, the OnePlus 6 is also maintaining the same legacy and sticking with it's slightly modified take on Vanilla Android with some gestures and the icing on top for some will be the subtle ability for customization.
List of OnePlus phones expected to get Android P Update
Samsung Galaxy devices that may get Android P Update
The Galaxy S9/S9+ runs on Android Oreo 8.0 with Samsung Experience 9 on top of it, and it's heavily customizable and is packed with features. But its competitor uses a what's called as OxygenOS which is based on Android Oreo 8.1 and is close to stock Android and will get updates much faster than the Galaxy S9/S9+. So, if you care for Android Software updates, OnePlus 6 is the way to go.
Finally, the OnePlus 6 in the coming weeks will also get the Android P 9.0 beta which the Galaxy S9/S9+ can only dream.
Moving towards battery performance on these device's, the OnePlus 6 packs a decent 3300mAh power pack, while the Galaxy twins pack a 3000mAh and larger 3500mAh capacities, on the Galaxy S9 and Galaxy S9+ respectively. However, the OnePlus might not excel in providing a bigger capacity, but it annihilates the Galaxy when it came to fast charging with its tried and tested Dash charging tech. So, the battle is pretty much equal in this department.
Pricing and Other features
The Galaxy S9 twins are expensive compared to the OnePlus 6, as Samsung is a tier 1 brand and has more brand value but other than this, the Galaxy S9/S9+ also supports Wireless charging. Both are IP68 certified for water and dust proof abilities, excellent Dual-Curved display; its speakers are tuned by AKG and have Dolby Atmos support which is missing on the OnePlus 6.
So, with that affordable price you have some compromises and in no-means the OnePlus is a flagship killer, but it gets all the essential right by offering the same computing hardware which you get on devices double its price. So, if you can live without waterproofing, standard speakers, reasonable camera and that notch design, you can't go wrong with the OnePlus 6.
It does many things better than the Galaxy, such as Software Updates, Faster UI still after 6 months, Charges faster and doesn't break your bank, overall the OnePlus 6 is an excellent budget flagship.