Google's next sweet flavor of Android was officially revealed at Google I/O yesterday, and this is the company's ninth version of Android. It is still pending to get a name for now but the Android P 9.0 is now available as a Beta software, and after a good two months or even less, we will see the update officially rolling out. For users who are craving out to run this latest version of Android on their devices, there's some good news for some of you. Google has partnered with a bunch of OEMs to get Android P 9.0 beta on their devices.
To register your device for the beta program head over to the Android Beta testing portal. Following is the list of devices to get this early Android P 9.0 Therapy.
Essential PH-1
Google Pixel 2/2 XL and the first gen Google Pixel/XL
Sony Xperia XZ2
Oppo R15 Pro
Xiaomi Mi Mix 2s
And lastly, when the OnePlus 6 launched, it will also be able to join this list. Some of the devices mentioned may come as a surprise for some, but that's the way it is for now. Moreover, now let's get to know, what are the new major changes and features that Android P 9.0 has brought to the table.
NEW Features OF Android P 9.0 Beta 
A Complete Navigation Overhaul
The Android P 9.0 does come with the standard trio of navigation buttons, but now there's a new option within the settings menu, which lets you try the newly redesigned navigation experience. This new navigation redemption is based on gestures this time, which will require some really good muscle memory to get used to it.
As you can see in the image, there's now a horizontal bar at the bottom, instead of the three buttons. To go to the home screen, swipe from the bottom. Next, to open the multitasking tray which is now completely changed, you need to swipe from the bottom but do it for a little longer. The new side-scrolling multi-tasking tray pops up. And now things are getting similar to the iPhone Style gestures and multi-tasking tray. But this one is a little bit advanced.
To get rid of apps just swipe an app to the top, you can even copy and edit text or other useful features of an app within the multitasking tray. To switch between apps, just slide the bottom bar to the right and left, as you can see in the gif above.
New Volume Sliders
The volume slider popping up from the side gets carried out from the Developer preview 1 to this beta update. And as you can see, the media control appears first, as well as under that; you get to toggle calls set to ring, vibrate or mute also.
Apart from that, connecting to Bluetooth device is also now a breeze as you can see the menu pop-up right there up-front, so fewer taps are getting you to the vital things.
Support for Apps limit
Google wants you to be able to manage your phone usage better; this new bundle feature allows you to set a limit to use for every app. Along with that, there's now also a new dashboard that shows you stats of how much time you spend on a particular app. So, when the 10 min or 20 min set time is over, that app's icon will turn gray, and if you try to use it, the Android P won't let you do it.
A good barrier for those who infinitely keep scrolling in the Instagram explore feed and also for Twitter addicts.
Notch Support
As 2018 is the year of Notch as most Android OEMs have brought this on their flagship devices, and users have been complaining about the notch getting in their way. Google has you back with Android P 9.0 to get things right and make sure the notch doesn't get in the way while watching videos and take care of notifications, that might behave weirdly due to the notch.
Also, the time is now displayed on the left side if the notch instead of the regular right side placement.
App Predictions and Slices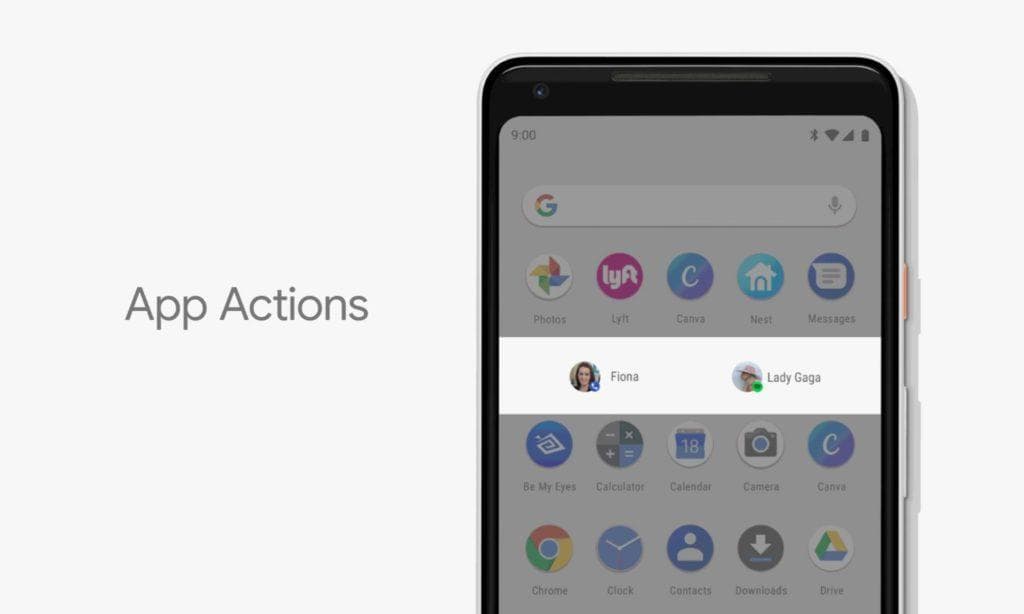 With AI heavily integrated with Android P 9.0, the OS will try to predict from the previous instances of you using an app, is what's the most used function on that app by you. And will try to be ready to show you that very specific action when you try to access that app, how handy this is.
The Android P Slice API gets you a widget like part of that app for quick access, for instance, if you search for Uber, then in the search results. A slice of Uber's most important feature will be shown, that's booking a cab to home, or another example could be the stopwatch/alarm function of a clock app will be shown for quick access.
It's all about getting things done with fewer taps
Developers can now start using the Slice API of Android P and bring their app's vital things for their user instantly without ever opening that app and navigating to that specific option. This is by far the most exciting and best feature of Android P 9.0 if you ask me, from all other features.
The Design is more curved and rounded
Everything in the Android P 9.0 now has curves and rounded feel to it; the notification bar has new coloring style which not everyone might like. While the app drawer is white and a little transparent. The settings panel now has more colorful icons for better distinction.
Also, the battery settings have a new animation as well as options to control what particular apps use; how much battery and will be killed, if found to use a significant amount of juice in the background. While the Do not disturbed mode is now much more aware of what to block and what stays.
Adaptive AI Brightness
The phone learns your way and configures the display brightness to your liking, for instance, it will automatically turn down the brightness down, similar to you as the day ends. Similar to what Asus did with the Zenfone 5 2018 series.
Overall, this by far the most revamped version of Android packed with new features and also the smartest flavor of Android. Now only the name for this version is pending which you can start guessing in the comment section below.