It has been quite some time since the popular media streaming site TVMuse (tvmuse.com and tvmuse.eu) was taken down due to some Copyright/domain issues.  There have been multiple claims on why the site was taken down; while some suggested that the site was removed due to the changed privacy laws in the UK, some suggest that the domain name expired/hacked, and that is the reason why the site was taken down temporarily. TVMuse was the primary source of streaming for loads of users, and the news of TVmuse no longer working was a shocker to most. TVMuse provided links to almost every popular TV show and Movie and was amazing to use.
The takedown of TV Muse has left its millions of users hanging looking for alternatives on the Internet. There are thousands of streaming sites on the Internet that function similarly to TV muse. Some of these sites are filled with viruses, while some are just spammy. Finding a viable alternative to the TV Muse can be quite a task. We have taken the liberty to find the best streaming sites similar to TV Muse and have compiled a list of the same.
Update – The team behind tvmuse.com has now created a mirror site tvmuse.cc (Now not working in most of the countries) with all the available content on tvmuse.com and tvmuse.eu. You can also check out the Showbox, MovieBox, Cinema APK, Typhoon TV, and CotoMovies for free online streaming on your smartphone and Android-based TVs. However, there are some paid alternatives, too, like Area51 IPTV.
So in today's post, we'll be checking out some of the best alternatives to tvmuse.com that you can access right now to stream your favorite movies/tv-series. Also, check the Best ThopTV Alternatives: For Free Live TV Streaming on Android and PC.
Best TVMuse Alternatives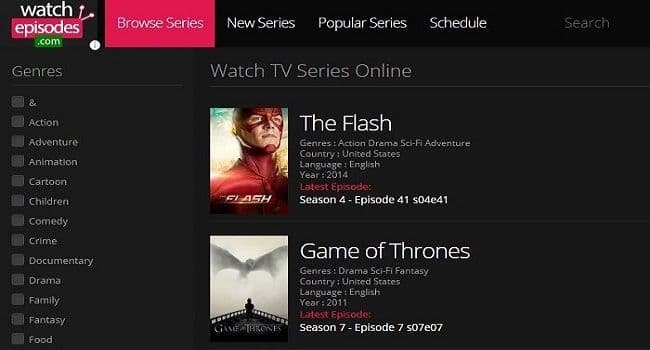 WatchEpisodes is one such streaming site that comes pretty close to tvmuse and even has some additional features. The website provides links to thousands of movies and TV series, and you can also sort them using various search filters. Another extraordinary functionality of this site is that you can get an option to download wallpapers of your favorite TV Shows, which is pretty cool. WatchEpisodes provides up to 500 streamable links for a particular video, which is all you'll need.
If you're looking for a full-fledged alternative to TV Muse, WatchEpisodes will be our pick for the same due to the features it offers along with the easy-to-use interface.
2. GoMovies (Most Popular TVMuse Alternative)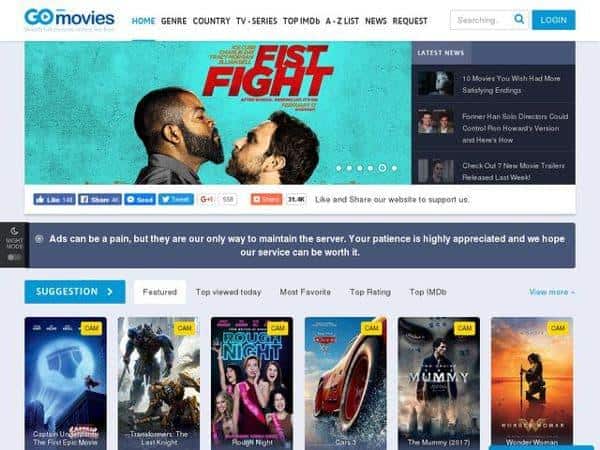 Another popular alternative to WatchEpisodes is GoMovies. The sites provide links for all your favorite tv shows and movies in multiple resolutions. The site is entirely free to use and will be. Although the site is ridden with popups and annoying ads, navigation through the site is not so bad with various menu bars present. GoMovies will allow you to watch all your favorite TV series like Game of Thrones and Vikings in one place.
The only con that we have found while using the GoMovies site is the pop-up ads, which can hamper the streaming experience to some extent. If ads don't annoy you, GoMovies can be your go-to site to watch TV shows and movies. Currently, it is the most popular alternative to TVMuse.
The site is quite similar to GoMovies and boasts quite a collection of tv shows and movies, and anime content. Multiple streaming sites are linked with video resolutions ranging from CAM to HD. You can also request your favorite tv shows or movies using the request section. You can watch your favorite movies like Inception and Interstellar in high resolution easily with 123MovieTime.
123MoviesTime has been in the game for the longest and has an amazing developer community behind it. The site isn't going anywhere soon, thus making it an excellent alternative to Tv Muse.
Series-top is another viable alternative for tv muse. One of the highlights of this site is that it provides a good collection of old tv series.  The UI of the website is relatively clean, with significantly fewer ads and popups. Unfortunately, there are no movies linked, but the collection of tv series presents is quite good. You'll be able to watch all your favorite TV series in one place with Series-Top. The site also hosts the latest episodes of the TV shows that are currently airing, which is excellent.
Series-top has been posting the latest TV series episodes like Game of Thrones only a few hours after the official airing making it a suitable replacement for the fallen TV muse.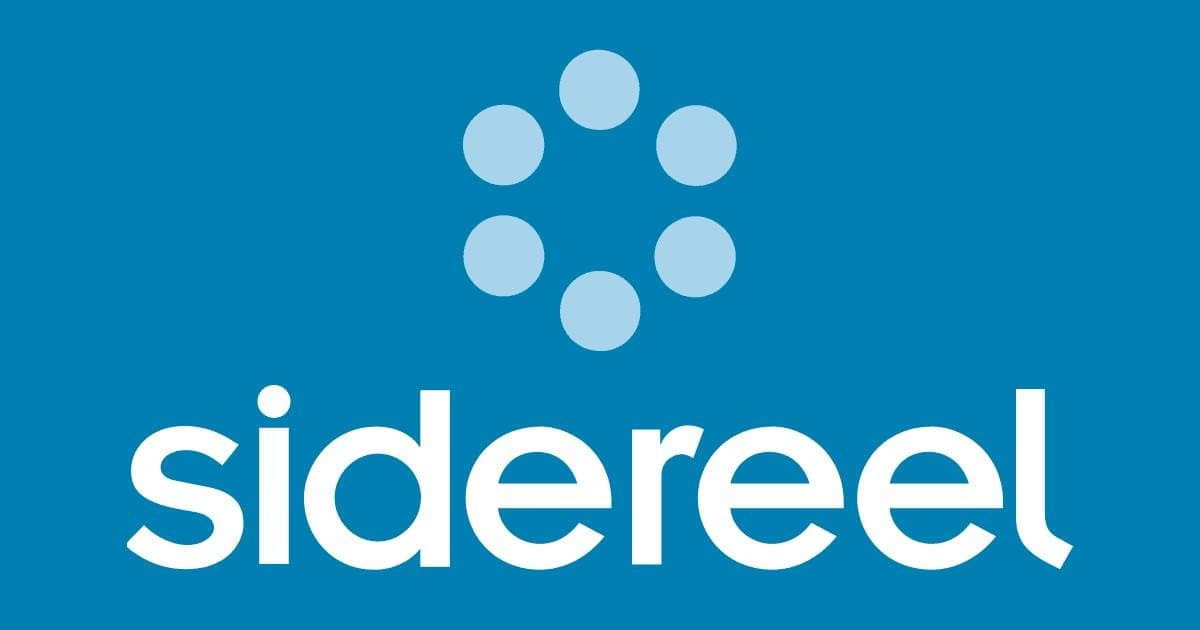 One of the popular alternatives to tvmuse is SideReel. The site has more than 10 million signed-up users and gets more than 20 million visits. Do the site offer movies, tv shows, and anime content, and the best part? You can track your tv shows in a very efficient manner via this site. There's also a tab for Cancellation buzz, which will keep you updated on all the news from the world of tv series. SideReel would be perfect for all those fans that like to be updated about every single thing about their favorite tv shows and movies.
If you're a fan who wants to know about everything that goes on with your favorite TV show actor, SideReel is perfect for you as it will keep you updated will all that news.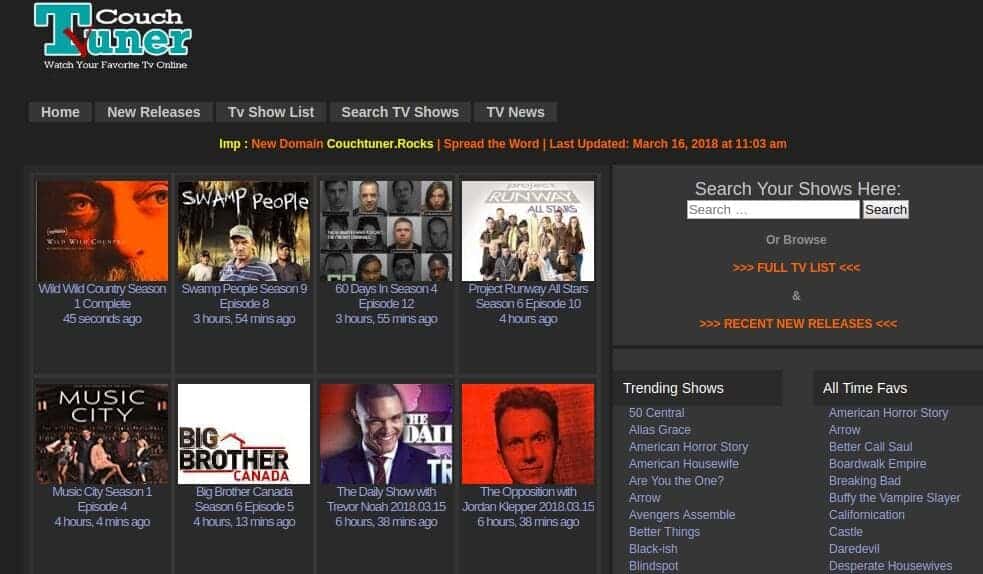 Couch Tuner is another good alternative to TV muse to watch TV Shows and Series for free. It gives you the most recent collection of movies and tv shows within a few hours of their official airing. The interface of CouchTuner is easy to navigate, and you can watch any particular tv show or movie by using the search box.  Couch Tuner gives you multiple servers where you can stream your favorite TV Shows and series in the resolution you want.
Final Words – Which one to go for?
I know having these many choices can cause a dilemma of which one to go for. All the sites mentioned above are perfectly capable of being an alternative to TVMuse. Every site listed will provide you with streaming links to your favorite TV shows and movies with ease. Choosing the right website depends on what you are looking for. Our readers' advice will be to try multiple sites and then stick with the one that works the best. Do let us know if you have any trouble accessing these; we'll be happy to help.