It hasn't been much since the release of the Galaxy S8 and the S8 Plus, and the company is set to release the Galaxy Note 8 as well in a few day, and it seems like Samsung isn't in a mood to slow down.
Samsung reportedly is working on an another flagship device  which is going to be released early next year.
Now we simply can't say that Samsung is working on Galaxy S9 just because one of the prototypes of the smartphone just got benchmarked.
And even though we have some of the specifications of the leaked handset, It is still very early to predict if this will be the Galaxy S9 or some other Samsung smartphone.
Now, let's take a look at the specifications of the leaked handset.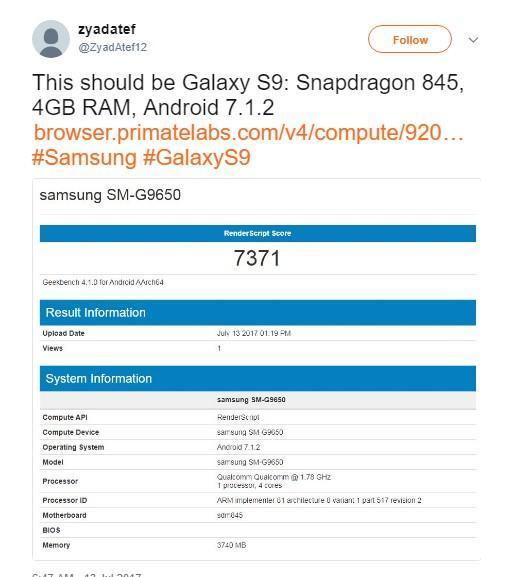 The Twitter user zyadatef claimed the device to be the Galaxy S9.
Talking about the specifications of the handset, the phone will be powered by the Snapdragon 845 SoC which has not been officially announced as of now, but Qualcomm does provide the upcoming SoC samples in advance to the manufacturers for various testing purposes.
The device features 4Gigs of RAM and the model number of the phone is SM-G9650. A major thing which goes against this device being the upcoming Galaxy S9 is the 4GB RAM as it is quite likely that the upcoming S series flagship will have at least 6GB of RAM
There is not much known about the Galaxy S9 as of now, and just some details of the "prototype" are available as of now.  In a few months, time more and more information of the device will be available as Samsung is all set for an early Q1 2018 release for the upcoming S series flagships this time.
What do you expect from the Samsung Galaxy S9-series? Do let us know in the comment section below.