Jio has brought a lot of free services to its users for which other carriers charge quite a lot. So, Jio to have the edge over the competitors has decided to offer such services for free of cost for all its users. What we have here is the Jio Free Caller Tune service. As some of you might like to use caller tune on your Jio number instead of classic ringing tone. With this guide, you will able to activate this free service.
Benefits of this Caller tune service
Free of Charge
Make Any Song as Caller Tune
Change Caller Tune any time
Here are the means by which you can initiate any song as your Jio Caller Tune for Free.
1. Step by step instructions to Activate Caller Tune on Jio for Free
Open your default Messaging App.
Create a new message exactly like below.
     JT and send it to 56789
Jio will ask to confirm the subscription, send Y to confirm.
Jio caller tune will be activated for 30 days.
2. Make Any Song as Jio Caller Tune for Free
Follow the exact Steps to activate Any Song as your Jio Caller Tune.
MOVIE movie Name then send it to 56789
ALBUM Album Name then send it to 56789
SINGER singer Name then send it to 56789
If you want to select a Movie song as your Jio caller tune, Exactly follow these steps:
e.g.,. song "Tu Mera Khuda from Ae Dil Hai Mushkil movie.
Send MOVIE AE DIL HAI MUSHKIL to 56789

Send your song number, In my case 2

After few minutes you will receive another message asking your confirmation. Send Y to confirm your song.

Success, Your Caller Tune will be shortly Activated, sit tight, relax and let your callers enjoy your jam.
Now, after you activate it, you must be wondering how do I change it? Do no worry here's how you do it. It's simple; You just have to repeat the same process again. And feel free to change it how many times you want. You won't be charged anything for this changes.
To Copy a Jio caller tune from any Number you have to, press * while listening to the Caller Tune and then send Y to the message to confirm your copied Jio Caller Tune.
3. How to Stop/Cancel your Jio Caller Tune service
If you want to deactivate your Caller Tune service and go back to normal caller tone, then follow the below steps and deactivate your Jio caller tune service.
Open your Messaging App.
Send STOP to 56789 to deactivate your Caller Tune.
Your Caller Tune service will be deactivated instantly.
4. 

Activate JioTune using Jio Music App
If you have a smartphone, you can make any song as your Jio Tune directly from your Jio Music App.
Just sign in to the Jio Music App and then tap on set as Jio Tune.
Your Jio Tune will get activated on your Jio Number for free.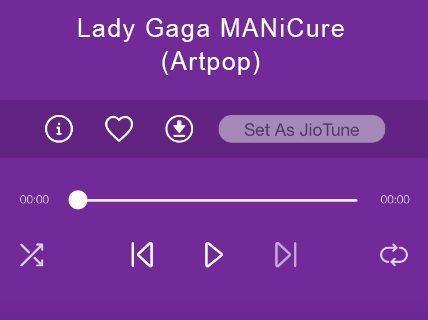 This service is completely free, so feel free to change to any tune anytime you want. With this Jio proves you don't need to spend a lot on nifty things like caller tunes services with Jio Network.
Jio also recently launched the JioPhone as well, which has been trending over the internet since then.