Update: Nvidia said that they haven't canceled the Shield 2 aka Shield K1 plan, the dismissal letter was sent to a prototype unit. TechnoBuffalo also asked for comment and got a similar reply.
NVIDIA dismisses Shield 2 tablet plan, the news has been revealed by a dismissal letter to the FCC by Nvidia. Nvidia quoted "For business reasons the product has been canceled". So as for now, no Shield 2 tablet will launch this year. The reason behind this is unclear but we think it is because of declining tablet market and NVIDIA wants to focus on profitable products.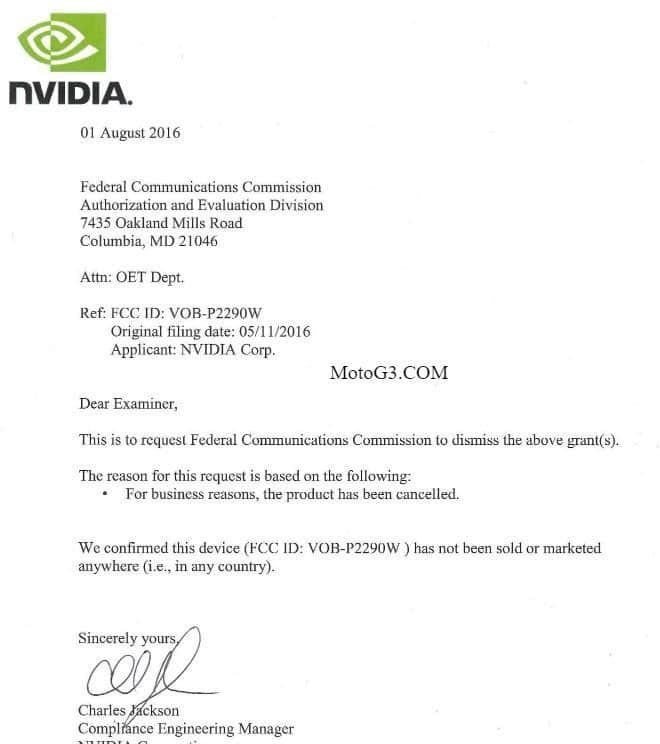 NVIDIA Shield Tegra K1 (2015) is even today one of the most powerful gaming tablets for mobile gaming, but not any long now because NVIDIA is about to launch its successor NVIDIA shield 2. The shield runs on Quad Core ARM Cortex A15 CPU that clocks in at 2.2GHz, along with Nvidia's own Tegra K1 192-core Kepler GPU. But Shield 2 tablet is rumored to be running on the latest Nvidia Tegra "Parker" CPU: Nvidia Denver2 ARMv8 (64-bit) + ARMv8 ARM Cortex-A57 quad-core (64-bit). Nvidia Shield pro (TV android box) already support 4k video streaming, So it is very likely for Shield 2 to have an even crisper 4k resolution. According to the FCC, the shield 2 model has been numbered as P2523.
Nvidia Shield 2 Specifications
Nvidia shield 2 will come with a USB type C port. But the good news is that it has support for both 5GHz and 2.4GHz 802.11ac Wi-Fi bands. It measures 8.6 inches X 4.8 inches X 0.3 inches in size that means bezel size has been reduced and will support an 8-inch screen. It weighs 349 grams even lighter than the shield 1. It is not disclosed whether this device would also include a stylus but anyway gamers only need a good controller that is already in the market.
It is also rumored that the device could come with a QHD display and 4 GB of LPDDR4 RAM alongside with 6800 mAh Li-Ion battery. According to a recent rumor, Nvidia delayed the launch because of the VR (Virtual Reality) buzz, Maybe the device would feature VR gaming. NVidia shield 2 could release in Q4 of the year or in Q1 2017. However, the NVIDIA shield K1 is currently available at just 199$ on Amazon.
Also Read: Moto G5 and Moto G5 Plus Price, Specs, And Release Date
Some salient features of the Tegra k1 that makes is exceptionally good for gaming are
Contrast ratio of 823:1 that gives Very good color reproduction
Maximum brightness of 434cd/m2 gives photos and videos that are good for graphic extensive gaming
16:9 screen ratio, MiPad and Nexus 9 also have the same Tegra k1 processor but are less favorable for gaming because of 4:3 screen size.
More than 5000mah battery
Nearly "stock" version of Android which improves gaming performance
Rubberized pads on each side for a better grip
Dedicated wireless controller with lesser lag for gaming
lower prices than Ipad and nexus devices
Shield 2 will be great for those people who want to enjoy games even while traveling or do not want to spend more money on PC or just want a great midrange slate, not just for gaming. It also delivers powerful performance, a light and unassuming body, and very good battery life.