Most of us who are interested in VR (Virtual Reality) and AR (Augmented Reality) know that Microsoft has been working on their HoloLens since a long time and now it is available for purchase but it lacks the most basic thing which is Development.There are not many apps that can be used with HoloLens.
HoloLens is available in Australia, Canada, France, Germany, Ireland, Japan, New Zealand, the United Kingdom, and the United States(Developer edition) only but Microsoft is trying to expand their reach to other countries as well and when HoloLens gets available globally, We are sure that more and more developers will start working on it.
We now have new information about HoloLens that will blow your mind. So If you are not much of a reader then be careful. In future, you will be able to make your voice as batman and can even see real looking virtual things. Because the HoloLens 2 will be able to make real looking virtual objects and even their shadows.

Microsoft is secretly working on a new design of HoloLens which seems to be simmered to the current design. And one is completely different and kind of similar to the Google Glass. It is compact, lighter in weight and seems much more Normal.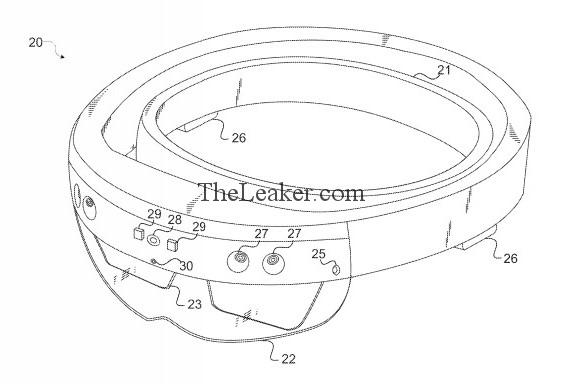 From Its design, we can say that it'll be much normal looking and one can wear them all the time whether its inside or outside. This design surely needs a lot of time and a totally new way of creating because the current HoloLens design is a complex design and requires a lot of technologies and fitting all that tech in a much smaller and compact design is not an easy task.
If you see the lens carefully, you will notice that the lens are quite thick and It's possible that the lens itself will have circuitry inside which will combine the display from the system and display from the camera in between of both lenses. The camera here is supposed to capture what we are seeing and display it on the lens.
So how do HoloLens works?
To understand the new design, we need to understand how HoloLens works.
START
RECEIVING OPTICAL SENSOR INFORMATION OUTPUT BY AN OPTICAL
SENSOR SYSTEM OBSERVING A PHYSICAL ENVIRONMENT
RECEIVING POSITION SENSOR INFORMATION OUTPUT BY A POSITION
SENSOR SYSTEM INDICATING A PERSPECTIVE OF THE OPTICAL
SENSOR SYSTEM WITHIN THE PHYSICAL ENVIRONMENT
CREATING AN AMBIENT LIGHTING MODEL FROM THE OPTICAL AND THE
POSITION SENSOR INFORMATION DESCRIBING AMBIENT LIGHTING
CONDITIONS OF THE PHYSICAL ENVIRONMENT
MODELING THE PHYSICAL ENVIRONMENT FROM THE OPTICAL AND THE
POSITION SENSOR INFORMATION TO CREATE A VIRTUAL ENVIRONMENT
APPLYING THE AMBIENT LIGHTING MODEL TO THE VIRTUAL
ENVIRONMENT AND/OR A VIRTUAL OBJECT ADDED TO THE VIRTUAL
ENVIRONMENT NOT PRESENT IN THE PHYSICAL ENVIRONMENT TO
OBTAIN AN ILLUMINATED VIRTUAL OBJECT (AND VIRTUAL SHADOW)
RENDERING A GRAPHICAL REPRESENTATION OF THE ILLUMINATED
VIRTUAL ENVIRONMENT AND/OR VIRTUAL OBJECT (AND APPEARANCE
OF VIRTUAL SHADOW) FOR PRESENTATION VIA A SEE-THROUGH
DISPLAY OF A HEAD -MOUNTED DISPLAY SYSTEM
END
That is How the current HoloLens works. Complicated, right? Now you'll see How the new HoloLens is going to work:-
In Figure 2A, 234 is the object and 236 is its digital image we are going to see.
In Figure 2B, 244 is the person and 266 is what the person sees with his/her eyes.
In Figure 2C, HoloLens will combine both Figure 2A and 2B.
In Figure 2D, 244 is the Person and 272 is the final combined image he/she will see. As you can see it can even make shadows of the objects.
In the end, We see that the new HoloLens will be much easier to use and understand. This can be really interesting to see because AR (Augmented Reality) sure comes with a lot of opportunities for those who can do their work in a much better and innovative way. If everything goes well, We can see HoloLens with this design in next year. And It is entirely possible that Microsoft may change their design completely.