Windows 7 was the most successful version among all of the releases after Windows XP. Windows after that tried to redesign in Windows 8 and Windows 8.1 to the metro tiles UI. It was a big disaster for the Microsoft team. Ever since they tried to fix the mistakes, they did with Windows 10. But still, Windows has many problems to fix. Giving us headaches, the "MTP USB driver failed," "MTP USB device not recognized," or "MTP USB not installed" is just one of them.
It's an old problem, and Microsoft already released a patch to fix this error. But if it still hasn't settled for you yet, then it's time for us to rescue you.
Getting into the big hectic part, you might try some small fixes to get the work done. Let's get into the necessary remedies first.
USB Ports Switch – Sometimes your USB port might be defective. Mostly this is because of the USB version difference. If your USB port is 2.0 one, then you should consider switching to 3.0 port. You should try this even if the port was working earlier and isn't working now.
USB Cable Switch – Switching the cables for a while might work sometimes and can be mostly due to the defective cable.
PC Restart – This is the most common issue. Even if the process you do works out, you don't consider restarting your PC. So do it and give it a try.
Fix MTP Driver Installation Problem on Windows 10
If the remedies mentioned above doesn't work for you, then you need to do this easy but a small work over to get it done right. You are not the only one who face this kind of error; there are many out there facing the same error. By following the process below, you might get it working back. No need to worry, you don't need big technician kind of skills to get this done. Just follow this step-by-step process to get your error fixed.
Method 1: Installing wpdmpt.inf
Press the Windows button, and search for "Run" and it will show up Run Command and open it. Alternatively, you can hold the Windows key, press the R key. This will open the Run command.
Once opened, type %systemroot%\INF in the given space and press ENTER.
A folder will open up, search for wpdmtp.inf and you'll find a file with the same name.
Once you find it, right-click on that file and select Install. If prompted, select yes.
After installation, try connecting the MTP device you were previously connecting. It should instead work without any problem.
Method 2: Installing Proper MTP Drivers
Press the Windows button and search for Device Manager, it'll show up the Device Manager. Alternatively, you can hold down the Windows key and press R key, and type devmgmt.msc and hit ENTER. It will open Device Manager too.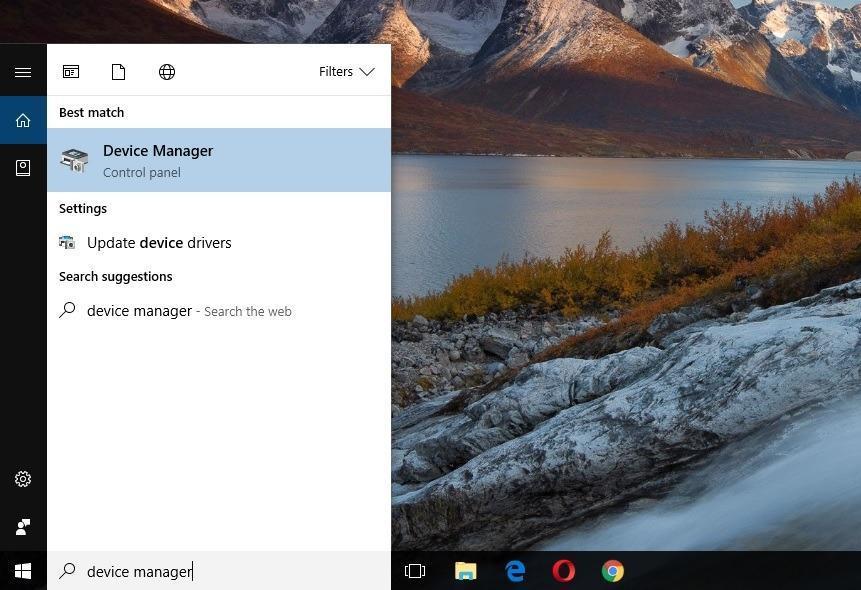 Expand the Portable Devices section until you see your device. If you can't look under that, check for Other Devices. Make sure you connected your MTP device to the PC.
Once you find your device, right-click on it and choose Update Driver Software.
Now select "Browse my computer for driver software."
Select "Let me pick from a list of device drivers on my computer."
From the given options, choose "MTP USB Device" and hit Next.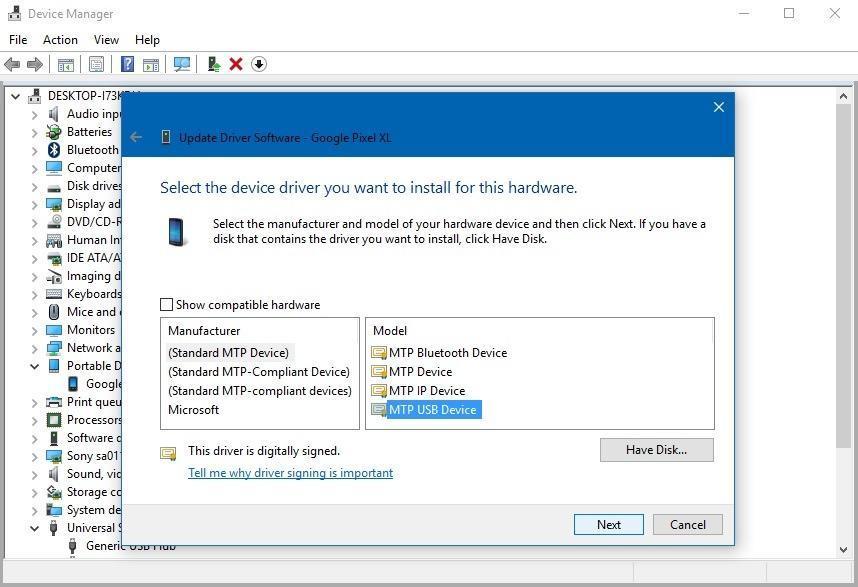 It will open an installation wizard, and all you need to do is hit Next until the driver gets installed.
After installation, then maybe restart your PC, it will work.
Method 3: Installing Media Feature Pack
It is for the devices which run on Windows 10 N and KN versions. Because Windows 10 doesn't come with a Windows Media Player, this Media Feature Pack enables it. It also fixes the MTP drivers problem too.
To make this, you need to download the correct update from the Microsoft's website which can be accessible by clicking here.
If your PC is a 64-bit one, then choose the Microsoft-Windows-MediaFeaturePack-OOB-Package_x64.msu, if it is a 32-bit one then select Microsoft-Windows-MediaFeaturePack-OOB-Package.msu.
After downloading, install them right away.
Once installed, restart your PC, and you'll be good to go. Yout MTP Drivers problems should be solved too.
You don't need to do all the processes to solve your problem. You can choose any one of the methods you are comfortable. If any of these methods worked for you, make sure to follow our blog and feel free to comment down your questions if you have any.