Smartphones have been struggling to get extra juice out of those tiny little batteries since ages now, and except fast charging solutions, we haven't seen anything groundbreaking yet on the battery tech front. The traditional solution for this is to either find a wall-outlet for charging your device and the second option is to carry a power bank with you where you go. Powerbanks have become a must-have accessory for the last few years and selecting the correct powerbank for your phone can be a tiring job as there are hundreds of power banks available
So, in this post, we will take a look at the best power banks in each price category, say from the smallest top-up packs under Rs. 700 INR to larger 10000mAh packs under Rs.1000 to Rs.1500 INR to charge your phone multiple times. We have also included some stylish looking power banks from the likes of iPro and Intex and Xiaomi if you fancy your charging pack to look good.
Also, Check –  Best earphones under 1000 Rs in India
Best Power Banks under ₹ 700 INR
1) Ambrane 10000 mAh Power Bank (P-1122)
Ambrane is a well-known brand when it comes to power banks, and the P-1122 Power bank is among the top sellers when it comes to best power banks for just 700 bucks, offering a massive 10000mAh battery capacity, with two output ports. This one weighs around 300g, so it's not the lightest pack. Comes in various colors as well and retails for ₹699 INR.
Buy Ambrane 10000 mAh Power Bank P-1122
2) Flipkart Smartbuy 10000mAh Power bank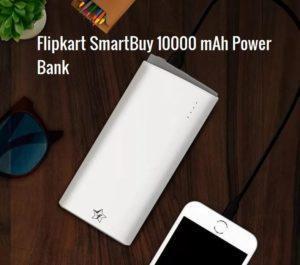 Another best seller comes from the house of Flipkart; this one also packs 10000mAh juice. And has two outports and also weights around 300g. This one also retails for ₹699 INR.
Buy Flipkart SmartBuy Power Bank
3) Intex Power Bank IT-PB-4K
Intex also makes some affordable power banks to quickly top-up your devices on the go, and this compact power bank with a capacity of 4000mAh is a good option to charge your device on the go without carrying a large hefty pack. This one retails for ₹499 INR and weights at just 122 g which is very light.
4) Ambrane 4000 mAh Power Bank P-444
Another one from the house of Ambrane and this also feature a built-in 1 Watt LED torch light and packed a decent 4000 mAh capacity battery capacity and also has LED indicators. And retails for ₹499 INR and weights around 110 g.
Buy Ambrane 4000 mAh Power Bank P-444
Best Power Banks under  ₹1000 INR
1. Ambrane P-1000 Star
This 10400mAh power pack can charge your device a bunch of times and comes at an affordable price of just ₹849 and weights around 345g. This one is built to last with its solid ABS Shell Casing built quality.
2. Ipro 10400 mAh Power Bank
One of the most stylish and compact power banks and also the best seller of all time is the iPro 10400mAh pack, which weights at around just 212 g and is quite compact when compared to its competition. This one retails at just ₹999. Also comes in three different shades.
3. iPro 13000mAh Power bank ip40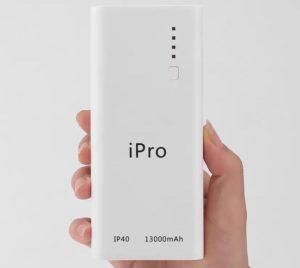 The iPro ip40 is currently on sale on Flipkart for about ₹799 INR, which is an absolute steal considering it offers a massive 13000mAh capacity which should charge your device for at least a 2-day cycle.
Buy iPro 13000mAh power bank ip40
4. 
Lapguard Sailing 1530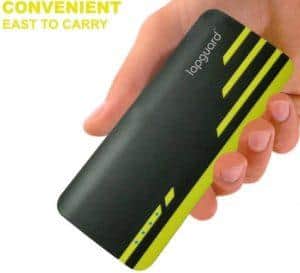 Lapguard is a new contender and its massive 13000mAh pack, the power bank weights around 309g and also includes a LED torch light. Moreover, also available in various colors but currently the yellow color option is available for just ₹699 INR.
Buy Lapguard Sailguard 1530 13000mAh
Best Power Banks under ₹1500 INR
1) Ambrane mAh Power Bank P-1310
This 13000mAh power pack is one of the best buys under Rupees 1500 INR and can charge your device numerous times in a day. So, a perfect companion for heavy users. It retails for ₹1,199 currently and weights at about 250 g.
Buy ambrane 13000 mAh Power Bank P-1310
2. 
Intex IT-PB12.5K Power Bank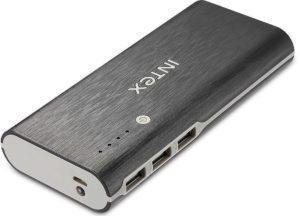 This also features a LED torch light and has a total of three ports to charge from its massive 12.5mAh power pack. You also LED indicators as standard; this power bank also has a stylish wooden texture to it. It retails for ₹1099 only.
Buy Intex IT-PB12.5K Power Bank
3) Mi PowerBank 2i 20000 mAh and 10000mAh
The Mi Powerbank 2i, on this list is the most premium and high capacity power pack, offering solid build-quality, two-way fast charging at Quick Charge 3.0 speeds. The exterior is made out of scratch resistant material. This humungous 20000mAh retails typically for 2K INR, but currently, Xiaomi is selling it for just ₹1499 only, which is an absolute steal. While the one with 10000mAh is also selling for the same price. 
Buy Xiaomi Mi Powerbank 2i 10000mAh
4) 
Syska X-100 10000 Mah Power Bank
Ability to charge two devices this Syska X-100 packs a massive 10000mAh power to charge multiple devices at a time. But weights around 272 g so a little heavy compared to its rivals. Currently, the Syska X-1000 comes at about ₹1,145.
Best Powerbanks under 
₹

2000 INR
1) 
Syska Power Pro 200 20000mAh
Syska's massive 20000mAh power pack is one of the most affordable 20K packs under ₹2000. It has a solid build quality and is pretty slim for what it offers. It currently retails for just  ₹1,799.00 on Amazon. 
Buy Syska Power Pro 200 20000mAh
2) Ambrane 20800 mAh Power Bank P-2000
Ambrane's another powerhouse offering best in class 20800mAh of power at just ₹1699 INR. This one provides three ports to charge from and also comes with an LED torch.
Buy Ambrane 20800 mAh Power Bank P-2000
All these Powerbanks mentioned will take well over 5 to 8 hours to charge your device, especially the ones with 10000mAh Plus capacity. While only the Xiaomi Mi powerbank 2i supports fast charging.