Nokia Android 9 Pie update: Phone List and Expected Release Date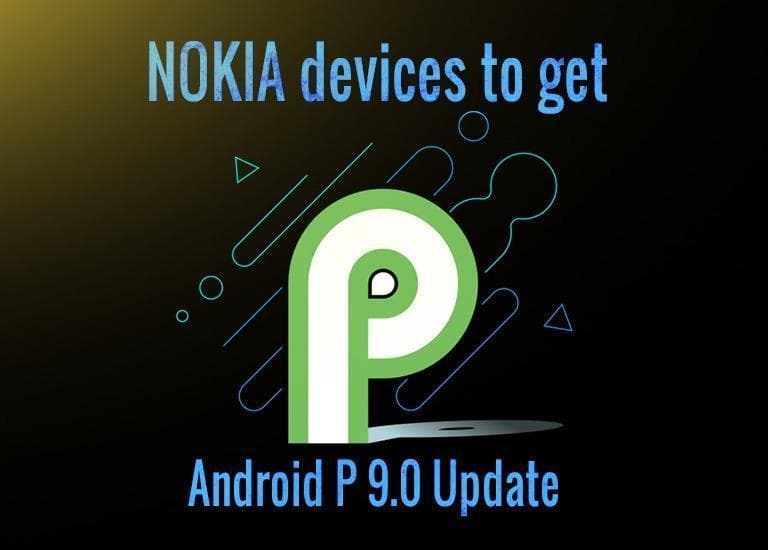 Google has released the Android Pie update and the latest update is set to arrive on a lot of smartphones this year. The update comes with loads changes over the Android Oreo 8.1.  In this post, we will take a look at which of the Nokia devices will be getting the latest Android Pie update and also what are the latest features of the Android Pie 9.0
Nokia rose from ashes after being Microsoft's slave for years, and now the Finnish giant led by HMD is back to the game with a whole new range of devices catered to every price segment. Moreover, the company has recently launched a new phone for the Android Go edition, which is Google's new effort to grab the market revenue from the buyers of next Billion people buying smartphones under $100 to $150.
Nokia now has the Nokia 1 Android Go edition device with basic specs all the way to the Nokia 8 Sirocco with the top of the line specs and build. In this post, we'll take a look at which devices the Finnish giant might update to the latest flavor of Android P 9.0.
The recently launched Nokia 6.1 Plus and the upcoming Nokia 5.1 Plus will be getting the Android Pie update for sure.
Speaking of Android Pie 9.0, let's take a look at what are the new features which it brings to the table and see if this is a major update or just a design revamp?
List of Nokia devices to get Android Pie 9.0 Update
Nokia 6.1 Plus
Nokia 5.1 Plus
Nokia 1
Nokia 9 (Unannounced)
Nokia 3 (2018) (Unannounced)
Almost all Nokia devices will be updated to Android Pie 9.0, and the thing that makes it possible is the use of Stock Android on all its phones. Now let's take a look at when Android Pie 9.0 might arrive for these devices.
Nokia 6.1 Plus Android Pie update
Nokia recently launched the Nokia 5.1 Plus and the Nokia 6.1 Plus smartphone in India, the Nokia 6.1 Plus is doing quite good with the buyers and is giving phones like Redmi Note 5 Pro a run for their money. Nokia has confirmed that both the Nokia 5.1 Plus and the Nokia 6.1 Plus will be getting the Android Pie update soon. So people who are looking to get these smartphones can do so without worrying about the updates.
Nokia 8 Sirocco and Nokia 8 2017 Android Pie 9.0 Update
Both are flagship devices from the Finnish giant and are eligible for the Android Pie 9.0 upgrade. Both are running on Android Oreo 8.xx. and due to the Stock Android advantage we expect the Android Pie Beta, that's Nokia beta lab's will roll it out somewhere around by the end of Q2 to early Q3 2018. For both the devices, however, the update won't land at the same time for the duo.
Nokia 6 2018, Nokia 7 Plus and Nokia 6 2017 Android 9.0 Update
Nokia's popular budget phone always gets two major updates for the standard two-year update cycle, and now the Nokia 6 2018 is eligible for the Pie update as well as the Nokia 6 2018 and so is the Nokia 7 Plus; and this will be the device's last update, completing the two-year update cycle. The update is expected just after the flagship devices get their share of Android Pie 9.0. Update expected by the end of 2018 to anywhere around Q1 2019.
Nokia 5, Nokia 3 and Nokia 2 Android Pie update
These are the entry level to the mid-range arm of Nokia battling the likes of the Moto G and Xiaomi Redmi Note 5. And despite being in that entry-level budget range, Nokia is keen on updating these devices. However, there's no official word on this, but the company always plans to provide at least a 2-year update cycle for all its devices, and the update shall start rolling out in Q1 2019 to Q2 2019.
Nokia 1 Android Go edition
As being part of the Android Go edition program, this entry-level $90 device will surely get the Go edition of Android Pie 9.0. Along with that, it is also eligible for the next version of Android after Pie. Update expected by the end of Q1 to Q2 2019.
New Features of Android Pie 9.0
1) Dark Mode for AMOLED screens, for better battery savings
2) New updates to the Messaging and Notifications(reply from the Notification itself)
3) Notch Support or Cut-out support is now available, as well as new Volume Slider
4) Performance enhancements for Kotlin based apps
5) Enhanced Auto-fill into text fields with machine learning
6) Strict permissions for apps as well as apps that are idle
7) Support for Multiple Camera API (No matter how many cameras you have Android Pie's multi-camera API gives you access to it.
8) Screen Shot option now comes baked in the Power-Off menu and New icons for the Settings menu
9) New HEIF Image compression and improved Video Codecs for HDR VP9 video profile 2
10) Neural Network API implementation is also added, to take advantage of chipset's AI engine.
So, that's quite a generous list, and thus we can say that this is a major upgrade and better implementation of the features that debuted with Android Oreo 8.1.
With that said, you're covered on all segments when you buy a Nokia device. So, no need to worry about the Pie 9.0 update, almost all devices are eligible but let's wait for the official word as Android Pie 9.0 officially debuts in the coming months.