Before we start our list of best Hairstyle apps and Beauty Makeover apps let's discuss why we need them. Our appearance is a major factor of our personality, it defines our style and social status. At some point in time, at least once, all of us feel a sudden urge to change our look. Sometimes it's a different hairstyle or a change in the hair color, sometimes it's a different nail paint or a not-so-usual lipstick.
These concerns might sound minuscule, choosing the perfect hairstyle and hair color is like picking the right apple. You can think of every possible outcome of picking a color but, you still can't tell how it's going to turn out on your personality. Selecting the right hairstyle is also a similar dilemma. So, how can you pick the best hairstyle for yourself?
We can always go to a stylist or salon, but since we humans have the latest technology these days we prefer to do our research via the internet. Glad to share, we are a part of that portion of the internet that's going to help you with your styling research.
One simple way to suppress the struggle is a list of some of the best styling apps for all your makeover needs. Well, we have handpicked the 10 best hairstyling apps that know how to get things done right.
If you're a fashion freak who loves to try a variety of styles, this list is for you. Here is a list of the best hairstyle changers & beauty makeover applications for your Android and iOS (iPhone) smartphones.
1. Perfect 365: One-Tap Makeover
Perfect 365 is one of the highest-rated virtual make-up applications on the App Store. You get more than 30 hairstyles to choose from. 20 makeup trends and many such activities by using your front camera and simulating a look. This app is frequently being used by famous influencers for makeup tutorials. This app provides new features with almost every update. The images are always captured in high definition. You can always rotate your face for a more intuitive look. You get a great color palette for various color options to choose from. And the best part, you can always save them and share your makeover with your friends and family.
| Pros | Cons |
| --- | --- |
| You get video tutorials for various styles. | The App contains Advertisements. |
| The image quality is superior to any other in competition. | App stability based on device compatibility is lacking. |
| Provide users with neat styling suggestions. | - |
| Updates are available regularly. | - |
| With one tap, users can access 'Hot Styles' | - |
2. Magic Mirror Hair Styler by Touch Multimedia
If you're a hairstyle enthusiast, then Magic Mirror Hair Styler is the perfect hairstyle app for you. There's a huge list of hairstyles in the app. You can take your pictures and choose the best hairstyle that suits your face. You can wishlist the hairstyles as well for future use. The user interface of the application is not very modern but, it does a pretty neat job when it comes to picking a hairstyle.
With over 30+ hairstyles to choose from, you can wishlist your next look anytime for the future. From mohawks to ponytails, you can get hairstyles that can match your personality. While the demo version is pretty basic, the professional version comes with some top-of-the-line features. One such feature is its sophisticated face detection system. Both men and women can use this application. The hairstyle app frequently brings new styles with updates as well.
| Pros | Cons |
| --- | --- |
| Rotation of the face is available to edit and fit the face into the frame for a better editing experience. | It is not a professional tool. The hairstyles are a little unrealistic and while they can give you a rough idea of how it is going to look on you. It won't show you a realistic result, unlike the professional tools. |
| You get four characters to choose from. These characters include both male and female characters. You can unlock all of them with the pro version of the application. | The free version of the app has very limited features and functionality unlocked. |
| You don't always have to click a selfie, you can simply add an image from your gallery and start grooming the character in the image. | The professional version is very highly-priced and does not justify much of a pricing thing of the company. |
| The interface is easy to use. | The interface is not very modern hence it reduces its appeal. |
| Function mechs are available for users to stream hairstyles.  | - |
3. YovoGames' Hair Salon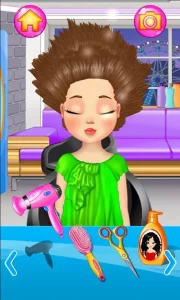 If you want to be the emperor of the fashion world, this app will drive you crazy. It is overloaded with a makeover, hairstyle, and other styling tips with a real-time simulation of your looks. It also has an interactive interface, which makes it quite popular among people of younger ages. This app can even morph funky hairstyles on kids to charm them.
There are a lot of options to customize the looks. Be it blow-dried, curled, permed, or straightened, You'll get everything you need. It is more like a game where you need to style your character but the character is you! With more than 100,000 downloads, this app is one of the most popular casual genre apps in the Google Play Store and one of the best hairstyle changer & makeover apps.
| Pros | Cons |
| --- | --- |
| This is an educational game much more popular among children. | This app might not match the appeal of a wider age group audience. Kids love it but adults, not so much. |
| It has a cool and interactive interface. | Ratings are not good enough in the store. |
| It consumes a very minimum amount of RAM and Battery. | There are plenty of advertisements. |
| The app is innovative. You can teach your kids salon tips and styling ideas from this application easily. | - |
| Sharing options are very easy to use. | - |
4. Hairstyle Try-On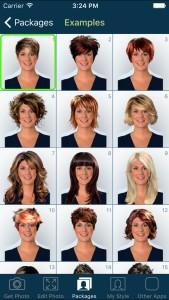 This is an Apple exclusive application. It provides a variety of hairstyle bundles into many different categories. The app is not too old but still has a respectable user review space. It is a lite version which makes using it an effortless experience. The look and feel of the application are pretty basic, enabling users of all age groups to access it with ease. There are more than 15 hairstyle ideas available and 500+ styling tips. They are all segregated under different categories for a hassle-free user experience. It works instantly and simulates the user's new look on their face without any hiccup. As this is Apple exclusive, we can say that it is one of the best hairstyle apps for iOS or iPhone.
| Pros | Cons |
| --- | --- |
| The application is well developed and has a lot of reviews for users. | Too many advertisements to tackle with. Sometimes it gets unbearable for the end-user. |
| The application is very lite thus consumes a negligible amount of RAM. | Internet connection unstable error is a part of the experience. |
| Hairstyle Try On often end up giving a satisfactory result to the user. | Bug fixes take more time than they should. |
| A significantly huge variety of hairstyles is available here. | The review bag is a mix of 'Wow and 'Meh'. |
| The app is optimized for iOS version 13 and later. | - |
5. MettleTech's Hairstyle Changer
This app is famous for giving the most cutest looks to the user that goes with their face. This application has countless simulated hairstyles This hairstyle changer app might not bring the best for realistic results but it gives a proper idea of what the style is going to look like. The hairstyles are gender-based and can be sorted age-wise as well. You just need to choose the most accurate combination of all the elements for an astonishing look. The recent updates have also brought beards and mustache styles into the foray.
| Pros | Cons |
| --- | --- |
| There is an excellent collection of hairstyles, hair hues, and moustache/beard styles for different age groups, regardless of gender.  | Not so good reviews on the Play Store. |
| Intuitive editing experience. | The app is old yet unstable on many devices. |
| 50+ image effects are available along with pinch and zoom functions. | - |
| The app is suitable for all age groups. | - |
6. Hairstyles- Fun and Fashion
This hairstyle app is underrated. The fashion freaks may not prefer it in the first place but the intuitive experience of this app makes it stand out from the competition. The app is not so modern, it is neither loaded with tons of features nor it is one of the most loved apps in the store. It is the simplicity of this app's interface which makes it unique. Just one touch and you'll get the results. It is one of the easiest apps to use as a styling consultation. The whole package comes at a size of 30MB. How amazing it is.
| Pros | Cons |
| --- | --- |
| It is one of the easiest hairstyle simulator apps. | Application performance seems to be outdated. |
| Dozens of social networking platforms are linked to the application including Messenger, WhatsApp, Instagram etc to use and share. | - |
| Create cool image effects or photomontages with your friends using this application. | - |
7. Beautylish
Beautylish is a Wikipedia of the styling world. It is a place that gives a community-like feeling. Salon artists and stylists answer the queries of people here, you get a lot of knowledge of hair grooming here along with tips and tricks of a lot of creative possibilities you can do with your hair grooming. The application interface is excellent and exciting, making it easy for non-tech savvy users to grasp the techniques easily. Reviews of the applications are neither bad nor too great, they're pretty much satisfactory. It is one of the most famous beauty apps in the category.
| Pros | Cons |
| --- | --- |
| It can appeal to all age groups above 12 years. | The application is Ad oriented. It has a lot of Ads. |
| It is compatible across all the available versions of Android. | Application support is not up to the mark. |
| Tips are genuine. People don't usually go scamming around. | Not the best performing styling app around. |
| It has a lot of downloads. | - |
8. Cute Girls Hairstyles
A very old-school user interface, yet a powerful application. This app is just like the VW Polo GT of hairstyling apps. It is simple, it might not look exciting or appealing but it is powerful, it can do wonders. It consumes the minimum data yet gives the most effective makeovers and hairstyles you can get anywhere digitally. Choose from 50+ hair-braiding or styling tips across different categories. You can bookmark the style you want for future references. The zooming, cropping, and editing options are indeed useful in creating a proper idea of whether the hairstyle suits you or not. One thing to bear in mind though, this app is a feminine-centric application, and males will going to find it pretty much useless.
| Pros | Cons |
| --- | --- |
| Image outputs of the hairstyle simulations are mostly delivered in High Definition quality. | Reviews are not satisfactory enough. |
| The application is user friendly. | A lot of ads are a mess. |
| Availability of tons of styling ideas. | The lack of a modern user interface makes it less popular among Gen Z users. |
| Tutorials are available for the users to understand styling tips or how to do these makeovers or stylings at home. | - |
9. Beautify
This beauty makeover app takes the game to another level. Along with tips and tricks, it includes many hairstyle ideas for different age groups, face shapes, and ethnicity. The application is quite popular globally and has enormous download and review figures to its name. Beautify was the leader in the fashion and styling application industry until 2018. After that time, the latest updates bought some negative changes to the app including bug issues and system instability. But hopefully, future updates might make it a charm again.
| Pros | Cons |
| --- | --- |
| It has a massive amount of downloads and fan following. | The amount of hairstyles is very less compared to other similar applications. |
| The application has an exquisite interface, making the result seem very Professional.  | Bug fixes are irregular. |
| If you're a serious makeover tips and tricks follower, Beautify has makeup tips and tutorial links embedded from YouTube which are very constructive for power users. | - |
| A pimple eraser, hair colourizer, and more features are available for some brilliant enhancements in the final output. | - |
| You can beautify images from your gallery by simply adding them to the application. | - |
Click here to download Beautify APK
10. ModiFace
Modiface is a very popular beauty makeover app that gives you tons of options to color your hair. It acts as a color palette for your hairstyle. The app has an automatic hair detection feature that can blend in with your hairstyle to give you a realistic colored hair feel. The app is simple to use and can work easily on both Android and iOS platforms.
| Pros | Cons |
| --- | --- |
| Easy to handle. | Reviews are not great. |
| Has a variety of colours to choose from. | Lack of hairstyles makes it a not so nice deal. |
| Stands out among the most popular hairstylist apps. | Ads can be troublesome. |
While hairstyling tips and tricks are available across the gigantic library of YouTube, hairstyle simulators apps give you a great idea of the type of look that will look great on you. While some of the application has just been created for fun-based purposes, these applications can provide fruitful results. So, these are the best free hair and beauty apps for the perfect makeover for you and your loved ones. Let us know which style app you love the most.
Frequently Asked Questions about Hairstyle & Beauty Makeover Apps
Why do we need hairstyle Apps? 

Hairstyle Applications with facing or image simulating technology are an excellent choice for fashion and beauty enthusiasts. These applications can be beneficial if you are looking for a makeup idea on a particular hairstyle or beauty makeover that suits your unique personality.

Which Applications are great for choosing good hairstyles?

Perfect 365, MettleTech's Hairstyle Changer, and all other applications on the list are excellent choices for this purpose. Most of these apps come with unique features to serve the user's purpose interactively. You should try all of them and choose the best one for yourself.

Do these applications consume a high amount of memory?

No, these applications are mostly Lite-designed, meaning that excess memory usage is out of the question. Cache memory consumption is also very low resulting in negligible performance degradation.

What are the types of hairstyles available in the applications?

Hairstyles ranging from blonde cuts, brunettes, permed, straightened, emos, and rebonded hairstyles are all bundled up for the user's perusal. So you can change your hairstyle and try new hair colors in many different ways.

Are these applications really helpful?

Some of the application has just been created for fun-based purposes. But, these applications provide fruitful results to most of the users.