Xiaomi's sub-brand 'Redmi' has seen a lot of success in the lowe and mid-range smartphone market in the last few years. It has become a trusted name amongst the customers due to the amazing and latest features that they offer with their devices at affordable prices. However, with increasing competition and the rise of other brands such as RealMe, Oppo, and Vivo, Redmi is consistently coming up with new and better devices to maintain its supremacy in the market share.
After the success of Redmi Note 9, 9 Pro, and Redmi Note 9 Pro Max Redmi is ready to bring the Redmi Note 10 and 10 Pro to the market. There is a lot of speculation about Redmi Note 10 Pro amongst the customers. The rumor mills are rife with leaked images and specifications popping up from time to time. Here are some of the Redmi Note 10 Pro Leaks and specifications that have come up to date.
Redmi Note 10 Pro Specifications
Due to the enormous popularity and hype surrounding the smartphone, many tipsters and leaksters have released a lot of specifications of Redmi Note 10 Pro. One of the earliest Redmi Note 10 features to leak was the fast charging capabilities of the device. A leaked image of a 3C Certification back in April confirmed that the Redmi Note 10 Pro would have 33W fast charging capabilities. It was also brought up that Redmi Note 10 Pro 5G version will also be released.
Early rumors suggested that Redmi Note 10 Pro will come with MediaTek Dimensity 800+ chipset. However, it was later tipped by many leaksters that it will indeed come with the in-demand Snapdragon 765G+ with 6 Gigs of RAM. It has been suggested that the Redmi Note 10 Pro battery will be a huge one at 5100maH, and that combined with the 33w charging will make it very attractive for consumers who are looking for a good budget gaming phone for prolonged gaming sessions.
Redmi Note 10 Pro display is rumored to be 6.7 inches and IPS LCD panel, and it is supposed to have a quad-camera setup, with a primary sensor of 64 MP, and three more sensors of 5 MP each. However, it is still not confirmed as to exactly which sensors the company will use.
At the front, it is supposed to have a punch-hole 32 MP selfie camera.
As far as the Operating System goes, it is is pretty much clear that the Redmi Note 10 Pro will come with Android 10 with MIUI 12 skin on top of it, but it will soon receive the Android 11 update as well which will add some more unique features to the device.
Redmi Note 10 Pro Price
It is clear that the Redmi Note 10 Pro will compete with the other devices in the upper mid-range category of sub 20,000 Rs. It will take on devices such as RealMe 6 Pro, Poco X2, Samsung Galaxy M31S, etc. Redmi has packed the devices with some fantastic features for this range in order to provide tough competition. This is a good upgrade on Redmi Note 9 Pro, and there are many rumors that the price of Redmi Note 10 pro will be priced around INR 18,990. We cannot confirm this right now, but it is looking most likely at this stage. (We will provide an update once the final price is out).
Redmi Note 10 Pro Release Date
Redmi launched the Redmi Note 9 Pro earlier this year in March and is bringing an upgrade within 2 Quarters to stay up to date with its competition. It has added many new features, which include an updated camera and a massive upgrade on the processor as well since the Redmi Note 9 Pro came with Snapdragon 720G. In contrast, now the Redmi Note 10 Pro is tipped to come with Snapdragon 765G which is also used in recently launched OnePlus Nord.
Although there has been no announcement or confirmation from the brand about the launch date of the device, it is estimated that the device could launch by late September or Early October. However, there have been some claims recently which say that Redmi Note 10 Pro launch will be done on 25th September 2020.
Redmi Note 10 Pro Leaked Images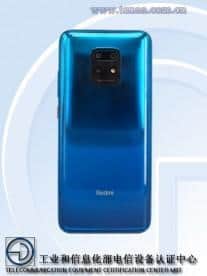 We will keep you updated on all the information about Redmi Note 10 Pro as more details come in. Keep a check on the same.