Moto G7 and Moto G7 Plus Price, Specs And Release Date
Motorola's Moto G series has come a long way and is responsible for defining today's premium budget segment, which is from $250 to $320. Ever since then, the segment has seen many entries from the likes of Xiaomi's redmi series, Huawei's Honor series and Nokia is also jumping in this segment as well. But the Moto G is the long-term player in the market has been started to lose its dominance which it had earlier with the Moto G1 and Moto G4 Plus series. Also, prices of the Moto G series has seen a 20% increase since the launch of the Moto G5S Plus. And now the Moto G6 series handles Motorola's 2018 arm, with the inclusion of Moto G6 Play the base model, the standard Moto G6 and the top of the line Moto G6 Plus which is essentially replacing the Moto X4's successor.
Update: According to Andri Yatim a popular and reliable tipster, Motorola Moto G7 (Moto G 2019) will sport Snapdragon 660 SOC with 4GB of RAM and 32GB of internal storage, while the Moto G7 Plus variant will come with a Snapdragon 700 series chipset (Most probably Snapdragon 710) with 4/6GB of RAM and 64GB of internal storage.
Just a recap for @moto devices in 2019.
– moto g7 (sd660, 4-32 GB)
– moto g7+ (sd7xx, 4/6-64 GB)
– moto z4 (sd8150, 6-64/128 GB)

— Andri Yatim (@HeyAndri) November 22, 2018
Update: Motorola Moto G7 passes the FCC, it means the device will launch sooner than expected. According to the latest reports, Moto G7 Plus may also feature wireless charging solution as Wireless Power Consortium has passed the FCC a new Moto Qi wireless charging pad. The Moto charging pad has an LED charging indicator, a non-slip base, and a soft non-slip surface as well. It is listed to be a 10W wireless charging pad.
Design and Display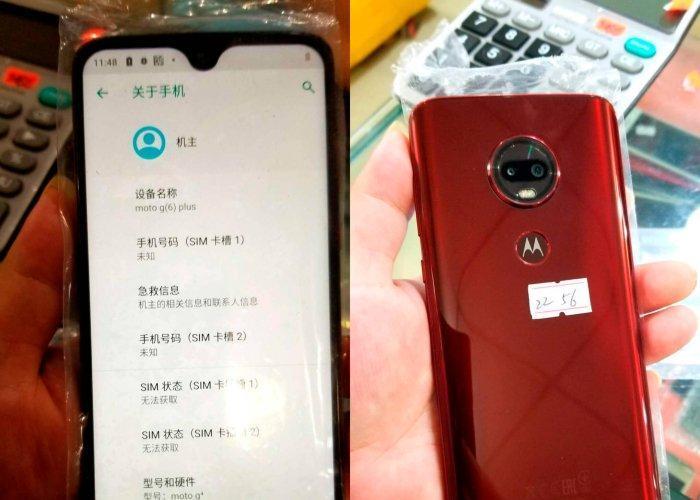 Now the Moto G6's successor which will be the Moto G7, the 7th generation smartphone has already started to see a couple of leaks and rumors, as well as the fan, made renders. The Motorola Moto G7 series is said to drop the Moto G Play model and will only have the standard Moto G7 as well as the Moto G7 Plus variants only unless they come up with a Moto G7 Prime or something similar. Which hints that Moto G 7th gen series will focus on premium build quality and camera features, which the G Play line compromises to keep costs low.
Speaking about the Moto G7 Plus and the standard Moto G7, the design language so far we have seen on these series of handsets is inspired from the flagship Moto Z series. Motorola already said they wouldn't launch any Moto Z's this year as Motorola completed their promise of supporting the modular phone for three years. However, recent leaks suggest that Moto Z4 will be launched in early 2019 with the latest Snapdragon 8150 SOC.
So, a design refresh could occur with the Moto G 7th Gen phones at least from the front and according to various rumors and fan-made renders, the Moto G 2019, as well as the Moto G7 Plus, will feature a water drop style notch display. From the recent leaks which shows a drop style notch on a mysterious Motorola device features a similar Moto G6 design on the rear. Also, the device's display shows the About phone section which lists the device like the Moto G6+.
The water drop notch will house the front selfie snapper along with the earpiece which will accommodate the front firing
speaker which will also support Dolby Atmos audio. Moreover, the Moto G 7th generation series will come with a larger 6.4-inch display with thinner bezels and taller 19.5:9 screen ratios, while sporting 1080P Full HD Plus resolution.
Moto G7 and G7 Plus Specifications
Speaking about the specs, a Qualcomm Snapdragon 660 which is an Octa-core chip proven to be power efficient as well as powerful enough to play your PUBG on medium to high settings and handle daily tasks with ease. Or a Snapdragon 660 for the Standard Moto G 7th Gen while the Moto G7 Plus may come with Snapdragon 7xx. Furthermore, the memory options that Motorola provides nowadays are quite generous, for instance, the Moto G 2019 for the first time has arrived with 6GB LPDDR4X RAM which is found in flagship devices or flagship killer. So, the standard 4GB/32GB and the top of the line 64GB with 6GB RAM for the Moto G7 Plus model. Also, check Xiaomi Poco F2 Rumors.
Camera
On the camera front, again a Dual-Camera setup will be in the cards, the dual camera will sport usual features such as an improved portrait mode, spot color mode, face filters, HDR and full manual mode. However, along with the regular RGB camera, Motorola could probably offer a wide-angle shooter this time, as we have seen on the Moto X4. A 16 megapixel on the Moto G7+ while a 12-MP on the standard G7 will take care of selfies, accompanied by a Dual-tone color correction LED flash on the front and rear sides. A f/1.7 aperture on the Moto G7 and the Moto G7+ will do a great job when it is taken in low-light and indoor shots.
Software and Battery
Motorola is known for the best stock Android experience, and till this date, they are committed to that, however in recent years, the American tech giant has been quite sluggish when it comes to Updates, but that should change with Android Pie 9.0. However, Motorola will only give your budget Moto G7 2019 series only one major update, that is when it comes in 2019 with Android Pie 9.0 you will get Android Q but not Android R.
Also, Check- List of Motorola devices that will be getting the Android Pie 9.0 update.
The battery on the Moto G7 will probably be at 3500mAh, and the Moto G7 Plus should now have 4000mAh power pack with Turbo Charge support. Moto-mods is also a good option at least for the Moto G7+ as that will be a premium budget phone, and the cost of mods will add even more. So, moto-mods on the G series could be a hit or a miss.
Pricing and Availablity
Pricing on the Moto G7 will be higher than the Moto G6 at about $300 while the Moto G7+ will be a sub $400 premium budget smartphone. Availability, of the Moto G7 Plus, is quite simple this time and since the play model isn't there, the standard and variants both will be available in all markets of Latin America, the US, and Canada, as well as India is the primary market along with other Asian countries such as Indonesia, Philippines, and Malaysia. It will also arrive in several European markets like Germany, the UK, and more for about 300 Euros.
Moto G7 Release Date
According to the sources, Moto G7 series smartphones will launch in early 2019. However, if we consider Motorola's past Moto G series launch schedule, Moto G7 will be announced in the period of Q1 2019 most probably March 2019.