Xiaomi's Redmi Note 4 was renowned as the best-selling budget smartphone in India, and now the fans are waiting for its successor to arrive moreover, expecting the company to introduce a Dual-camera setup in the lower budget segment. As far as the new leaks are concerned, they suggest the Xiaomi Redmi Note 5 is in works and will bring significant spec bump, again shaking the budget segment.
The upcoming Redmi Note 5 will feature a 5.5-inch 1080p display, expecting an AMOLED panel will be a bit too much of an asking for a device, that Xiaomi intends to sell for no more than just 13K INR. We could also see, a slight bump in the battery capacity, but that is not needed as the Redmi Note 4 already has a better battery life than its competition. Also, a USB-TYPE C is confirmed on the Redmi Note 5 as per the leaks.
What could power the Redmi Note 5?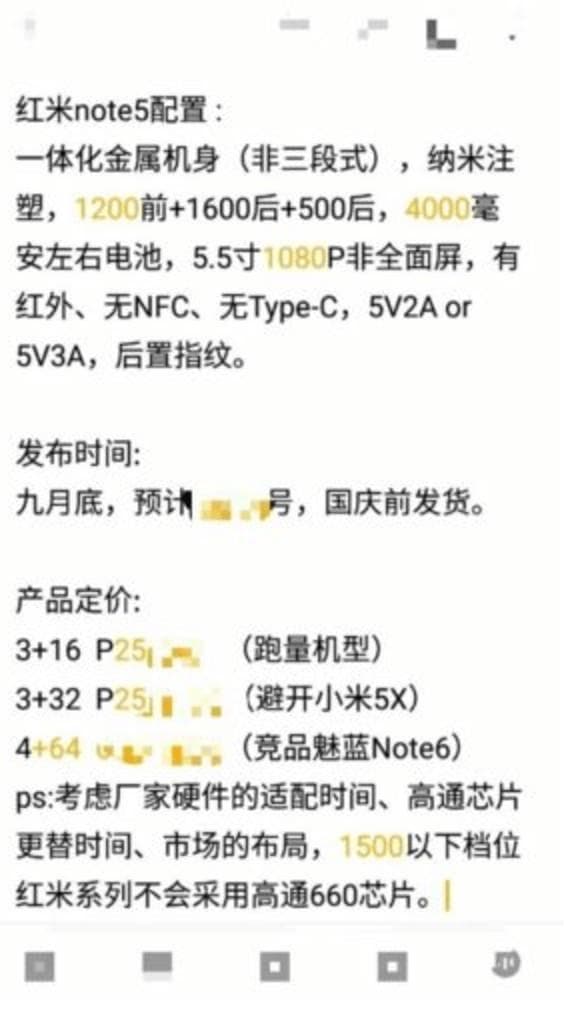 However, what's interesting from the rumor mill is that the Redmi Note 5 will be powered by a Qualcomm Snapdragon 660, which is relatively high-end chipset for the price of Redmi Note 5. So, we do not think a Snapdragon 660 could end up under the hood of the Redmi Note 5. Moreover, a Snapdragon 630 could surely see a path heading towards the Redmi Note 5, and it sounds reasonable enough for the OEM, to have a satisfiable upgrade for its fans.
However, don't think of the SD 630 as a slouch, it finds its place on devices that cost twice as much as the Redmi Note 5. For instance the upcoming Android One devices like the HTC U11 life and the Motorola Moto X4. So, it is outstanding for Xiaomi's next budget device to feature an upper mid-range SoC.
Another Dual-Camera device?
Apart from that, the device is expected to pack Dual cameras on the rear, and we have already seen such implementation from Xiaomi's recently launched Mi A1. So, we probably won't see a Dual-snapper setup, as it would simply compete with its cousin from Google's Android One camp.
Pricing
Rest all the things you could expect such as the memory and storage will not see any upgrade; other than the Chinese-giant introducing a proper dual-sim and micro-sd card support for the Redmi Note 5. While the prices as per the earlier leaks are concerned, we have the following:
1,299 Yuan (estimated Rs. 12,700/- INR) for the 64GB/4GB
999 Yuan (estimated Rs. 9900/- INR) for the 32GB/3GB
As far as pricing is concerned, the would be the same or a 1,000 INR to 2000/- INR more from the current retail costs. If we see a Snapdragon 660 and the Dual-camera making their way here. The device will be available online only via flash sales, following its tradition.