Looking for to protect your shiny new Apple iPhone 8 and iPhone 8 Plus, here are some of the best in class glass screen protectors, to have some protection against minor to average falls. As it doesn't come with any Shatter-shield tech like the Moto X/Z/Z2 force does. Moreover, Apple's screen replacement plans also received a new price bump and now will cost you more than $149 and $169 respectively.
So, it will be a nice little investment, rather ultimately getting your pocket, as well as your display, take a huge hit, no matter how much Apple touts that they have used the toughest glass available. This protector will at least ensure it's safe from minor damages and also doesn't interfere with any touch delay. And are precisely edged out for the best possible fit.
OtterBox ALPHA GLASS 
The most reputable brand in the smart case industry Otter-box needs no introduction, its put together with well-crafted materials and this is no exception. Also, it doesn't set you back a huge amount. As it comes at a discounted price of just $13.16, down from the original $39.95.
Pros:
Fortified anti-shatter glass

Preserves touchscreen vibrancy and response

Precise dimensions
Cons:
Buy Otterbox ALPHA GLASS SERIES Screen Protector
Moshi IonGlass
Another entry here is from Moshi with its atomically-strengthened ION-GLASS, which not only provided the needed protection but also stretches from edge-to-edge, and matches with your device's curved display. This usually retails for 40 bucks on Amazon.
Pros:
Covered with Oleophobic surface-coating

Stretches and covers the whole display

Micro-beveled Home-button cut-out
Cons: 
Also, covers your glossy front bezels.
amFilm Screen protector (Really Cheap)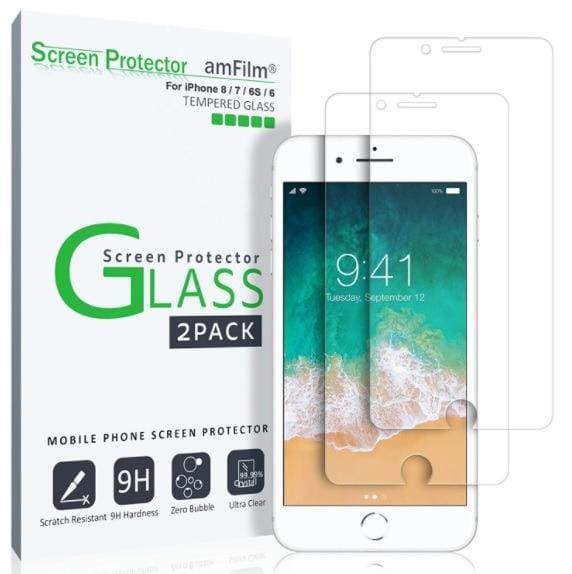 This glass protector is the most affordable offerings from the listings and gets the job done with its scratch resistant, hardened glass, which is also light in your pocket. It doesn't mess with your viewing angle; moreover, this retails for just $6.79.
Pros:
Cheapest option to protect your screen
Scratch resistant

Surface hardness 9H

Also, comes with 

oleophobic coating 
Cons:
Doesn't protect from significant drops
ZAGG hdx For iPhone 8 Plus
Made with highly durable components for long lasting durability as well as the design is case friendly. However, If your ZAGG HDX ever gets worn or damaged while your usage, ZAGG will replace it for you as long as you own your device. This screen guard retails for $24.99 on its website.
Prós:
Military Grade 3X Shatter Protection
Case friendly
 Self-healing nanotechnology
Cons:
Belkin Anti-Glare Screen Protection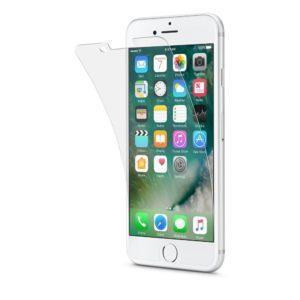 The only screen protected featured on Apple's website till now is the Belkin anti-glare protector, manufactured with 3H hardness as well as preserving multi-touch functionality. Moreover, its ultra-thin and doesn't feel like you have applied on top of your glass. And don't worry doesn't cost hundreds of dollars like every product related to Apple's camp and comes at a reasonable price of just $19.95.
Pros:
Recommended by Apple
3H hardness glass
Anti-glare properties
Cons: