Poco F1 is making a big stir in the smartphone world by giving the top of the line specifications at an astonishing budget price. Poco, a new sub-brand emerged from Xiaomi is already making a dent in the market by bringing the best specifications to a lower mid-range price segment.
The Poco brand altogether pivots majorly around the 'Performance' of a smartphone & that is denoted by packing a flagship chipset by Qualcomm that is Snapdragon 845 in Poco F1 that too at an exceedingly low price tag.
One would think that if performance oriented Poco F1 is priced so low with the high-end specs, then Xiaomi might have made a few compromises to fit that budget price tag. Well, to your surprise Xiaomi has made almost no compromises with this smartphone. The camera hardware is top-notch with dual camera setup, good display with the popular notch, IR Face Scanner, Fingerprint scanner, good battery life & an impeccable performance for the given price.
The only con that I can think about Poco F1 is that the build on the back of the phone is composed of polycarbonate. That is not all that bad because thankfully it is not built as the delicate glass-sandwich design which is more popular with the smartphones these days. Also, read the upcoming Poco F2 specs and released date.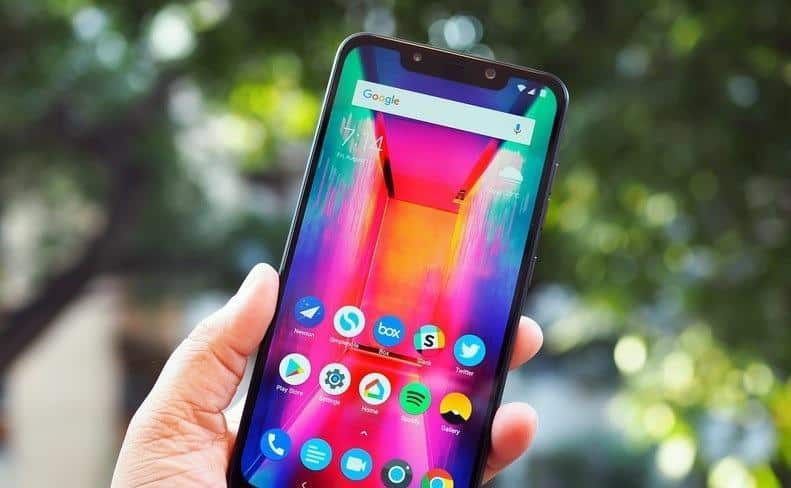 Now, one would be thinking that this device which comes with spectacular specifications on paper would be performing flawlessly. Well, sorry for your disappointment, but, just like most other smartphones, Poco F1 has some bugs & issues with it. Honestly, in my opinion, to justify its price tag you shouldn't expect it to compete with the likes OnePlus 6 or Galaxy S8. Well, to address the issues Poco has released an update, but to no avail for all the problems. Also, check the Poco F1 Root guide.
Here, we have a list of issues along with the ways to fix them. So, without further ado let's get on with the problems.
Xiaomi Poco F1 Issues
Ghost Touch/Multi-touch problem
Some users claimed that they experienced an issue with touch while using the Multi-touch tester app. Extra touch input was being registered while tapping on the screen. Xiaomi was quick to address the problem & claimed that the bug was itself in the Multi-touch tester app. A simple way to fix this issue is as follows:
Possible fixes:
Go to the Settings > additional settings > button & gesture shortcuts > take a screenshot & set the photo to 'none' & restart your device.
Uninstall the Multi-touch tester app if you have already installed it so now the issue won't persist anymore.
Notification panel not displaying some app icons
This issue is much persistent with the users & Xiaomi has looked after it. If you are facing the same issue then don't panic, Xiaomi has taken action towards it already & released a fix for this problem in the Global Beta ROM 8.9.13
If you are currently not on the Global Beta ROM, then you would have to wait for the fix to be released in the next Stable ROM by Xiaomi. Other than ROM update there is no alternative fix for this issue.
Connecting issues with the Bluetooth devices
While trying to connect to other Bluetooth devices, they were unable to pair with the Poco F1. It is quite frustrating for some users as it takes multiple tries to connect the Bluetooth device with the smartphone at times. There is a fix for this issue as well.
Possible Fixes:
The convenient & straightforward method to fix this is, well, not rocket science, just reboot your beloved Poco F1. To do so (yeah for dummies) you have to press & hold the power button for about 3 seconds until a pop-up appears, then tap on restart/reboot. After restarting the device try pairing with your Bluetooth devices.
If the problem persists then just go to Bluetooth settings & remove all the paired devices from the list. After the cache is cleared, try to pair the favored Bluetooth device with your Poco F1.
Another way to achieve a successful pairing with Bluetooth devices is to clear the Bluetooth cache with the following instructions: Go to Settings > Applications > Tap on the 3 dots visible on the top right corner of the screen & click on Show system apps > Bluetooth > Storage > Clear cache & data. Now you won't be having any issues connecting a Bluetooth device.
PUBG gameplay hindrance by the notch
After the update, users are complaining that while playing the most loved game none other than PUBG, some portions of the GamePlay remain hidden by the notch. Well, it is very irritating about the notch being the villain ruining the whole gaming experience.
Xiaomi took no time to acknowledge this issue as Poco F1 is purely made for running games optimally. Well, Xiaomi has relayed the issue to the PUBG mobile developers & they are currently working to get this fixed ASAP.
Since there is no quickest way to fix this issue but we can just ask you to be patient until the PUBG mobile team fixes the issue in another update for the game.
The sound output is low while playing PuBG
Another issue that gamers are facing while playing PUBG on the Poco F1 is regarding sound. PUBG users are complaining that while playing their beloved game, the sound output is very low & even distorted as a matter of fact. Nobody likes to play games with a distorted sound.
Fortunately, to take into account this issue, Xiaomi has fixed it in the Global Beta ROM 8.9.13. We expect that Xiaomi will soon roll out this fix in the stable ROM version. Until then, you will have to keep patience.
Wi-Fi connectivity issues: Unstable or not connecting
If you also might have been facing the Wi-Fi connectivity issue with you Poco F1 then fret not, we have got you covered up with this. There are some fixes that might help you solve this issue & have your Wi-Fi working usually.
Remove the concerned Wi-Fi network from the remembered Wi-Fi list of your device. Go to your Settings > Connections > Wi-Fi & tap on the Forget button on the particular network name that you are having trouble. Now try to reconnect the concerned Wi-Fi network.
Well, the issue could also be persisting due to an issue with your Wi-Fi router itself, so, restarting the router might help. To do so, you have to unplug for about 10 seconds & then replug your Wi-Fi router which will soft reset your router. Now, try connecting to the Wi-Fi, it should be up & working.
'Ok Google' voice command not working
If you are one of those users whose 'OK Google' command went unheard by your Poco F1 then here's good news for you. This bug has already been taken care of by Xiaomi in the Global Beta ROM 8.9.13 update.
As we would usually expect, the fix could be arriving at the stable ROM soon enough. Well, another workaround is not available as of now & so, we could only suggest you wait for the bug fix update from Xiaomi to get rid of this issue permanently.
Data connection not functional
If you are struggling like other users to use the mobile data on your Poco F1 then we have some fixes under our sleeves for you to use data effortlessly.
Possible Fixes:
You can Reset the APN settings to enable the mobile network again. To accomplish this head over to the Settings > Mobile Network > Access Point & go to your carrier APN settings.
Another way to make the mobile data work is by just turning ON the Airplane mode on your device for about 15 seconds. Then, turn the Airplane mode OFF to assume searching for your carrier network. Now, try using your mobile data & it should be working.

Well, if you're traveling somewhere & your SIM is on 'Roaming,' here you might have mistaken or forgot to enable roaming in your device. Then, just check the roaming settings by heading into Settings > SIM card & mobile network > Enable data roaming. Enjoy your mobile data.
If you have been noticing an excessive battery drain than normal in your Poco F1 like other users then below fixes might help you out. Assuming that battery drain is usually caused due to some software bugs probably not the faulty battery.
Possible Fixes:
A hotfix for the battery drainage problem is to reset your device. Just Press & hold the Power button & the Volume down key together simultaneously for a few seconds until the screen goes off. A device reboot will automatically be initiated. Now, check your battery usage should be back to normal.

Sometimes GPS might become the hindrance for battery drain issue. Disable 'High-accuracy' location. Go to the settings page & search for 'Location.' Change the Location setting from High accuracy to Low accuracy. You can also turn the Location feature OFF when you are not using the apps that require the Location of the user.
Well, You can just uninstall battery draining apps as well. For instance, some apps like Facebook just hogg on the battery juice by remaining in the background rigorously to get the latest notifications, etc. You need to disable the app in background or uninstalling the app altogether. Alternately you could use a lite version of such apps or web version.
Netflix or Amazon Prime HD streaming not permitted on the Poco F1 with no support for Widevine L1 support. This issue is yet to be taken care of & it seems this issue cannot be fixed with a software update.

Android Auto problems.

There is some problem with touch while using the keyboard on Poco F1 as there is a touch delay & wrong input while typing fast.
These are some issues that have no solution yet but are expected to be fixed by the Xiaomi soon. Poco team is already in works & finding the cause of these issues. Also, check the Poco F1 Pie update (Android 9.0 Pie) news.
We'll keep on updating as new information arises about the same.