Samsung has delivered on their promise of providing the Bixby update to Galaxy S8 and Galaxy S8 Plus users across the Globe; the much-awaited update is now available on the devices mentioned above in more than 200 countries. To use the Bixby on your S8 series device you can press the dedicated Bixby button or swipe on the home screen to access the Bixby screen, once configured correctly, you can use the assistant by just saying the command " Hey Bixby."
Orignal Post
Samsung is all ready to launch its latest flagship the Galaxy Note 8 on 23rd of August. And the Note 8 will share most of the specs with the earlier launched Galaxy S8 and S8 Plus. If you recall, Samsung announced their Android assistant known as the Bixby along with the Galaxy S8 earlier this year, but the surprising fact is that still, it is not available to a major number of users of S8 and S8 Plus in most of the countries.
Earlier we reported about the essential core Bixby apps update roll out, and now Samsung has been running an ad on Facebook which shows that Samsung may be announcing it globally tomorrow, i.e., on 22nd of August.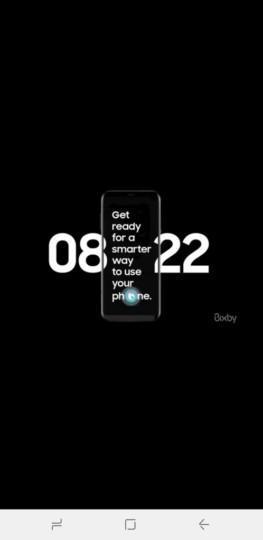 If you are wondering What is Bixby? Then let us explain, have you heard about Siri or Google Now, well Bixby is Samsung's take on AI. Bixby is a virtual assistant developed by Samsung technologies. Bixby is operated by voice and was introduced back in March along with the launch of the S8, but the biggest problem with this virtual is assistant is that it's been almost 4-5months it was launched and still in most of the countries S8 and S8 Plus users still cannot use it.
But there is nothing to worry now, as we have a relaxing news for the Samsung users, Samsung has been running an ad on social media sites which says "Get ready for a smarter way to use your phone" and the Bixby icon can be clearly seen there, by which it seems likely that Samsung may launch the Bixby update tomorrow and if you don't know then the Note 8's launch is scheduled on 23rd August, which indicates that Galaxy Note 8 will come preinstalled with this virtual assistant globally.