Hotstar, or the now re-branded Disney Plus Hotstar, is one of the most popular over the top media service and content providing platform for the Indian audiences. It is home to some of the most popular and iconic shows and movies across generations and in multiple languages., that offer 50,000 hours of entertainment.
Most of the content on the platform is paid, and you need to subscribe to any of the multiple plans offered by them, as per your choice. Besides the popular shows and movies, you can also watch live sports on the platform. Availability of some famous sports programs like Indian Cricket team matches, IPL, English Premier League, etc. make it the most sought after platform amongst fans.
Which countries are Hotstar available in?
Hotstar is available to watch in India and Canada. Recently, they also made the streaming services available to the residents of the US. But much to the disappointment of those residing in other countries except these three, or those who are traveling abroad, Hotstar is not available to watch in those regions. It is because it has geographical restrictions that detect the IP address and physical location and prevent access to the platform outside India.
If you try accessing Hotstar from any of these restricted locations, it will show errors such as –
"this content is currently not available in your region [NM-4031]" or "we are having trouble playing this video, please try playing  a different title [ERR_PB_1410]"
If you are facing similar errors and want to watch Hotstar abroad, then worry not. You can try the methods listed below and learn how to watch Hotstar anywhere in the world.
Methods of Watching Hotstar in the US, UK, Canada, and Other Countries
There are multiple ways through which you can watch Hotstar from abroad. These include –

Method 1 – Using VPN
This is one of the easiest and most reliable methods for using Hotstar abroad. VPN or Virtual Private Network allows you to bypass the geo-restrictions of Hotstar by changing your original IP address. All you need to do is to download a VPN service provider app on your device and choose an Indian server.
MUST-READ: How to use VPN to access blocked websites? and Best VPN apps for Android (Free and Paid)
Hotstar will assume your location to be in India, and hence will allow you to watch all the content. Some of the free and reliable VPN service providers include Nord VPN, Express VPN, Surf Shark VPN, and Cyber Ghost VPN.
To watch Hotstar using VPN, you can follow the below steps –
Download any of the VPN apps you prefer
Install it on the device on which you want to watch Hotstar
Search for an Indian server and connect with it
Now open the Hotstar app on your device
Now you will be able to watch Hotstar from any location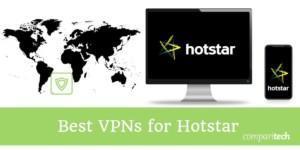 Method 2- Using DNS Proxy
DNS, or the domain name system, that translates numeric IP addresses into readable addresses. By using a proxy DNS service, you can change the DNS of your internet service and route your data through a dedicated server located in the country of your choice.
You can use services such as Smart DNS Proxy, that can help in unblocking content on Hotstar. It is very easy to set up and use and is generally faster than the VPN.
To watch Hotstar using VPN, you can follow the below steps –
1-Install a DNS Proxy app, such as Smart DNS Proxy
2- In your computer, go to Control Panel and then click on Network settings.
3- Then go to Network and Internet Link -> Network and Sharing Centre -> Change adaptor settings
4- Right-click on your Wi-Fi name and then select properties.
5- Now ensure IPv6 is unchecked, and check the IPv4 option.
6- Select the option "use the following DNS server addresses" and then copy the primary and secondary server DNS IP addresses.
7- Paste these in the preferred and alternate DNS server IP addresses column on your screen.
8- Click on OK to save the settings.
Now you will be able to connect to Indian servers and stream Hotstar from anywhere in the world without any errors.
How to subscribe to Premium Services on Hotstar or Hotstar VIP from Abroad?
Although you can use the above-listed methods to unblock geo-restrictions and watch Hotstar from any location, another issue that users face is that most of the content on the platform falls under premium or VIP category, and they are needed to subscribe to the service on a monthly or yearly basis to watch all content.
However, Hotstar only accepts payments from Indian cards and wallets, and users cannot subscribe to the premium plans if they do not have that. If you are facing the same issue, then you can try paying via iTunes. If that doesn't work, you can ask someone residing in India on any social network to pay for you and get all the premium content on Hotstar unlocked.
Final Words
Hotstar is one of the most popular streaming platforms. The presence of some great content, in addition to the recently added Disney premium content, makes it a must-have for everyone. Besides, it is one of the rare platforms where you could watch some of the best live sporting action.
So if you are outside India and are not able to watch Hotstar due to its geo-restrictions, then try any of the above-listed methods, and overcome all restrictions to watch your favorite content irrespective of where you are located in the world.