As we already know that new 2017 iPhones are there, while the old ones are still here to stay but now with a stripped down price tag. So, if you're rocking a former flagship iPhone that's the iPhone 6S, here are some fresh and functional accessories that you'll be interested in to step up your iPhone game. These accessories are brought to you after a long haul of solid picks from the best, among their rivals.
We have selected a wide range of accessories from tough armor cases to wireless individual and much more. Also, read iPhone 8 and iPhone 8 Plus: Best Screen Protectors and Tempered Glass.
Rugged Armor Cases for iPhone 6S
UAG armor cases
If you want the top-tier protection and looking for form over function, then you need to suit up with a highly protected case on your iPhone 6s. Special is from urban armor here; they are the go-to brand for a legit tough armor case.
The cases designed by urban armor are not only lightweight and stylish, but also you get a ton of protection with them. The case is a one-piece design and builds with soft polycarbonate and the rubber.
Moreover, for extra shock absorption, it features a honeycomb design which in theory should distribute the shock waves across the case to widely spread them and give you maximum Insurance protection. The and fit finish nicely hugs your iPhone 6s so no need to worry about the case falling-off or such.
The UAG cases come bathed in a variety of colors to choose from, as well as they also have many different types of cases and for more certain matters (for instance, card holding, 360 side protection, etc.). It retails for around $29.99 to $49.99 (with ten years of limited warranty) but drops down to a $19.99 during massive holiday sales.
Pros:
Military grade protection (MIL-STD 810G 516.6)
Survives Drops from as high as 10 feet
Durable TPU material
Honeycomb Pattern design, adds more protection
Cons:
Buy UAG Feather-Light Composite [RUST] Military Drop Tested Phone Case
Otterbox Defender series cases 
This a reputable brand and has proven its mettle with their special durable cases and shock absorption capabilities. Moreover, the company also has a variety of different series, and each set comes in a plethora of styles to choose.
Pros:
Extra Rugged
Printed designs available
Dust Protection
Screen Protection
Cons:
Buy OtterBox Defender Series Case
Otterbox uniVERSE Case System
It is whole new concept when it comes to cases, and expands the functionality of your iPhone 6S, with modules. As the name suggests this cases, it can transform your iPhone 6s in a camera, battery pack, wallet and much more with a slide on modules along with the protection. They retail for $49.99, and the modules start from $24.99 to as high as $79.99
Pros:
Swappable modules
Drop Protection
Transforms as per your needs
Cons:
Buy OtterBox uniVERSE series case system
Wireless Charging/Charger for iPhone 6S
Due to the iPhone's metal construction, one of the most convenient features that you are missing on is the concept of wireless charging. Change the introduction of iPhone 6 we have not seen wireless charging which is an essential feature nowadays giving your freedom from the hassle of tangled cables.
Spigen Wireless Charging case
This is more like adding an extra essential feature back to your iPhone 6s. So this wireless charging case comes from a reputable case maker call Spigen. They are well-known for their stylish cases, but now they are also making a wireless charging case for the iPhone 6s along with this case you also get added protection.
Prós:
Wireless charging
Good grip
Durable, tough materials
Cons:
Fast charging not available
Buy Spigen Wireless charging battery case
Incipio Ghost Qi Wireless Charging 
Incipio is also a well-known battery accessories maker and has come up with a sleek-looking Qi charging battery case; the case also sports LEDs to indicate the amount of juice remains in reserve. It is a matte finished case and feels quite grippy along with adding some protection. This comes with a 2,100mAh battery capacity.
Pros:
Battery bank plus Qi charging
Also, provides protection
Ergonomic
Cons:
Buy Incipio Ghost Qi Wireless Charging Battery Case
Fone Salesman iQi Mobile
One of the most well-thought accessories for your iPhones, as its thin form factor and sits under your iPhone case all you have to do is plug the cord ending into your lighting port, and now you have wireless charging. It is the very non-intrusive way of gaining the wireless charging feature on to your iPhone 6s. This retails for just $19.99 bucks.
Buy iQi Mobile for wireless charging
Clip-On Lenses (Macro, FishEye, and Wide-angle)
iPhone 6s camera is already great but even extend its capabilities for we have got something for you. These are external lenses with just clip on to your iPhone 6s. Moreover, comes with three different types of lenses starting with the wide-angle lens; which lets you capture more the same frame second is the fish-eye lens getting you the GoPro effect.
And lastly, we have the Macro lens the Macro lens is the most interesting one of all among the trio this gets you super close to your subject. This gets you a very close up shot.
Making it look like it came from DSLR camera lens; there are other lenses also such as telephoto lenses. Which lets you zoom over long distances. 
Laser Pointer
One of the coolest is it service for iPhone 6s, is this a laser pointer you can use this for presentation purposes while pointing out specific areas on the slides or just for fun you can see that the laser module is very tiny.
And it goes and your 3.5 mm headphone jack now you know why the headphone jack is an important thing; which unfortunately iPhone 7s would not be able to take advantage of this laser module, furthermore, the module's powered by the iPhone itself.
And it also comes with the free iPad App which you can get from the app store the laser pointer has some gesture controls for page up and down well as you can use the Wi-Fi connection use the pointer as a mouse cursor controller remotely the device is turned on and off via a 90° switch. So it doesn't stay on when it's plugged in.
Wireless controller
If you are a hardcore mobile gamer, then you need this gaming controller from none other than Steel series which is a well-known PC gaming gear manufacturer Steel-series Nimbus wireless controller not only works with your iPhone it also works with other Apple products such as the iPad, iPod, Mac and the Apple TV.
The controller connects to the connection with your iPhone VR Bluetooth 4.1 connectivity text to choice text for shoulder buttons as well as analog Trigger buttons the D-pad, and all are pressure sensitive. It looks and feels a lot like a PlayStation or Xbox controller and also charges with batteries promising up to 40 hours of gameplay life.
Apart from this it also sports LED indicators in case you are playing a multi-player game. The controller retails for just $44 and is a good deal considering, it comes from a reputed brand and also works with all your Apple products. You can buy it from the link given below in green.
   Buy SteelSeries Nimbus Wireless Gaming Controller
iPhone 6s Covers 
Speck candyshell grip-+
Speck makes some stylish looking cover for the iPhones adding much more bling to the dull looking metal backing. With Speck, you get a fresh new look with some added protection. So, you're covered on both sides. The cases finished in dual-tone colors and come painted with a healthy amount of color choices.
Pros:
Polycarbonate build
Meets military standards
Stylish Dual-tone designs
Premium feel
Cons:
Spigen Liquid Crystal cover
Another entry by Spigen here with the transparent, patterned case. The maintains your lovely rose-gold iPhone 6s look along with some protection to it against minor falls. It doesn't add any more bulk to the phone like other do. Plus it's also lighter in your pocket coming in at just $15 bucks.
Pros:
Preserves your iPhone's looks
Thin layering
Cheap pricing
protection from scratches and scuffs
Cons:
No protection against high drops
Buy Spigen Liquid Crystal with Slim Protection
Caseology Wavelength Textured Pattern Grip cover
The blue charm brings unique two-piece construction that provides you with the grip hold on your phone like no other, the over also looks attractive with its subtle wavy patterns and doesn't add any bulk to it as well.
Apart from that, the buttons also feel tactile with this cover, and it also has enough protection to save your iPhone 6s from minor drops. The material story here even continues the same with the use of TPU rubber and plastic which is a proven protective hard shell material.
Pros:
Best looking cover so far
sturdy build
Provides extra grip
Affordable price
Protection
Cons:
Buy Caseology [Wavelength Series]
Skins for iPhone 6S
DBrand Skins
The best in the Skin business and even trusted by MKBHD himself, DBrand is the way to go when it comes to completely changing the look of your iPhone without adding any bulky cases or covers. It's made with the world-class 3M material, which sticks to your phone very well.
The skins are also available in various textures, for instance, carbon-fiber, sandstone, and leather to name a few and as well as in different shades.
Pros:
Genuine 3M material
Precision Cuts
Variety of textures
Cons:
Leaves your phone unprotected
Buy Dbrand Skins for iPhone 6s
SlickWraps
Here's another one for you if you Dbrand for some reason doesn't ship to your country and you want a lot more variety with printed graphics on, then Slick-Wraps is for you, they have a vast library of graphical skins that cover your entire iPhone 6s.
These are Made in the USA and feature the same precision and super thin layer assembly. And each skin is available in glossy as well in a matte finish as per your choice.
Pros:
Graphical designs
Cover's entire phones
Thin, durable construction
Cons:
 Your phone stays unprotected
Buy Slickwraps decals and skins for iPhone 6s
Decalgirl
Decalgirl is another unique skin maker and it not only has a huge collection of skins for your iPhone 6s but with decal girl you can also design your Skins with their custom skin maker, you upload your image, and with their proprietary application they'll deliver the skin of your desires, making it one of a kind made just for you.
You can also append your textual writing on the skin and decalgirl provides a variety of fonts as per your superior taste. All this for an affordable price so, it's also light in your pocket. You also get 20% off if you sign-up for their newsletter that's another little saving for you.
Pros:
Design your own
Affordable price
Bubble-free installation
Huge library of designs available
Cons:
Buy Decalgirl iPhone 6s or Design your own
Tempered Glass for iPhone 6s
 ARKTEK Premium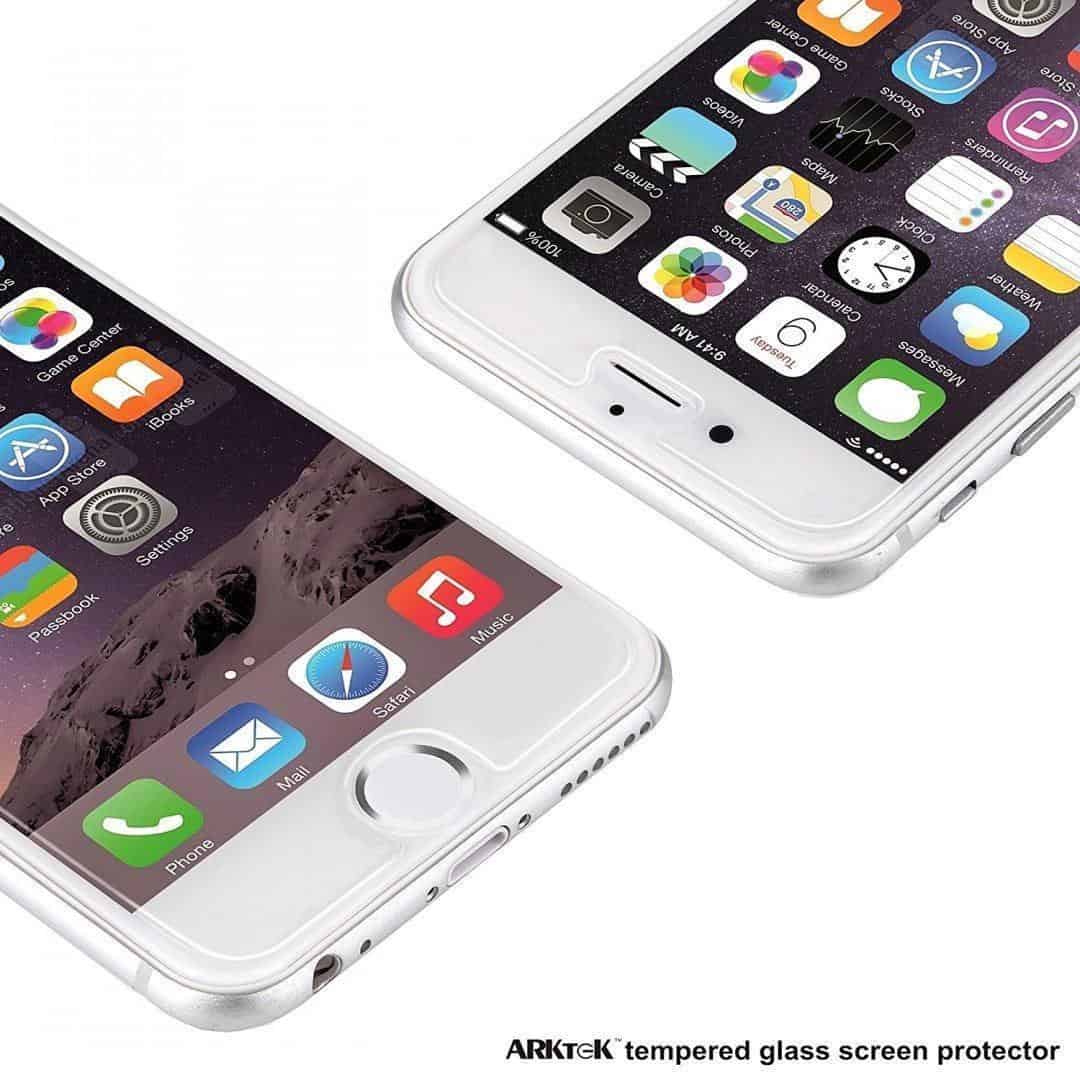 The ARKTEK tempered glass provides unmatchable protection to your iPhone's front glass and has no effect whatsoever due to keys, coins scratches as well as it gives crystal clear images and doesn't make your iPhone look goofy with a screen guard.
The cuts are precise and fit your iPhone 6s very well without any obstruction to any sensors. With its thickness coming at 0.26 mm, it's not noticeable while using your phone.
Pros:
Cheap but does the job
Very thin
Doesn't cause touch lag
2.5D rounded edges
Cons:
Doesn't extend entirely towards edges
Buy ARKTeK 0.26mm Super Thin glass
Mokou
Another well-tempered glassmaker is providing a multi-layer protection approach for your front glass. The glass consists of 4 different layers, each functioning to guarantee maximum protection. It also has oleophobic coating thus, prevents sweat and oil residue, and all the layers are glued together with a new adhesive silicone, ensuring everything lasts longer.
Pros:
Multi-layer protection
Oleophobic coating
Better manufacturing process
2.5D glass is present
Cons:
Buy MouKou Tempered Glass Screen Protector
Showtime Glittered Glass
If you need extra bling with your tempered glass than Showtime has got you covered with their super thin 0.3mm glass infused with glitter making your device stand out from the crowd and the glass can also take some impacts with its 9h hardness. The glass is available for now just $19.99.
Pros:
Has shiny glitter
9H hardness
2.5D curved edge
Cons:
Buy showtime glitter glass for Apple iPhone 6s
Note: All are picked directly from Amazon.com after careful inspection of ratings and reviews.