Samsung's upcoming flip phone which has been in leaks since several months and now has visited WiFi alliance, model number being W2018X, thus revealing that the launch of this niche device is getting closer, than ever. The Flip-phone(flip smartphone) market is still a thing in many Asian regions, mainly in the Chinese market and people tend to buy smartphones that come in a clamshell form and has the iconic Motorola's Razr like flip mechanism, so such phones do sell there.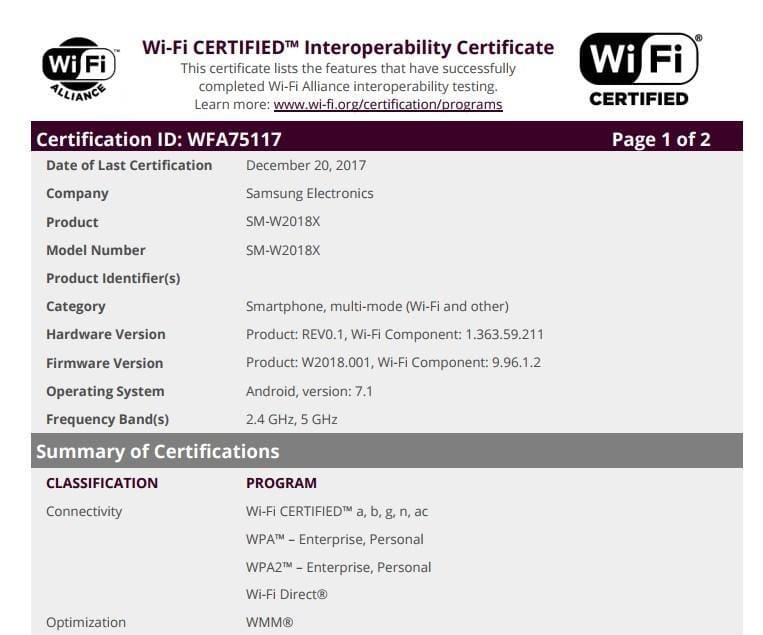 And Samsung has been on the game since more than eight years now, prepping out high spec flip-phones similar to the W2018 which was launched this year, with beefy specs similar to it's popular Galaxy Note 8 and the Galaxy S8. But in the flip phone form factor. And the W2018X will also pack the latest silicon from Qualcomm that's the Snapdragon 845 and a ridiculous 6 Gigs of RAM, and the wides aperture camera on the market.
Samsung W2018 pic.twitter.com/8S4hP3bmz2

— 萌萌的电教 (@MMDDJ_) November 9, 2017
The predecessor of this device has a 4.2-inch AMOLED panel, full-HD panel and a 12 MP f/1.5 aperture camera, with OIS support which is insane for such a device, and a 5 MP f/1.9 selfie shooter. Maybe the W2018X might get dual cameras? Internal storage is also on the flagship side with 64 Gigs on board. Made with luxurious materials this device will easily cost anywhere around $2200 to $2500(CNY 15,999).
However, regarding design, in my opinion, this stands nowhere near to the Razrs, but has hundred times more horsepower and also supports current Gen 4G LTE networks as well as the touchscreen option, along with the regular number pad. We hope this device gets a tone variant and also see's light in new markets outside China.