Over the last few days, some incredible leaks have surfaced online about some of the flagship phones that might release in 2019. The Leaks indicated some new inventions that are expected to be launched in the phones in this year. These phones with their specifications might change the whole world of Smartphones. To start with we have the Samsung Galaxy S10, iPhone 11(iPhone 2019), and many more
1. Samsung Galaxy S10:
Display:  The Samsung Galaxy S10 has been expected to come in 4 models, The Galaxy S10, S10 Lite,  S10 Plus, and a special Galaxy S10 5G model. And now there are some rumors that the phone may contain punch hole cameras like the Honor View 20. The S10, S10 plus and the S10 Lite have been expected to come in different screen sizes
According to Ice Universe, the Galaxy S10 will have a screen size of 6.11-inches, while the Galaxy S10+ might have a 6.44-inch panel. The previous-generation Galaxy S9 and S9+ came with 5.8-inch and 6.2-inch displays. Meanwhile, the 5G version of the Galaxy S10 will sport a 6.6-inch display. The Galaxy S10 Lite, on the other hand, might come with a 5.75-inch display. The Galaxy Note 10 will also see a bigger display, up from 6.4-inch to 6.75-inch.
A Reddit user posted the below image a few hours ago, without sharing any other details about it. From the looks of it, the Redditor made the most of his phone's zooming capabilities, which means we're looking at a photo that's not of the best quality.
Camera:
Samsung Galaxy  S10 : 12MP + 16MP Wide Angle + 13 MP Telephoto
Samsung Galaxy  S10 Lite:  12MP + 16MP Wide Angle
Samsung Galaxy  S10 Plus:12MP + 16MP Wide Angle + 13 MP Telephoto Dual Selfie Camera
2. iPhone 11
The iPhone 11 is expected to come with a Triple Camera Setup and the same huge notch as introduced in iPhone X, but there as some rumors that suggest that Apple may shorten the notch by reducing a camera from the front.
Sketchy new reports from Chinese website Weibo claim to offer up some interesting new tidbits regarding Apple's upcoming iPhone 11. Most interesting is the possibility of a display with a higher refresh rate, similar to the 120Hz rate found on iPad Pro. The report also calls for a larger, 4,000mAh battery on the Max model, with much faster 15W wireless charging also in a row.
MUST READ: iPhone XS vs iPhone 11 (XI): Changes expected in iPhone 2019
The rumor further corroborates reports of a triple camera setup on the back. This could mean Apple will house a wide angle, super-wide angle, Sony TOF sensor? and a 3X telephoto lens. The last mark is interesting, as Apple's current telephoto lens defaults to a 2X zoom.
Also, some iPhone 11 rumors have called for a smaller notch, an improved 10MP selfie camera, and of course, a widely improved 14MP triple camera rear setup. As for whether USB-C will finally make its way to iPhone or Lightning will last another year remains to be seen.
3. Pixel 3 Lite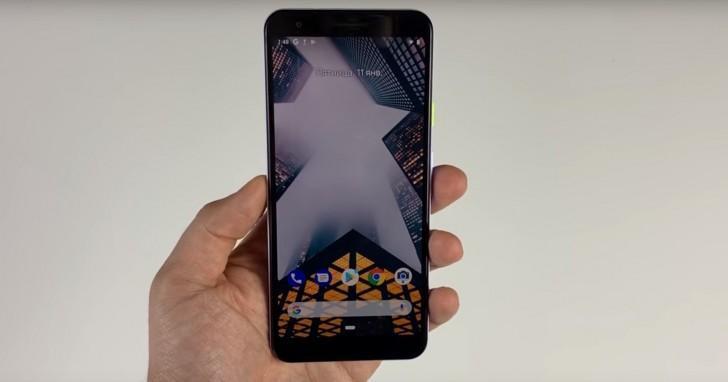 The Google Pixel 3 Lite phone is supposedly codenamed "Sargo" and runs on a Snapdragon 670 processor and 4GB of RAM. It looks similar to the Pixel 3, with fairly sizable bezels above and below the screen, but there's no secondary selfie camera on the top or front-facing speaker on either.
The chassis is seemingly constructed out of plastic, and unlike on the flagship Pixel models Google has made room for a headphone jack. The screen is said to be a 5.56-inch 2220 x 1080 LCD, while the battery is reported 2,915mAh
Andro News says be Pixel 3 Lite will be available around Google I/O 2019, which typically takes place in May. Additionally, this apparent Pixel 3 Lite also sports a headphone jack, which is something Rozetked claimed the phone didn't have in its leak from 2018.
4. Moto G7
The Moto G7 Play, which is expected to be the most affordable Moto G7 series smartphone will be offered in two colors: Gold and Blue.
The Moto G7 Power will come in Black and Lilac Purple colors, On the other hand, the standard Moto G7 will be available in Black and White color options. Also, read Motorola Moto G7, G7 Plus, G7 Play, and G7 Power: Prices and specs leaks online.
The Moto G7 Plus, which is expected to be the most impressive upcoming Moto G7 series smartphone, will come in Red and Blue colors in Europe.
As can be seen in the renders above, the Moto G7 and Moto G7 Plus feature a waterdrop notch at the top. However, both smartphones also sport a relatively thick bottom bezel with the Motorola branding on it. Despite that, we expect the Moto G7 and Moto G7 Plus to have a significantly improved screen-to-body ratio compared to their predecessors. At the rear, both smartphones feature a dual-camera setup as well as a fingerprint sensor embedded under the batwing logo.
As for the hardware specifications, the Moto G7 and Moto G7 Plus are tipped to be powered by a Qualcomm Snapdragon 660 SoC under the hood. The Moto G7 Play, on the other hand, could be powered by a 14nm Qualcomm Snapdragon 632 chipset instead. Moto G7 Power is expected to run on a Snapdragon 625 SoC and will pack a massive 5000mAh capacity battery with fast charging support.
The Moto G7 and the G7 Play could be priced at 12,000 INR, and The G7 Power could be priced at 16,900 INR, which would not be a good value for money, but let's see how to company manages to keep the pricing