Google Chrome on Android has not been updated for a while now. However, that's going to change because now the new update pushing the version tp v62 is now available to download and brings a lot of features and API's for developers to play with. A revamped new User interface is here along with some new API introduced for networks and media as well.
Google Chrome V62: What's new?
Starting with the fresh look of chrome which is now cleaner and is called Chrome Home, and the URL bar currently resides on the bottom without any label on it as seen on the earlier beta versions. Moreover, it's now more rounded to its sides. Apart from that the standard downloads, bookmarks and the history options from the new tab menu now have their little icons at the bottom instead of being an option in the list.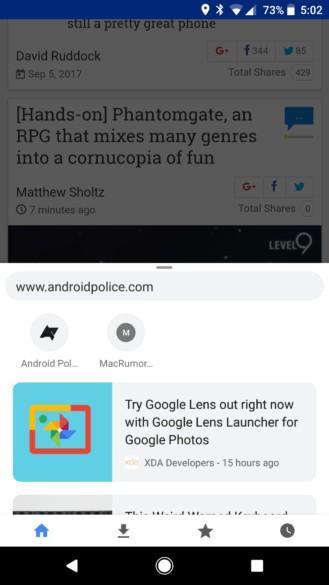 This one is a new API here, with the new Media Capture API joining chrome, which will allow developers to record audio and video related data from an HTML 5 canvas web page. Thus now will make Chrome more versatile than before when it comes to web applications associated with media. So, now you always won't need an app, it can also be possible in the chrome itself.
Another API we have here is the Network API for chrome, which displays various networks cellular (3G, 4G) and Wifi networks, along with this your ping towards that websites are shown. The uses cases of this to test your loading times and the performance of an online games latency can be known via this nifty little feature.
Furthermore, other small changes are as follows:
Ambient light sensor support enabled
data and time HTML tags are now supported
Payments API for iOS are also included
The visibility: collapse; CSS property now works for tables
Non HTTPS sites are marked as not secured
Eight digit and four digit hex colors are now supported from CSS and much more
So, this is a pretty significant update for Chrome on Android, and to Download the Google Chrome APK, just visit the link given below. Google has also updated its Play Store app as well with stability and performance improvements.