About Fortnite Battle Royale: Fortnite Battle Royale is an online game and a free to play battle Royale game published and developed by Epic Games. It is a companion to Fortnite save the world, which is a cooperative survival game with construction elements. Right now, the world of the gaming world is divided into two fan-based groups. First, PUBG fans, and second, Fortnite. These games are the heartthrobs of the current games playing generation. Both games' basic concept is the same, but there are multiple differences regarding graphics, weapons, maps, etc.
We will talk about Fortnite here; the main concept is similar to the genre's previous games. One hundred online players skydive on an island and scavenge for weapons, shelter, gears to defend themselves from the other 99 players. Players can play the games in multiple modes, such as alone (Solo), with an additional player (Duo), or with a group of players up to three players (Squads). As the game progresses, players' area gradually shrinks within the island, giving players less room to work. The last surviving player or last alive team wins the match. The main difference from others in this genre is the game's construction elements, giving advantages depending on skill level and utilization. Fortnite Battle Royale deals with a seasonal approach with battle passes to limit time events, some of which correspond with changes in the game map and introduce new character customization content.
Fortnite Battle Royale is available for multiple platforms. Initially, it was released for Microsoft Windows, PlayStation 4, macOS, and Xbox One. In 2018 it was made available on iOS, Android, and the Nintendo Switch. It can be downloaded from Apple's App Store for iOS users, but Android is still not available on Google Play Store for some reason. So some users are a little confused about how to download the Fortnite mobile game for android MOD APK. So, we will tell you here how to download Fortnite Battle Player modded APK for your Android devices. But first, know what this game is about and how Fortnite differs from PUBG Mobile and Apex Legends, and you decide for yourself about PUBG or Fortnite, which is the best game and which game you should play between PUBG and Fortnite.
Summary about Fortnite Battle Royale Mobile Android APK
Developers: Epic Games
Publishers: Epic Games
Series: Fortnite
Game Engine: Unreal Engine 4
Platforms: Microsoft Windows, macOS, Xbox One, PlayStation 4, iOS, Android, and Nintendo Switch
Genre: Battle Royale
Modes: Solo, Duo, Squad (Multiplayer)
Latest version:00.0
Size: 173MB
MOD Features – GPU Fix, Unlock All Devices
How to Install Fortnite Mobile APK on Android Phones
Fortnite Battle Royale Mobile for Android download is finally here for all the game geeks worldwide, and you can download the Fortnite game from Epic Games on any Android phone now. However, Epic Games has not selected Google Play Store, which means you cannot download the Fortnite Mobile game from Google Play Store. So now how to download and install Fortnite Battle Royale mobile APK on your phone< we have brought the solution for this problem.
Download Fortnite APK for Samsung Galaxy Devices
Epic Games has made available Fortnite mobile APK download available for some high-end Samsung Galaxy devices. You can easily download with some clicks this game from the Galaxy App Store to high-end Galaxy devices. Samsung and Epic Games have a deal that results in Fortnite for Android can be downloaded via the preloaded Galaxy App Store form Samsung Galaxy Devices. As we told you earlier, it is still available for only high-end devices only. The list of compatible devices is given below.
Samsung Galaxy Tab S4
Samsung Galaxy Tab S3
Samsung Galaxy Note 9
Samsung Galaxy Note 8
Samsung Galaxy S7/S7 Edge
Samsung Galaxy S8/S8 Plus
Samsung Galaxy S9/S9 Plus
If you have one of these devices mentioned above, you can easily download and play Fortnite Battle Player Mobile on Android for free.
Step 1 – Open the Galaxy App Store on your Samsung Galaxy phone.
Step 2 – Tap on the banner of Fortnite on the front page, download the Fortnite installer (4MB).
Step 3 – Now open the Fortnite installer, and it will automatically start Fortnite for Android download process.
Step 4 – Give permission when prompted, and your Fortnite Mobile for Android will be installed for free.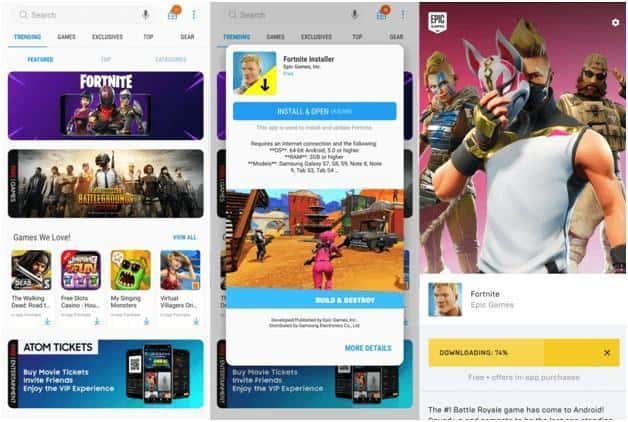 Keep in Mind: The game will occupy space up to 1.88 GB space on your Android device, so make sure you have enough free space before installing Fortnite.
How to Download and Install Fortnite for Android and Other Devices
f you don't own any Samsung Galaxy high-end device still you can download and play Fortnite on your Android smartphones or other gadgets which meet the following given minimum hardware or software system requirements:
Android OS Version – Android 8.0 or higher
RAM – 4 GB
Space – 3 GB minimum free onboard storage
GPU Requirements – Qualcomm Adreno 530 or further, ARM Mali-G71 MP20, ARM Mali-G72 MP12, or further releases.
Epic Games or Fortnite's official web site's FAQ page lists some specific phones and tablets that officially support Fortnite for Android. But remember that this list may vary, and it should be considered as a comprehensive list:
OnePlus: 5 / 5T, 6
Xiaomi: Blackshark, Mi 8 / 8 Explorer, Mi Mix, Mi Mix 2, Mi Mix 2S, Mi 5 / 5S / 5S Plus, 6 / 6 Plus, Mi Note 2
Asus: ROG Phone, Zenfone 4 Pro, 5Z, V
Huawei: Honor 10, Mate 10 / Pro, Nova 3, P20 / Pro, V10, Honor Play, Mate RS
ZTE: Axon M, Nubia / Z17 / Z17s, Axon 7 / 7s, Nubia Z11
Sony: Xperia XZ/Premium, Xzs, XZ1/Compact, XZ2/Premium/Compact, XZ3
Samsung Galaxy A9
LG: G7, G6, G5 ThinQ, V30 / V30+, V20
Razer: Phone / Phone 2
HTC: 10, U Ultra, U11/ U11+, U12+
Google: Pixel 3/XL, Pixel / Pixel XL, Pixel 2 / Pixel 2 XL
Google Lenovo: Moto Z/Z Droid, Moto Z2 Force
Lenovo Moto Z3
Nokia: 8, 8.1/X7
Essential: PH-1
Huawei Honor View 20, Mate 20 /X/Pro
If your Android smartphone or tablet is mentioned in the above list, or else if your phone meets the minimum specifications, you can go to Epic Games' website and download the Fortnite Mobile for any Android phone from the given link.
            Free Download and Install Fortnite for Android OS
            Download Fortnite MOD APK (Unlocked/GPU FIX)
Note: Before installing Fortnite via the third party APK file, make sure that Installation permission from the Unknown Sources setting is turned on.
Can Fortnite support Android Controller, Mouse, and Keyboard
All the game geeks here know that playing games with an additional controller are more fun, and you can be playing like pro players. But first, let's know does Fortnite supports Android Controller consoles. Epic Games recently updated the Fortnite Mobile game to support Bluetooth controllers. Epic's FAQ page says that most Bluetooth Android controllers would work with the game. They have also listed some specific devices:
XBox1
Moto Gamepad
Gamevice
SteelSeries Stratus XL
Razer Raiju
But the bad news is that Fortnite for Android doesn't support keyboard or mouse controllers. Epic says in a statement that if you decide to connect a keyboard or mouse to your Android phone to play Fortnite for Android then, it will automatically remove you from the match.
Fortnite Mobile game for Rooted Android devices or Jailbroken Phones
Fortnite is currently not supported with rooted android devices or any other jailbroken phones. However, developers of Fortnite, Epic Games, had stated that they are looking into making Fortnite Mobile APK for rooted devices in the future if the developers could also offer effective anti-cheat solutions that can game playing as fair as possible.
What should you play between Fortnite VS PUBG Mobile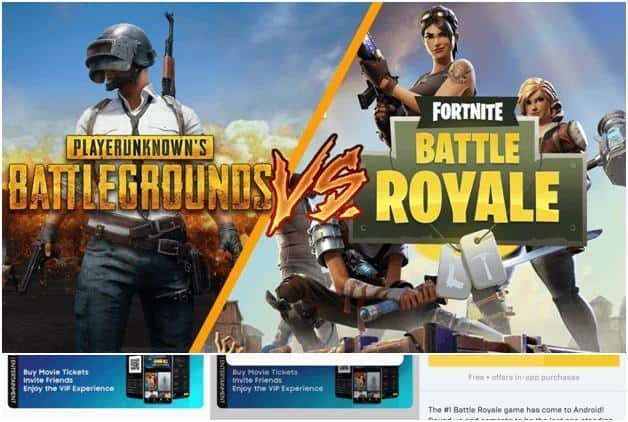 As we have told you earlier, the game geeks are divided into two categories, i.e., PUBG players and Fortnite fans. But all the players and users are asking which game is best between Fortnite Mobile and PUBG Mobile. Fortnite is based on sandbox gameplay, which means gameplay has many enticements like trapping, building, or gathering instead of winning or losing one battle as in the other games in the same genre. Fortnite is more fun compare to PUBG as it includes humor, building, and multiple extraordinary weapons features. But smooth and efficient gameplay of PUBG cannot be replaced. In particular, we can say that these are the future of the mobile gaming world. Also, read Garena Free Fire – Download Garena Free Fire for PC, iOS, and Android.
Final Words:
Fortnite and PUBG are both rivals after Fortnite has been released on mobile os like iOS and Android. But as Fortnite is still in beta and can be downloaded from its official website on the devices listed above and some other devices that would have been compatible if we missed in our roster, check the pre-requisites given in the article above. If you find any trouble while installing Fortnite on your Android, which compatible, you can always reach us. Our technical team is happy to help you, and we will update all the details if any further news is released. If you have any suggestions or feedback, you can share it with us in the comment section.