Apex Legends Mobile is a fun free to play FPS( First Person Shooter) Battle Royale game for PC, Xbox One, and PS 4. The game has been developed by famous gaming studios EA(Electronic Arts). EA has been under the gun for a long time now for not developing good games, and Apex Legends is the Studio's answer to these allegations. Only three days after its release, the game already had 10 Million Active players who are a fantastic feat. We aren't sure how these records are fair against Fortnite or PUBG, but it is indeed an epic comeback by EA.
Apex Legends is not your typical Battle Royal game.
Apex Legends is indeed based on the concept of Battle Royal. Each match hosts 60 players divided into 20 teams. You will play one of the eight available legends and team up with two teammates to find the last surviving team. But here's where it shines, The eight legends we just talked about, has their unique skills, and choosing your character can lead to many unique tactics, making the game more attractive and unpredictable.
The game brings a mix of other favorite games like Overwatch or Team Fortress 2 built into the concept of Battle Royal, making the game fun to play.  The game is in its first season, but it's incredibly well developed. There are hardly any bugs or lags. The frame rates are great, and the game is pretty smooth to play.
Here's how the game unfolds. You and 59 other players will jump down to the map from a plane. Choosing a starting place can be very crucial to the match. It would help if you found the necessary equipment quickly, weapons, and armor to face other players. The game stress teamwork a lot. If your teammate has been knocked out in a match, you can still revive them if you promptly pick up their banner and bring it to a designated location on the map. Having good coordination with your teammate can be the key to winning.
Apex Legends – The Eight Legends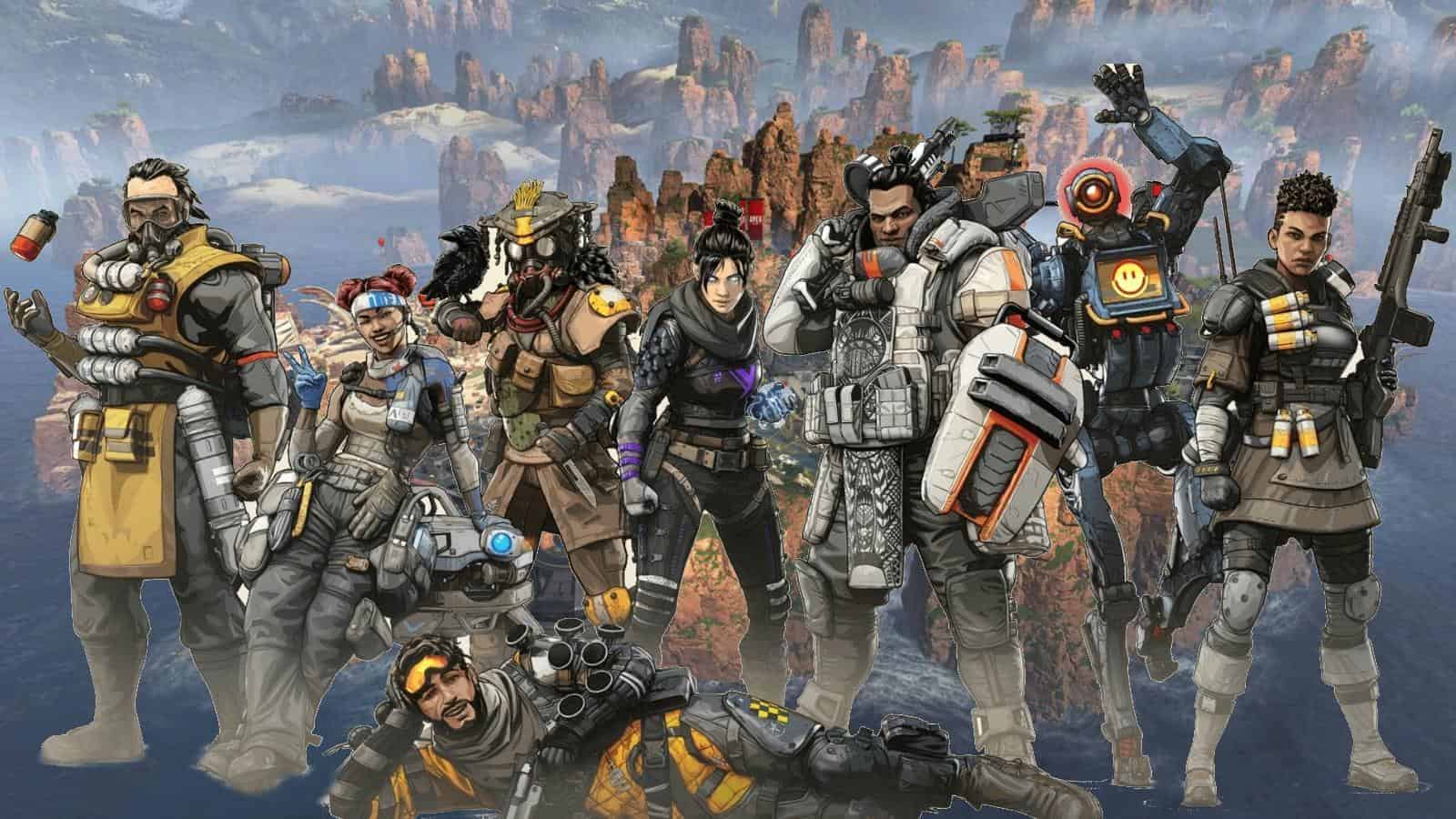 We just talked about the eight legends and that every legend has its characteristics and powers. Let's take an in-depth look at that.
Wraith
Wraith is the only witch of the game at present. Wraith has the ability to go stealth, detect danger, and especially the ability to create a shortcut for the whole team to move quickly to any location.
Pathfinder (Name: MRVN, age: Unknown
Pathfinder has the ability to do a long-distance jump and launch a hook wire to help your squad swing to move easily through the terrain.
Lifeline (Real name: Ajay Che, 24)
Lifeline has the amazing ability to heal AOE and revive her teammates, and she has a lot of necessary medicines. She can be called the Doctor of the game.
Gibraltar (Real name: Makoa Gibraltar, 30)
Gibraltar has the skill to create a shield that can be used to protect teammates and themselves.
Caustic (Real name: Alexander Nox, 48)
Caustic is a master when it comes to the use of toxic gas and setting traps for enemies.
Bloodhound
Bloodhounds can follow enemy trails. He can sniff and find an enemy's location.
Bangalore(Real name: Anita Williams, 35)
Bangalore's main weapon is the destructive grenade launcher. Bangalore can move pretty flexible and even call for support to bomb from the air forces.
Mirage (Real name: Elliott Witt, 30)
Mirage has the PSYCHE OUT and VANISH OUT ability. Mirage can be pretty helpful when you are cornered in a standoff against a squad, and you need to deceive the enemy team and flee from the scene.
Apex Legends Map
Apex Legends currents have only one map, that is the Kings Canyon. The map is big enough for 60 Players and keeps you engaged at all times. The map is rich with a great variety of landscapes and terrain. You can easily loot items in an abandoned factory, snipe from a high-rise building and then jump down to escape or fight in a burned down forest.
Apex Legends Mobile APK Download
Apex Legends has been a smash hit across platforms like PC, Xbox One and Sony PS4. After a week of its release, the game had 25 Million active players, which surpassed Fornite and even PUBG Mobile records. Fortnite and PUBG have both released the smartphone version of their games, and it won't be long before Apex Legends releases Apex Legends Mobile for Android and iOS.
Update: Wilson, during the results call, announced that the mobile version of the game would be released in the 2022 fiscal year, which will begin April 1, 2021. The company has confirmed that the mobile version of the game will launch by October 2021 if everything goes according to the plan, but if it faces more hurdles, the game release might take much longer, at most by the end of September 2022.
EA's CEO, Andrew Wilson, has already said that they understand smartphone gaming's importance and will develop and release the game across these platforms. EA expects that Apex Legends Mobile will be well received in Asia, where the number of smartphone gamers exceeds the number of PC, Xbox, and PS gamers combined. PUBG Mobile has dominated the smartphone market for over a year now, and EA would like to cash on this newly developed smartphone market soon enough.
We will be adding the link for Apex Legends APK or Apex Legends Mobile APK latest version as soon as the game is released for the Android and iOS platforms. So watch this space for more updates on Apex Legends Mobile.
Download Apex Legends Mobile APK (Android)