Samsung earlier launched its mid-range metal body handset known as the Galaxy On Nxt, and when it was launched, it was among the few handsets from Samsung that has a Uni-body design. Still, it packs enough power to satisfy any user's need, and it is easily available through major online platforms but because of other brands like Xiaomi which is offering devices like Mi A1 in this budget.
Anyway, this article is for the users who own Galaxy On Nxt smartphone or are planning to buy it, as in this article we will tell you about the best accessories available for this device. Whatever device you purchase whether it is an iPhone or an Android we buy a case and a Screen guard to protect it from accidental drops. With so many options available online, choosing the correct case or any other accessories can be a tiring task, so to solve this problem let's check out the best accessories for Galaxy On Nxt.
Flipkart Smartbuy case for Galaxy On NXT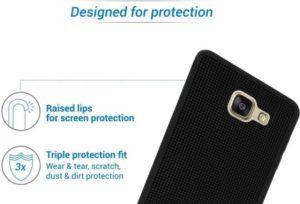 We have picked this case for the device as it satisfies multiple needs. Firstly it costs only 269 Rs which is comparatively cheaper but still, there is no compromise in the quality. It has a cross type texture in the rear which offers proper grip and protects the phone from daily wear and tear. It is made up of an elastic material and is not a hard case.
ALSO READ: Best Samsung Galaxy J7 2016 Accessories
Pros
Raised lips for screen protection.
Scratch-resistant rubber coating.
Highly elastic.
Low price.
Cons
Spigen Rugged armor case
Spigen is always known for its robust quality cases, and this case is the most prominent example of their quality. It focuses more on protection and still is thin enough to look attractive, it doesn't feel bulky but protects the device from anything though for the front you must have a screen guard applied. It is made of elastic material, so it will not break like other hard cases. It is a bit expensive at 899 Rs.
Pros
Offers excellent Carbon Fibre texture.
Air cushion technology for shock absorption.
Tactile space for buttons.
Raised lips for screen protection.
Cons
Slightly overpriced.
It is not compatible with the Galaxy J7 device as the speaker cutout is not present.
Buy Spigen Case for Galaxy On NXT
Johra Silicone case for Galaxy On NXT
It is the only transparent TPU case in this list, it is targeted to the users who prefer using transparent case over the colored one as it generally hides the design of the phone. This type of cases are very cheap and are available for almost every device. It is highly flexible so no worries at all as it will not break like a hard case.
Pros
Cheap Price.
Made up of elastic TPU material.
Precision cut design.
Lightweight.
Cons
It attracts dust and turns yellow after a month of usage.
Chevron Hybrid armor case for Galaxy On NXT
It is a typical armor case and is for the users who want a proper solution for smartphone protection. This case can easily make your device survive even after suffering from multiple drops. It is made up of hard rubber material and may appear bulky to some users. If you are looking for a case with a point of view of protection, then you can buy it for 399 Rs.
Pros
Military grade materials used.
This case is shockproof and can easily protect your device.
Dual layer concept used for durability.
Cons
Feels bulky at times.
Finishing and cutouts are not accurate.
Dainty Tempered Glass
It is one of the toughest and best Screen protector available for the On NXT in the market. It covers the full front of the phone, unlike those cheap protectors which don't even fit the smartphone. It is available in gold color and is air bubble free which means is easy to apply. It will cost you 422 Rs.
Pros
Comes with a toughness of 9H.
Anti-fingerprint.
Scratch resistant.
Cons
Boat Bassheads 225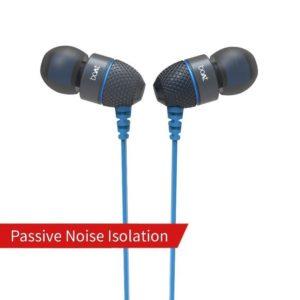 These are one of the best earphones available under 1000 for the Galaxy On NXT, and their biggest U.S.P is that they are very cheap regarding pricing but offers good quality of sound. If you are a Bass lover and looking for good earphones for your Galaxy On NXT then without a doubt go for them, the cost 549 Rs and is easily available on major online platforms.
Pros
10mm drivers deliver amazing clarity and deep bass.
Tangle-free cable.
Made of Metal.
Passive noise cancellation.
Cons
Not made for fitness freaks as it is not splash proof.
They are a bit heavy due to which they pop out of ears.
TheGiftkart Ultra Premium Screen guard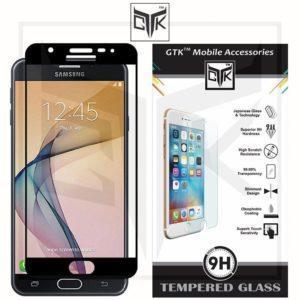 It is a bit costly as compared to other offerings but it a premium product and comes with a perfect fit. The company ensures that the screen guard will not decrease the quality of screen as it is 100% transparent. It has 2.5D curved edges which look cool. You can buy it for 499 Rs.
Pros
9H hardness and Nanocure technology protect the phone from getting scratches.
Precision cuts for sensors and cameras.
Cons
Samsung EVO Plus Grade 1 32GB SD-card
It is one of the best deal available as generally you won't get a 32GB memory card for a price of 743 Rs. It is a Class 10 memory card which means you will experience transfer speeds up to 95Mbps. Additionally, it comes with an adapter and on sale, you can grab for around 650 Rs.
Pros
Class 10 SD-card gives fast transfer speeds.
Comes with Adapter.
Cons
This is our list of best accessories you can but for your Samsung Galaxy On NXT, this list includes products for all kind of consumers, if you find it helpful then stay tuned for further updates.