We had recently reviewed the Asus Zenfone 6 which is commonly known as the Asus 6Z in India, and the reader showed a lot of love on the article and asked us to review some more products specifically power banks, and thus we decided to review one of the best power banks available and therefore we went on researching about the best power bank available and we found out that Ainope has been offering a massive 10,000mAH Powerbank which is quite small in size and thus attracted me and therefore I decided to buy it and test it out myself, So here I present you the review of the AINOPE 10,000mAH Powerbank.  Powerbank is one of the most important accessories of a smartphone, and it comes in handy while traveling, and emergency situations when the phone's juice is running out of charge, and thus, keeping a god power bank is necessary.
AINOPE 10,000mAH Powerbank Review: Pocket-Sized yet Powerful!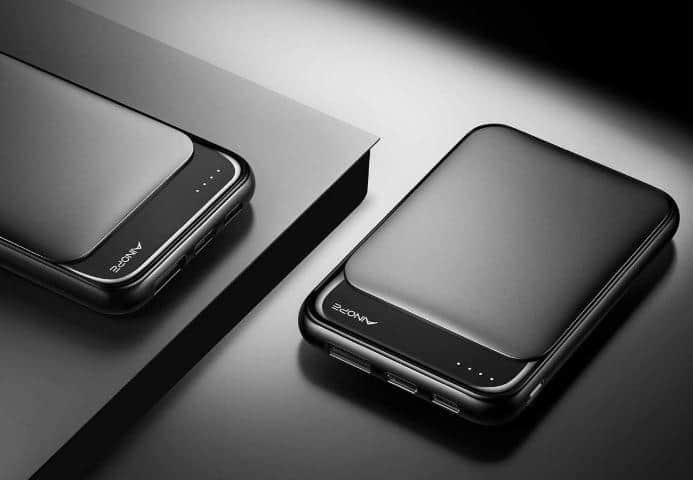 The Ainope 10,000mAH Powerbank is a professionally built powerful and compact power bank which also has a LED display which is claimed by the company to show accuracy even up to 1%, which is quite interesting, while the drawbacks of this LED indicator include loss in battery life up to 5% when charged completely. It is built as a rectangular slab that is made out of plastic and includes a matte finish and rounded corners to prevent scratches. The power bank has a black circle pattern on the front and back interrupted a small LED display as discusses earlier and by some straightened ridges to ensure that the power bank won't slip out of the user's hand. The power bank is quite small in length and breadth but has a quite bulk on it as it houses the massive 10,000mAH battery inside.
Ports and Specifications:
The power bank measure about 3.74 x 2.46 x 0.93 inches in size, houses a 10,000mAH capacity battery which is around 37wh and offers decent battery backup, it weighs about 195g in hand and feels somewhat bulky. It can be charged (Input) via a 1 x USB-C (5V and 2A) and 1 x Micro-USB port (5V and 2A), the output ports include 2 x USB-A ( (5V and  2.1A and 5V and 1A). The disappointment here is it doesn't support output via the USB-C port, which is the demand of almost all the new-generation devices. The phone has a power button on the right, which feels quite sturdy. The two USB ports on the device can simultaneously charge up to two devices via (3.1A output), and the Powerbank can also recharge itself by using the same micro USB port in between the two type-A USB ports on the device.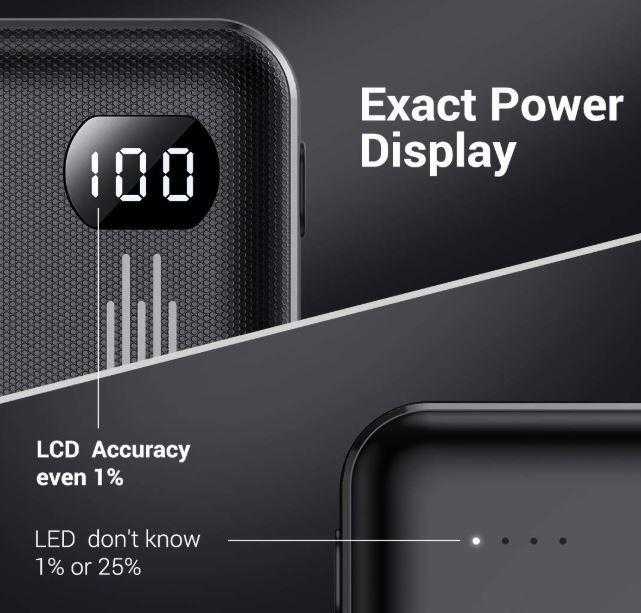 This AINOPE Powerbank has a mid-sized battery capacity of around 10,000mAh (37Wh), but it is rated somewhat above 6,000mAh, precisely around 6,300mAh, which feels quite less as these days phones are coming out with massive battery capacities of 5,000mAH and even 6,000mAH. The reason as explained by the company for the smaller battery is the battery's working voltage which is about 3.7V and, considering that the USB output is 5V, it has to raise the output of the battery which will eat up some of the battery capacity from the 10,000mAh, leaving approximately 7,000mAh available. To add, the manufacturer claims that even the circuit board requires around 15% from the battery capacity, therefore finally leaving only 6,300mAh available for the devices.
To check how many times the power bank could charge my phone, I tried it with my Asus Zenfone 6 which has a battery capacity of 5,00mAH, and it could just charge it once fully, On the other hand, when I tried it with my OnePlus 5T, it could charge it around 1.5 times approximately. The Ainope portable charger does not support the Qualcomm Quick Charge feature, so charging the phone from 0 to 100% took about 2 hours and 20 minutes. Since this is a 10,000 mAh power bank, recharging its battery will take a long time, and, during my test, it took about 14 hours to go from 0 to 100%.
The power bank has been marketed a lot and has been advertized, clearly the battery capacity doesn't look pleasing, but  there are quite lots of different varieties of  10,000mAh or more than it portable chargers available in the market from but AINOPE has tried to appeal the people by providing a compact size and useful LED display that offers accurate readings of the battery capacity remaining and with the moderate price tag, AINOPE Powerbank offers a decent display and thus is worth taking it into consideration before buying any other power bank.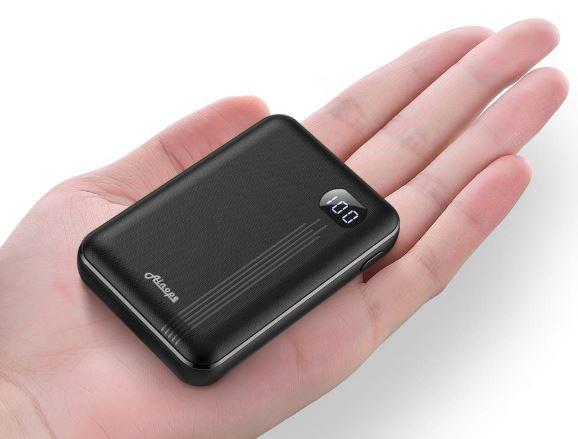 The device has been made with keeping in mind the support for intelligent chip technology, which intelligently works to determine the type of devices that are connected to the power bank, and then automatically selects the charging speed, which will be suitable for almost all the devices. This also ensures the user that he has protection against overcurrent, overvoltage, and all other basic requirements and so forth. All the electronic devices connected to this power bank will be protected, so this will prevent it from all kinds of electrical incidents and won't cause damage to your device.
Check AINOPE 10000mAh Power Bank
At last, this power bank has been made with all the rules and regulations followed, has been CE and FCC certified. Their arent many things included in the box as extra's. AINOPE just includes a micro USB cable, which is too short in length. The power bank also comes with a one year warranty.