At last WhatsApp's most awaited storage management feature is now available in its latest beta update. So what this allows you to do is to have more fine grain control over your storage. Moreover, now for your conversations, you manually delete the whole chat along with its media or by selecting multiple messages with the specific media.
In this new setting on which you can reach out by navigating through Settings => Data and Storage Usage => Storage usage. You can see all your chats being stacked with their respective storage usage on your device is shown to you; from larger size media to a smaller size in descending order.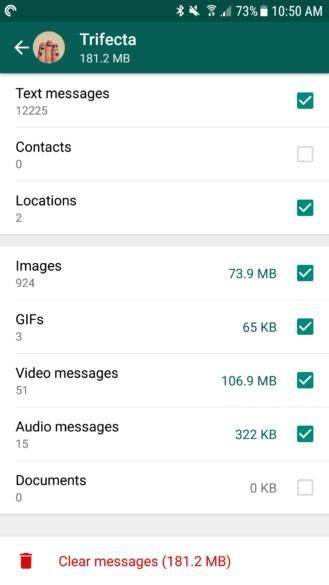 Moreover, with just one tap on any of the contacts in WhatsApp will display a complete stats of what media is munching; how much storage space on your device. This includes for images, videos, Gifs, documents, locations and audio files as well. Furthermore, if you have a look at the bottom area; there's a manage messages option below for selecting any specific messages of any type.
So, with this WhatsApp has given granular control over your storage space, to keep monitoring what's eating what. Moreover, now its also available on Android as it was already present on Apple's iOS since early Feb 2017. As soon as the beta version is thoroughly tested; Whatsapp will start a global rollout of this feature in its final consumer update.
If you cannot wait to try this feature, just head over here to join in for the beta testing program and WhatsApp Download Beta, else download the WhatsApp APK update straight from here.