Do you use WhatsApp for chatting with friends and, family? Who doesn't? Well, this is the generation in which a newly born baby knows how to touch an Android smartphone. Barely will you find someone who doesn't know about the WhatsApp?
But wait! Are you aware of amazing WhatsApp hacks and tricks? Don't need to be confused if you don't know. Today, this article will help you to find out the most exciting 10 WhatsApp hacks and tricks of 2017.
1. Format WhatsApp messages
Yes, now you can format your WhatsApp messages and send to anyone just to impress them. This amazing trick works perfectly on any android cell phone. Now you can *BOLD* format your message just like the text in Word processor. The method is simple and easy to apply.
Just put the asterisk *TEXT* before and after the text and here you Go! You will have your format WhatsApp message TEXT.
You can italicize _TEXT_ just by putting the underscore, and here you go! You will get an italicize font style message TEXT.
2. Web Browser WhatsApp
If you want to use your friendly social app on your web browser, then there is straight forward and easy trick for this.
You can easily use WhatsApp with the help of whatsapp.com in your laptop web browser. You need to Open WhatsApp on the device you are using right now and click on the button "OPTIONS" at top right-hand side.
Now open the WhatsApp from the web and just scan the code (QR) using cell-phone device which will be shown on your laptop/PC.
Once your phone is connected to PC's WhatsApp, you will be able to start reading and sending the messages.
For logging out from web's WhatsApp, simply go back to OPTIONS> Web Page and then choose an option of Log out from every device.
3. Conversation backup to email
If you want to keep a backup or a copy of your friend' chat or chat conversation to your email, then the WhatsApp trick is simple.
To go the chat box for saving the conversation to save
Click on OPTIONS, More and then Email Chat
There are two options for you whether you want to keep a backup of conversation with media or even without media is your choice.
You can backup up to 40,000-45,000 messages.
4. Tag Friends and Quote Messages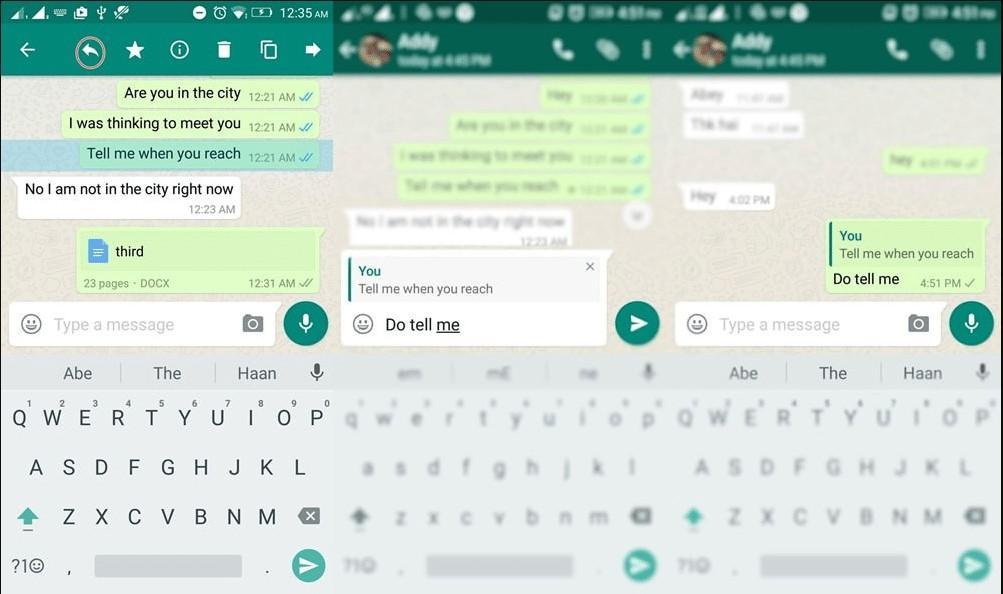 Now tagging is much simple and possible in group conversations. This WhatsApp trick is simple to apply:
Just tap on the message according to the name of a person that you want to tag for a particular message.
This can be done by using @ mark after tapping and holding the message of a particular person.
5. Hide WhatsApp Media from Gallery
The best WhatsApp hacks and tricks of 2017 are in this article, but the most highlighted one is how to hide WhatsApp media from the gallery. This is much simple and easier.
Note: This trick is only workable for Android cell phone.
No doubt that you get a bundle of messages on WhatsApp daily including videos and images. Are you getting tired of all these pictures? Well, we have a solution for you. If you don't want incoming media shown in your gallery, then hide it. Yes! Hide it.
The trick is simple and applicable:
Open your phone File Manager and browse for internal storage WhatsApp
In Internal Storage WhatsApp>Media and then Rename "WhatsApp Images" and "WhatsApp Video' folders simply to."WhatsApp Video" And here you go.
You can see your WhatsApp media in a file manager. Please note (.) there is a dot before ".WhatsApp Video" so be careful while applying that trick.
6. Keep Notifications away from Lock screen
Your WhatsApp notifications can easily be pop up on your phone locked screen. To prevent your messages being read by someone, there is a simple WhatsApp hack for that.
To disable the lock screen notification go to your cell phone's Setting>Apps>WhatsApp>Notifications and then toggle off Lock Screen Notification.
7. Hide Personal Chats from Conversation List
If you don't want to delete your chat thread, but you even don't want anyone to read it either, the best hack is to hide it with the help of archive option.
Just tap on the chat thread that you don't want to delete
Click the archive button in the action bar
Here you go! Your conversation will be archived, and you can easily read the messages just by clicking archived chats.
8. Hide the fact of avoiding someone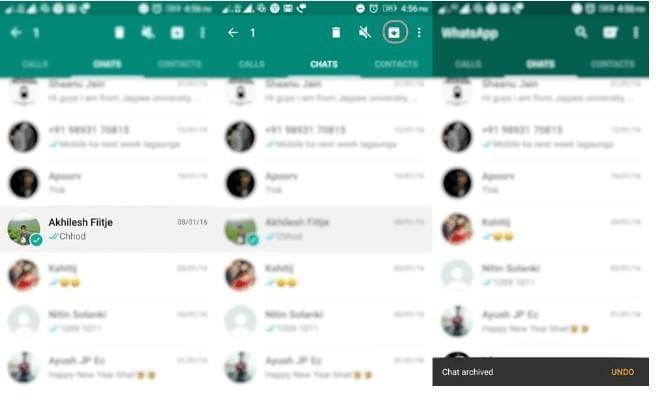 One of the most amazing hacks from WhatsApp hacks and tricks is disabling the blue ticks simply without giving a feeling of ignorance to someone.
A perfect method to avoid the fact that you have read the message without giving any clue to sender is
Go to settings>Account>Privacy>read receipt (perfect way to avoid double blue ticks)
You can hide read messages by simply switch your phone to airplane mode and read the messages without giving alert to someone. EVIL LAUGH!
After that leave the message box before turn airplane mode off again as this will keep the message unread.
9. Send the same message to all without effort
Yes, you can use a super simple WhatsApp hack to send a single important message to all. Now you don't need to add everyone in a group for conveying any important message. You can do this simply by using the option of the broadcast.
Yes, you heard right! Many times we use a lot of social media apps but doesn't know the perfect use of each function.
Just simply tap the menu button there you will find "New Broadcast" Option. This will help you to send a single message to multiple recipients, no need to create a platform for sending a message and allow the people to interact. You don't need to make much effort with endless copy paste work.
10. Share location with WhatsApp friends
You can easily share your location with your friends if you are in doubt that you are not at right place.
You just need to attach on the attachment icon, and from there you can share your location
For this, you need to have activated GPS
These are the super cool 10 WhatsApp Hacks and Tricks that you need to know and easy apply all these for a better experience. All hacks are workable and can easily be used anywhere anytime.