Tencent Gaming Buddy is an official Android emulator for Windows OS from Tencent (Yes, the developers of PUBG Mobile) that allows users to play mobile games from iOS and Android platform on a PC or Laptop. Tencent Gaming Buddy is a dedicated emulsion platform to play PUBG Mobile on your Windows PC which ensures smooth gameplay, satisfactory performance, easy to use and user-friendly on the desktop. We all know PUBG for PC costs $29.99, and we won't be paying that much amount to get PUBG on Windows OS. So to rescue from such problem Tencent Gaming Buddy is the best option.
Tencent Gaming Buddy also is known as Tencent Game Assistant is one of the best Android Emulators developed by Tencent to help you install and play the international PUBG version for free. As we have seen, a lot of users are searching online "How to download PUBG PC for free" and "Free download PUBG for PC. With this Android Emulator, you can also play other games created by Tencent. In order to play the game smoothly and to avoid unbalances, while playing PUBG Mobile on PC with Tencent Emulator, you will be playing with servers where all the other players who also are on PC.
In short, we can say that Tencent Gaming Buddy is an official and specially designed to free download and play PUBG on PC. As it is developed by the developers of the PUBG game itself, users can totally rely on it to play PUBG smoothly and effectively. It is one of the best Android Emulators to play PUBG on PC for free. After installing this software on PC, it will automatically, install PUBG Mobile on PC. It supports better mouse control and keyboard control which provide flexible and precise control while playing the game. Due to such reasons, it is called as Tencent's best emulator for PUBG Mobile. And it is self-proclaimed "best Android emulator all around the world."
Features
Control Customization Options – It lets you customize the control options for PUBG Mobile.
Play PUBG on low-end computer and PCs – Its minimum requirements to run the game on PC is lower than the original game. So, it supports to play PUBG on low-end PCs.
Cross-platform PUBG Mobile – It allows cross-platform which means it separates emulator players from mobile player to make match and game fair.
It is available for free.
It supports Chinese and English languages.
It automatically installs PUBG on PC after installation of the emulator.
No account creation or no registration is required.
Other games available through Tencent Gaming Buddy:
Arena of Valor
Mobile Legends
Clash of Kings
Clash of Clans,
Yulgang,
Idle Heroes
Ragnarok
Zing Speed
Lords Mobile
How to Download Tencent Gaming Buddy on Windows PC or Laptop
With any Android Emulator, you can download and use Android games and apps on the windows platform. These Emulators provide Android OS platform to operate android applications and games which are to be supported on Android only. Seeing the popularity of the PUBG Mobile all over the world, Tencent thought to launch an emulator, dedicated only to the games. So it can focus only on stable and smooth function on the PC. So here we will provide you the step by step guide to download and install Tencent on any Windows computer. And learn how to get PUBG for PC at no cost with Tencent Gaming Buddy.
STEP 1 – Download the latest version of Tencent Gaming Buddy from the given link.
                        Download Tencent Gaming Buddy for PC
STEP 2 – Find the downloaded .EXE file in the "Downloads" folder (file with PUBG logo on it).
STEP 3 – Double click on the setup file and you will be shown option to "INSTALL" and "CUSTOMIZE." Click on install shown in Green color. (You can choose Customize to select and browse path of installation)
STEP 4 – Installation process will start (Usually it takes 4-5 minutes). After completion, click on START button.
STEP 5 – Now Emulator engine will be downloading. (Wait for download for 9-10 minutes)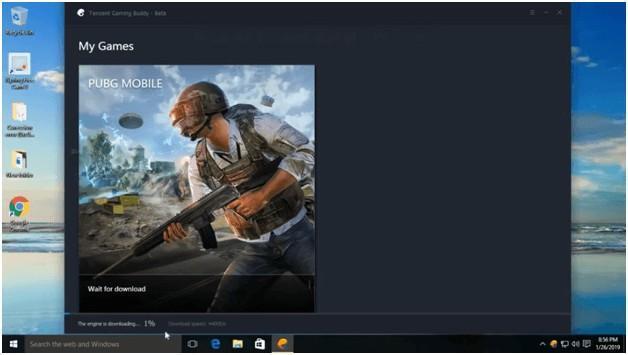 STEP 6 – After the completion of the download, it will automatically install PUBG Mobile on PC.
STEP 7 – Once all done, PUBG will be seen in MY GAMES, and PUBG can be played on PC for free.
Why you should use Tencent Gaming Buddy to Play PUBG on PC
If you ask yourself "which is the best Android Emulator to play PUBG for free on PC" then definitely Tencent is the answer. Tencent is the best emulator to play PUBG on PC. Tencent Gaming Buddy app is developed by the developer of the PUBG Mobile Game, and it will give the best performance, smooth gameplay and best control function ability to play PUBG Mobile on PC. When it is developed by the official developer, it should be the best emulator for PUBG Mobile. That's why Tencent is the best Android Emulator to free play PUBG on Windows 8.1/8/7/10.
How to Login to PUBG Mobile PC

You can easily sign in into PUBG Mobile to connect with your friends. All you got to do is first link your mobile game with a Facebook or Twitter account and then do the same on your PC. Now you will automatically connect with your friends and invite them to play with you.
Best Alternatives to Tencent Gaming Buddy:
There are also several other best alternatives to Tencent Gaming Buddy which can be used to download and play PUBG on PC.
Final Words:
So with the tutorial describe above, even a layperson can install Tencent Gaming Buddy on PC and download & play PUBG Mobile on PC. You can play PUBG on PC without paying a dime. You can share this trick with your PUBG squad and other friends and let them know how they can install PUBG on PC. If you find any trouble while installing Tencent Gaming Buddy or PUBG on your PC, you can always ask us for help, and our technical team is happy to help you every time. If you know any other Android Emulator which we have missed to mention you can tell our users in the comment section. If you have got any feedback, you can share them in the comment box.