Android has almost an app for everything whether it be to install new themes or to scan barcodes on the fly, everything is available on the Google Play Store. But one such utility that everyone might require once in a while is a screen recording app. An app which helps your record everything that's going in on your Android smartphone's display. Whether it may be used to record your apps collection or how fast an app opens up on your phone or to record that new game's gameplay on your phone, a screen record app comes in handy in such situations. And in this post, we will take a look at the top 5 best screen recording app available on the Google Play Store.
Top 5 Best Screen recording apps for Android
1)  Du Screen recorder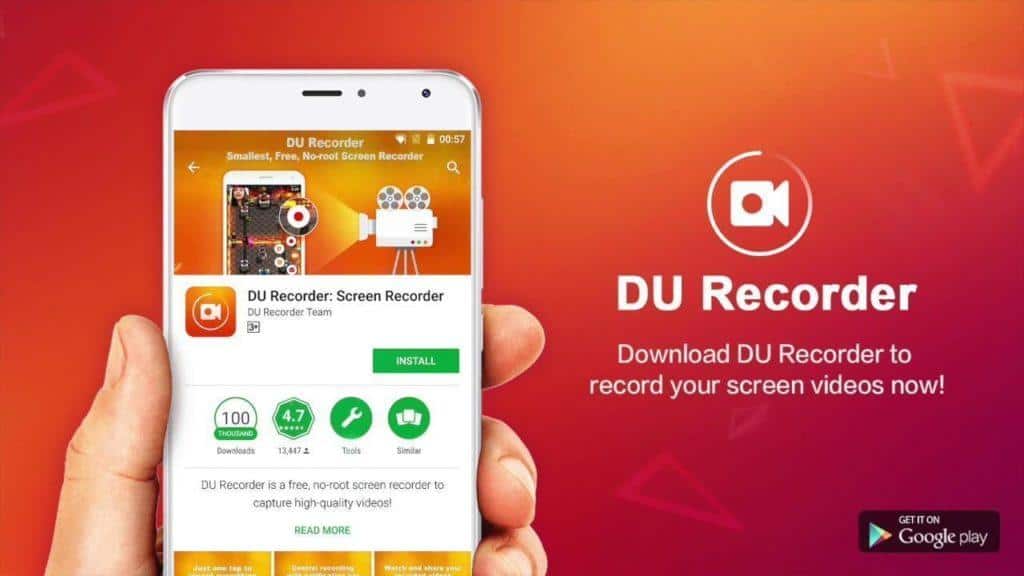 One of the best screen recording apps available for Android is the Du screen recorder, and I have also used it for recording a bunch of gameplay on my Android phone. And this was by far the easiest to use Screen recorder available for Android. It not only has one tap recording option but also comes with a whole host of settings which you can tweak on the fly without searching the app in your app tray, to change something as this one has a floating settings panel.
Highlights of DU screen recorder
Live stream your screen to YouTube, Facebook and more

Create gifs of your recorded screen

Built-in Video editor, allows to append back music and subtitles as well
Plus, you also get an inbuilt feature reach video editor as well to edit your recorded screen immediately, which is a big deal. It also records Audio just fine and doesn't have any distortions when you play your recorded content.
Download the Du screen recorder from below here
2) AZ Screen recorder
Another best screen recorder on this list is the AZ screen record, and this one also features a whole host of tricks up its sleeves and will be very helpful for this particular use case. Which is that it allows you to draw over things on your display while recording, so it is super useful utility if you're making a Tutorial video when recording your screen.
Highlights:
Easy to use Editor
Simple UI
Apart from that, it also has a video editor, a vast selection of settings to tweak your recording properties. As well as a floating menu to record and change settings. Audio recording is also pretty decent on this one. The new update includes various bug fixes for live streaming options to various social media.
Get the AZ screen recorder from the link given below
3) Screen Recorder with No Ads
Yes, you heard it right, this Free Android display recorder known as Screen recorder comes free and doesn't include any adverts within the app at all. A much more clean experience is promised here along with the standard Screen recording abilities similar to its rivals.
Highlights:
Ads Free, No ads within the app
Add image logo to the recorded video
Comes in regional languages
Also comes with a basic video editor and in the new update it now also supports the Chinese language. While it also features many other languages such as Hindi, Russian, Polish, Czech, Bengali, Korean, German, Arabic and much more.
4) Twitch
If you're into gaming and want to show your latest kill streak or the mega battle wins that you have won in the latest multi-player games. Twitch is the right option for gamers who want to share their gaming content online on Twitch. As this app is highly optimized for recording games on your Android smartphone and you can also live stream them on Twitch.
However, this isn't your typical screen recording app, as this one won't recording anything besides gameplay. So, not an app for non-gaming screen recordings. Also contains in-app purchases.
5) ADV Screen recording
Another, more advanced screen recorders found on the Android play store and has similar capabilities to the DU and AZ recorders. This one also lets you add a watermark as well as all the other standard features such as drawing on the go, adding images and text customization that comes with the above-mentioned screen recorders. Also, this isn't only meant for gaming like Twitch.
ADV also supports a bunch of languages like Arabic, Portuguese, German and Italian. But it's list is not as vast as the Screen recorder with no ads mentioned above. But this gets the job done.