Continuing our brand-new series of the OnePlus Daily News #3, we have got some fantastic things to tell you guys out, Also if you are new here, let me tell you out this series is based on all the leaks and news about OnePlus which occur daily. We aim to provide you all the news at one place so that you don't have to keep searching around websites for news. The OnePlus 7 Pro is confirmed to sport a 3x Zoom Camera, The OnePlus 7 Pro screen glasses leaked, OnePlus 7 Pro Newspaper Ad and more!
OnePlus 7 Pro 3x Zoom Camera:
The People at WIRED were able to get their early hands on the OnePlus 7 Pro, and they have posted some camera samples along with confirming that the OnePlus 7 Pro will be sporting a 3x Zoom camera. According to their review, The performance of the device in low-light, HDR and normal shots has improved significantly yet they cannot defeat the S10 Plus or the Huawei P30 Pro. Below we are attaching some camera sample to let you know more.
OnePlus 7 Pro Screen Glass:
A Popular Leaker, IceUniverse recently had tweeted the images of the screen protectors of the OnePus 7 Pro, these images show that it will be having a full-view display, no notch, and a pop-up selfie camera. The images also show the chin of the device which looks even smaller than the S10 Plus. We liked the looks of the OnePlus 7 Pro. We wish OnePlus brings this phone soon.
OnePlus 7 Pro Newspaper Ad:
OnePlus has published a full-page ad in the New York Times, revealing the key design of the OnePlus 7 Pro and inviting everyone to attend the people to the launch event. The newspaper ad reveals that the design will not have any bezels and notch, which is just a marketing term used by the companies.  The ad claims that it will be the best phone ever heard by people.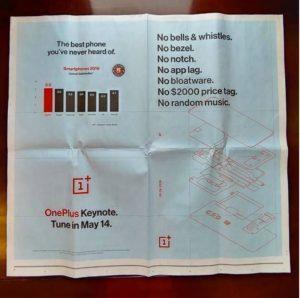 OnePlus 7 Dynamic Display:
According to a post tweeted on Twitter, the OnePlus 7 Pro's Display Refresh rate won't be fixed to 90Hz, the users will be able to change the refresh rates between 60Hz and 90Hz. This will be a significant upgrade from the previous years OnePlus 6T. Comment down below, does this matter you in any way?
OnePlus 7 Series Giveaway:
Amazon, in order to increase the hype of the OnePlus 7 Pro, has announced a giveaway of a OnePlus 7 Series Phone, to try your chance what you need to do is retweet the original tweet and click on Notify yourself for product notification. So everyone tries your luck!