The Official Motorola China website has accidentally posted a Banner of the upcoming Flagship Moto Z2 force and new moto-mods. We can see that the Moto Z2 Force will be featuring Dual Cameras this time and the design of the rear panel is quite similar to the Moto Z2 Play which was launched earlier this year.
It will sport the same 5.5″ display and the camera bump from original Moto Z, as it needs to adapt those Moto-mods modules behind it. The 16 pin connector is same as earlier with little cosmetic changes around the connectors layout area which are a bit more curved at the sides, same buttons placement like OG Moto Z but we still don't know whether this will have a 3.5mm Headphone jack as the Moto Z is super thin.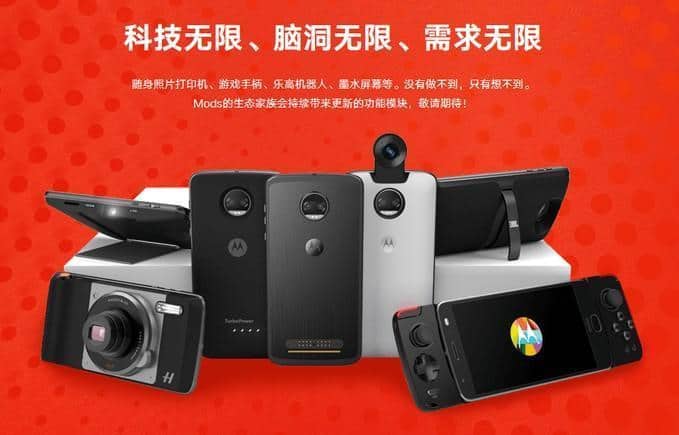 Let's see if Motorola can manage to add a headphone jack this time around, and they did manage to add one on the Moto Z2 Play(5.9mm) which is as thin as the earlier Moto Z(5.2mm) flagship. We also have here is the New Gen Moto-mods, like the Gamepad
What we also have here is the New Gen Moto-mods, like the Gamepad Mod, JBL sound boost speaker 2.0 mod(6 watts, dual woofer speaker), the old Hasselblad True Zoom Mod (10x zoom), New 360 Camera, Portable Projector and a lot more.
Moto Z2 force will have the Motorola Shattershield technology as well, powering the device will be the latest from Qualcomm that is the Snapdragon 835, 4GB or 6GB of RAM, 64GB of storage and with SD card support. The rumored device will have a 5.5″Quad HD Super AMOLED display.
Motorola is holding an event on 25th July at NYC; we believe this is being organized for the launch of Moto Z2 force and new Moto-mods or the Moto X4 as well. (Moto X 2017).
Source: Motorola Mobility China