The Lenovo Owned Motorola, after the success of Moto G4 and Moto G4 Plus, is back again. This time surely with a Bang, The latest beast From the House of Moto Has been Named Moto Z Play, And Today We are Going To Take a look at this Promising 5.5 Inch modular smartphone And let's see what the Device has to offer.
Update: Moto Z Play will get Android 7.0 Nougat update in January 2017, However, a beta rollout may begin in December.
Note: Moto Z Play Unlocked edition is now up for sale on Amazon. The unlocked variant of Moto Z Play is priced at $399 in the USA. The $50 price cut on Moto Z Play(Unlocked) is only for a limited time.
You can also check out the Oreo TV, OLA TV, Pikashow, Showbox, MovieBox, Cinema APK, Typhoon TV, RedBox TV, CotoMovies, and ThopTV for free online streaming on your smartphone and Android-based TVs.
Buy Moto Z Play – Lunar Grey – 32GB
Moto Z Play is now available to buy in India on Amazon and Flipkart. The smartphone is priced at INR24999 in India. On the first sale, MotoMods will be available at a discounted price.
Buy Moto Z Play from Amazon India(Recommended)
Moto Z Play A Quick Look at the offerings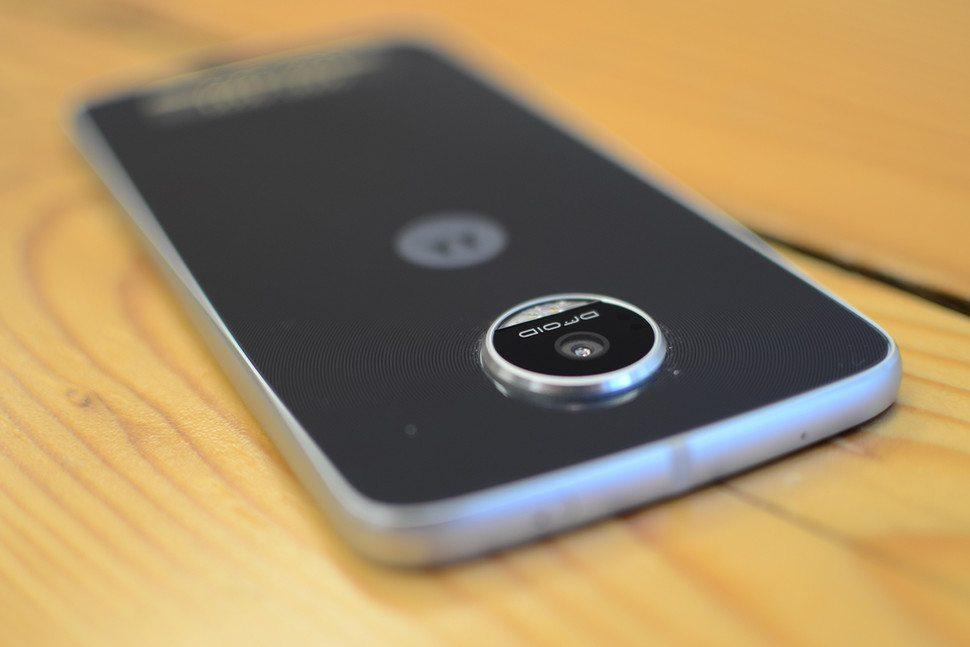 The Motorola Moto Z Play is a 5.5 Inch AMOLED lit Smartphone with full HD resolution, and it's powered by an Octa-core Qualcomm Snapdragon 625 processor and 3GB of ram to handle all the tasks with ease. The phones come with 32GB of internal storage, which is expandable to
The phones come with 32GB of internal storage, which is expandable to 2TB with a micro SD card. If the Photography Aspect of the device is taken into Consideration, You rest assured that you won't be disappointed at all as the phone comes with a
If the Photography Aspect of the device is taken into Consideration, You rest assured that you won't be disappointed at all as the phone comes with a 16 Megapixel Primary Camera and A 5 MP camera on the Front, which is enough to cater to all your video calling and Self Clicking Needs. The Moto Z Play would Also Support MotoMods like It's bigger Brother.
The Moto Z Play would Also Support MotoMods like It's bigger Brother Moto Z. The Phone Will have a 3510mah battery, which the company states is enough for 50 hours of mixed usage. Also, The Moto Z Play supports TurboCharge, and the phone would be shipped along with a turbocharger, which will charge your Moto Z Play in very little time.
Moto Z Play Droid Edition (Motorola USA website)  Moto Z Play (Motorola, UK website) Sale! Save $50 when you pair your Moto Z Play Droid with the Hasselblad True Zoom Moto Mod with 10x optical zoom and Xenon flash.
Price
India – INR26999 The USA – $408 (Verizon-exclusive Droid Edition), $449 Unlocked The United Kingdom – £369.98 Canada – $579 Europe – €399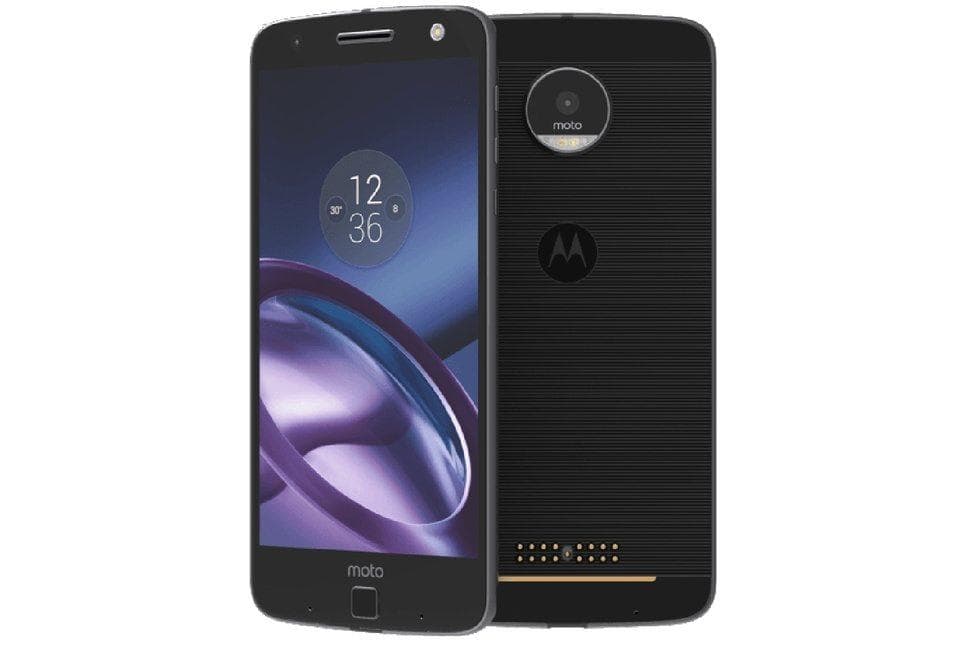 Moto Z Play Specifications
Latest Features: Moto Mods, Turbo Charging, Amoled Display, Memory Expandable up to 2TB
Release Date: 31 August 2016 (US, UK, and China), End of Septemeber (Global)
Colors: Black/Silver/Black Slate/White/Fine Gold/Sugar White
Sensors: Fingerprint Sensor, Accelerometer, Ambient Light, Gyroscope, Hall Effect, Magnetometer, Proximity, and Audio monitor
Processor: CPU- Octa-Core Qualcomm Snapdragon 625 Processor Clocked at 2.0 GHz (8x Cortex-A53), Natural Language Processor, Contextual Computing Processor
GPU: Adreno 506 (Vulkan API compatible) clocked at 650 MHz
Ram: 3GB of Ram  (LPDDR3)
Storage: 32 GB Internal and expandable up to 2TB via micro SD card.
Battery: 3510mah Li-ion (Non-removable) with support for the TurboCharge, TurboPower for up to 9 hours of power in 15 minutes of charging
Camera Features: Hybrid Autofocus, Image stabilization, Flash(dual tone), Geo-Tagging, Auto Night mode Beautification software, and Professional mode
Video Recording Features: 4K Video recording at 30 FPS
Primary Camera: 16-megapixel f/2.0 Shooter 1.3um pixel size Auto HDR
Front Camera: 5-megapixel f/2.2, 1.4 µm pixel size, LED flash,  capable of 1080p video recording
WiFi: 802.11 a/b/g/n 2.4 GHz + 5 GHz
NFC: YES
USB: Type-C 1.0 reversible connector
SIM:  Option for Single SIM (Nano-SIM) or Dual SIM (Nano-SIM)
Operating System: Android 6.0.1 Out of the box
Display Size: 5.5 inch AMOLED Panel with Water repellent nano-coating
Display Resolution: Full HD (1920*1080 Pixels)(403 PPI pixel density)
Dimensions: 156.476.46.9mm (L by B by T)
Moto Z Play Release Date In India
On the sidelines of the launch of the Moto E3 Power in India, Sudhin Mathur, Director – Mobile Group at Lenovo India, shared that the Moto Z Play will be launched in India in October; he didn't share an exact date but said that it would be available via the end of the October month.
[wp-review id="910″]
Moto Z Play- Processor, Ram, and Storage
Moto Z Play is an affordable approach by Motorola for those who want to experience the Moto Z functionality but does not have a huge amount of money to spend.
Now The Moto Z Play isn't Running On the Qualcomm Snapdragon 820, which is powering the Moto Z, but instead, Motorola has coupled the device with 3GB of Ram with Qualcomm Snapdragon 625 SOC Handling All the Tasks Under The Hood.
The Cpu has 8 Cortex A53 cores and has done a pretty great job in handling CPU-intensive tasks. The internal storage capacity is 32GB, which is expandable up to 2TB with the Help of a micro SD card. The phone performed well compared to The Moto Z, and it should definitely be on your Bucket list if you are looking for an Affordable Phone that can handle all your day to day tasks with ease and have that "Wow" factor to it too.
Read: Moto G5 Plus Price and specifications revealed.
Moto Z Play – Display and Camera
The Display on Moto Z Play is a 5.5 inch Full HD AMOLED Display, which is as crisp and sharp as its High-End brother. The Moto Z., The AMOLED Technology, ensures that every Pixel is Bright and bold. Due to this technology, the processor can light up an individual pixel to show a particular piece of information without affecting the Phone's battery life. The Moto Z Play doesn't disappoint when it comes to the Camera.
The Phone features a 16-megapixel shooter on the back and a 5-megapixel camera on the front. The camera features of the Moto Z Play include Hybrid Autofocus, 4K Video recording at 30 FPS, Geo-Tagging, Auto HDR, etc. The Camera Performance, when Tested Under Several Conditions, Proved to be Even Better than the Moto G4 Plus, which also features a similar Camera Setup.
Moto Z Play – Battery and Turbo Charging
The Moto Z Play features a 3510mah battery and will be shipped along with a Turbocharger, which will be able to give you 9 hours of battery life with only 15 minutes of charging. Motorola Stated that The Device would last up to 50 hours under mixed usage, which seems to be likely true, but if you are a heavy user or a Gamer, the Phone will last a day or a day and a half for you. With battery-friendly Cortex A53 cores, the phone really lasts longer than expected. The screen time of the Moto Z Play is 9-11 hours with mixed usage. But all those things aren't going to be the selling points of the Moto Z Play. What makes it unique is its modular design, which means that the Moto Z play supports the Moto Mods.
What is MotoMod?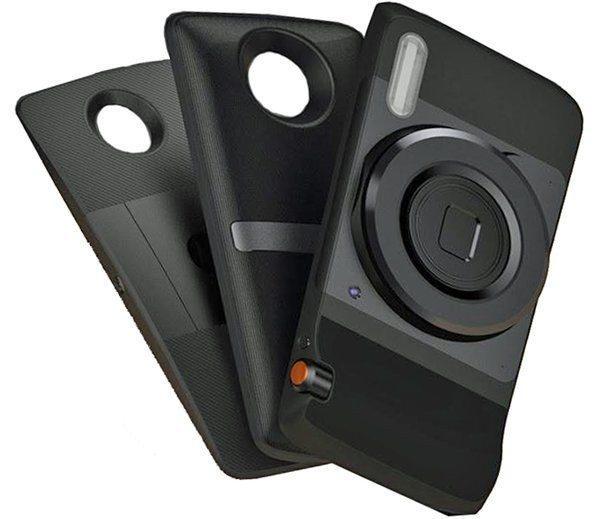 The Major Highlighting feature of the Moto Z, which created a buzz worldwide, was its support for The Moto Mods. To describe MotoMods in Simple terms, we can say that the Moto Mods are basically a set of several accessories that can be attached or paired with a device to increase its functionality to a certain extent.
The new Moto Z Play also supports The Moto Mods natively. Even though there are only a few of them currently available, Lenovo has been fully assured that there will be several new mods available in the coming future, which will help increase the device's functionality in various aspects. For example, there is currently a Moto Mod called Hasselblad True Zoom, which is attached to the back of the device and increases the device's optical zooming capabilities to a larger extent.
Moto Z Play- Price and Release Date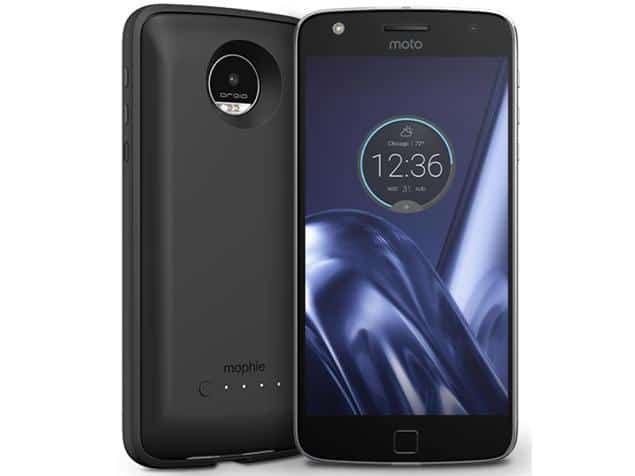 Only a few Months Back, the Moto Z was officially revealed by Lenovo, the Phone grabbed headlines for its modular design with support for Moto Mods, and Now the Motorola has an affordable solution for those who wanna experience that "Wow" factor and doesn't want to spend a hefty sum for it.
The Moto Z Play was released on 31 August 2016 at the IFA Berlin event Lenovo and the Device is Visibly similar to the Moto Z. However, The Moto Z is a lot powerful than the Moto Z Play; the Hands-on Review Shows That The Device is on Performed well under Several tests thrown at it. Moto Z Play Droid Edition was launched in the USA on 8th September 2016, priced at $408, and currently available to buy on Motorola's official website and Verizon wireless website.