Samsung's most selling mid-range smartphone from its J series is undoubtedly the J7; it has been quite successful, providing the users with a big screen, fingerprint sensor, good battery life and decent build quality.
And to keep it as fine as it was on the first day, you need to protect it from day-to-day usage, saving it from accidental drops, slips, scratches and you also need to protect its front glass, if you don't want to have scratches on your entire screen.
Well, another reason you need to keep your phone covered with all these cases and tempered glass because, if you need to sell your device you'll find it easy to sell it for a much higher price if it's in excellent condition. Which can be achieved by taking good care of it and using cases, covers, and other accessories with it.
Here, in this post, we talk about some best cases, covers, tempered glass and more, however, we'll have two categories for cases which includes rugged cases while other cases are just for aesthetics.
So without any further ado, let's check out the Best Cases for Samsung Galaxy J7.
Best Samsung Galaxy J7 Cases
LK 
 Armor Defender Protective Case
This case is one good looking rugged case, which provides the same excellent old robust lifestyle protection while looking good. Made with dual layers of hard TPU material and features a circular pattern for better grip, which is essential while holding it. Front lip also has some decent amount of height, to protect the face. This retails for around $4.99 to $9.99. If you want to buy the best case for Galaxy J7, this should be on your list.
Pros:
Stylish Looks
Rugged design
Front Lip for screen protection
comes in various colors
Cons:
Adds some noticeable thickness
Phonelicious Slim Fit Heavy Duty Case
Another stylish contender, which provides the same heavy duty protection from drops with style. The TPU material irons out the little shocks when dropped, ensuring total safety from all sides. It's designed to feel big hand has good tactile buttons, for the power and volume keys.
Pros:
TPU and Polycarbonate materials improves durability
Stylish designs
Available in different colors
Slim fit
Cons: 
CoverON Armor Belt Clip Hard Phone Cover
The construction of these rugged case is exceptional with Silicone inner layers for a softer protection on the inside, while firm polycarbonate on the outside ensures, the shock from the drop doesn't filter inside to full extent. This also comes with a kickstand.
Pros:
Exceptional build quality(

silicone and rigid polycarbonate layer)

Comes in various Neon colors
Kickstand
Cons:
Buy CoverON Armor Belt Clip Hard Phone Cover
LK Crystal Clear phone case
Preserving the rear look of your device is this crystal clear case from LK. Features a great design with buttons as diamond-shaped, while the side frame will act as a bumper to protect against damage. Constricted from tick silicone, this case is ideal for if you want decent protection which also preserves the look of your J7. If you're going to buy the best clear case for Galaxy J7, this one is our pick.
Pros:
Clear case
Silicone construction
Tactile buttons
Cons:
Rear ridges can be obstructive
Incipio DualPro Case
This Dual layered case from Incipio has astonishing construction and should protect from daily wear and tear. The case is also lightweight and doesn't stretch while absorbing shocks from drops.
Pros:
Dual layered
Lightweight
Comes from a reputable brand
Hybrid design
Cons:
Amzer Back Cover
This TPU Case is made with multiple layers of Thermo acrylic foam making it highly elastic and durable to shocks. It also claims to have resistance to oil, corrosion, and abrasions, which won't make it yellow with day to day usage.
Pros:
Build with Good  materials
Resistants against stains from everyday liquids
Transparent shell design
Grippy materials
Cons:
Best Tempered glass for Samsung Galaxy J7
Gorilla Armour Tempered Glass Guard
This doesn't affect any clarity and comes with standard wiping cloths, the thickness of the glass is also standard.
Pros:
Air-bubble Proof
Scratch Resistant
2.5D edges
Cons:
Buy Gorilla Armour Tempered Glass Guard
KATIN 
9H Premium Tempered Glass 
This is a case friendly tempered glass, featuring 9H glass hardness for enhanced protection. That doesn't mean its thick; the thickness is standard, it also features anti-bubble while stretching edge to edge. This screen protector will be our choice for best-tempered glass for Galaxy J7.
Pros:
9H hardness
Anti-bubble properties
Edge-to-edge fit
Two pieces included
Cons:
Buy KATIN 9H Premium Tempered Glass 
iAnder 
Premium Tempered Glass 
It's 0.3mm thin, this is also highly scratch resistant and features hardness 9H. In this, you also get Oleophobic Coatings to prevent fingerprints and spills over it so that you can wipe liquids on it with ease.
Pros:
Oleophobic Coatings 

9H hardness
Pack of 2
96% clarity rate
Cons:
Buy iAnder Premium Tempered Glass
Best Flip Cover for Galaxy J7
Double Window Leather FLIP COVER CASE
This Bicast leather(PU) flip case for the Galaxy J7 is ideal for people on the go, as it also has separate window cutouts for Talking calls and to display time. So you don't have to flip it for these common reasons. This will be our pick for best Flip cover for Galaxy J7.
Pros:
Great design
Cutouts to display time
Cutouts to take calls
Made from PU leather
Cons:
Won't protect from significant drops
Best Memory Card for Galaxy J7
16GB, 32GB Samsung Class 10 SD-card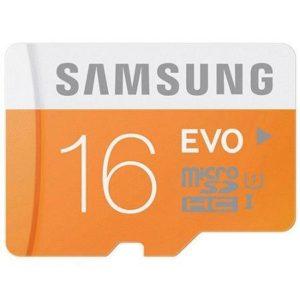 Keep in mind that, always buy memory cards from Samsung for your expensive smartphone because the company is also known for manufacturing memory components. This EVO series class 10 card sd-card has fast read, write speeds and is also waterproof. So if you are looking to buy the best memory card for you Galaxy J7, there is no better option than this.
Pros:
High read, write speeds up to 48MB/s
Reliable, won't get corrupted
Class 10 speeds
Cons: