Samsung launched its latest flagship yesterday, the Galaxy Note 8. The device will be shortly made available in several countries including China, India, U.S, UK, etc. The phone will ship by September but the pre-orders are on right now, so if you are interested in buying it then there is good news for you. Sam's Club is currently offering mouth watering deals on the Galaxy Note 8,  on pre ordering it, users will be getting gifts worth 470$ which sounds like a great deal.
Update: Along with the below-mentioned gifts you will also get waived activation up to $40 value till September 17th and the $200 Sam's Club gift card offer is valid till 24th September. You can grab the Note8 deal from here.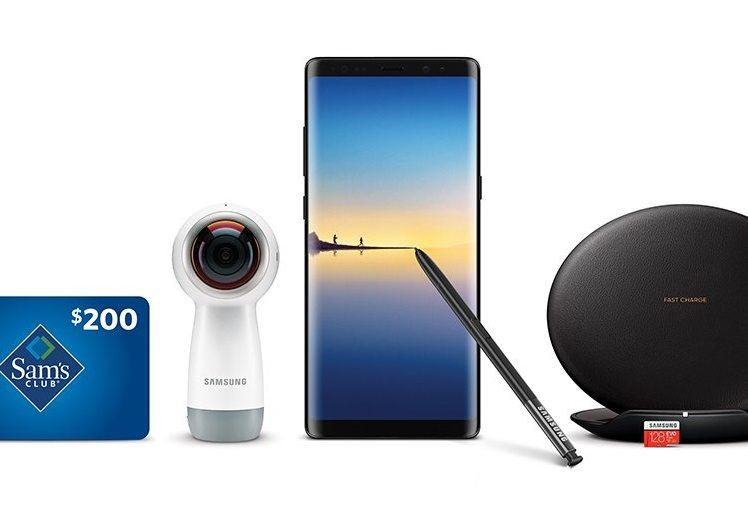 Samsung Galaxy Note 8 comes with a 12MP+12MP Dual-Camera setup with Optical Zoom, Portrait Mode, etc. but if you want to go next level, then Sam's club is offering a Samsung Gear 360 Camera as well which costs around 230$. If you are not interested in the camera and all then this deal might sound hollow to you, but Sam's club has another deal for you, they are offering a 128GB micro-SD Card along with a wireless charging dock.
If you are pre-ordering(link) the device through Sam's club, you can choose one of the deals mentioned above, and as an additional gift, the user will get a 200$ gift card. The phone is undoubtedly a beast, but as per general opinion, it is expensive than it should have been, if you can grab this deal then it may not hurt your pocket that much. The phone looks cool as it shares some of its design elements with the earlier launched Galaxy S8 and S8 Plus.
Do let us know in the comments down below, if you think that the Galaxy Note 8 is a little overpriced.