One of the most popular online multi-player game today on Microsoft X-Box and PC is PlayerUnknown's Battlegrounds. But this best selling online game undoubtedly has its limitations and a lot of complaining about the way it looks. Often in the game, it is difficult to spot your enemies because the game's textures do a stupendously good job of making them a bit hidden to the human eye. Other than that, it also lacks a proper overall color scheme, so the post-processing lacks a bit, and we'll address that issue.
Fortunately, there's a way around this problem, which will help you make the visibility as well as the color grade of the game even better but do remember that it will come with some compromises, that we'll also discuss in this guide as we begin to make PlayerUnknown's Battlegrounds look great again.
The program that does the job of making PUBG better is called "Reshade," and as the name suggests, it will enhance the overall shading quality of the game as per your choice of selection of various shading parameters. Along with that, we'll try to explore the best-known settings for Reshade, or you can also make your custom presets that suit your needs. So, let's dive in, and we'll walk you through the Re-shading process.
But first, let's take a look at Whether it is legal to use Reshade and consider what things you will be compromising by using Reshade.
Is it allowed to use Reshade in the game without getting banned?
Let's get you the official answer to this query! As you can see, the PlayerUnknown's Battlegrounds Official Twitter account responding to the same query about whether using Reshade will result in a Ban or not?
No, it is OK to use Reshade!

— PLAYERUNKNOWN (@PLAYERUNKNOWN) April 9, 2017
And you can see the Official response from PlayerUnknown's Battlegrounds being affirmative about the usage of Reshade in the game, without getting a permanent Ban.
Now with that out of the way, let's see how to download, install, and configure the Reshade software and get to work.
What side-effects or compromises you have to face?
By using Reshade in PUBG, you'll be losing at least 5 to 10 FPS, as the GPU of your PC/laptop will also have to render the new effects that Reshade will add. So, please keep this in mind if you have an entry-level GPU, say a GTX 820m.
Some areas in the World may have unreal textures.
Downloading and Installing Reshade
Fortunately, it is an easy process to download the game without any surveys or charges, and we ensure you that if you download from the link given here, you won't get any malicious crapware. And it is Free to Download, so don't hold back. Give this Reshading guide a try.
Download Reshade latest version (4 MB)
After you are done with Downloading the latest version of Reshade from the link given above, follow these easy installation steps given below to install and set Reshade for PlayerUnknown's Battlegrounds.
Installing Reshade for PUBG
Step 1:  Once you have finished downloading the Reshade.exe, click on it to open the program, and it will open up a prompt asking you to Select Game, Click on it.
Step 2: Now a file browsing window will open up, within which you have to navigate to PUBG's game directory, and we have to Select the TslGame.exe, which you can mostly find under C drive and Steam apps, try this path ==>  C:\Program Files (X86)\Steam\Steamapps\Common\PUBG\TslGame\Binaries\Win64

When you are not able to see the TslGame.exe file, try this!
If you have installed on any other drive, for instance, say, on D drive, then just look for Steam Installation and then followed by the Steamapps,  then common/PUBG/TslGames and so on as shown above.
Another way to find the TslGame.exe is to search it, is the search option when you hit the Windows button once you see the TslGame.exe file. The Right Click and Select Open File location. Then it will open up the file's location for you by navigating into all directories itself, and now you have to remember the Path and follow the same path when you open the TslGame.exe via Reshade's Select Game option.
Step 3: Next, you'll be asked to Select the Rendering API. Below that are three option; you have to select Direct 3D 10+

Step 4: After that, two prompts will be triggered, and all you have to do is just select Yes for both of them.

Step 5: Now comes the part where you select the post-processing effects used to make your game look better, and you can also spot your opponents comfortably.
Here are the recommended effects that you should use:
Vibrance
LunaSharpen
Clarity
Colorfulness
HDR (Optional)
However, this will still depend on your graphics card's ability to handle these post-processing effects. Apart from that, you can also try to mess around with other effects parameters if you are not satisfied with the result or desire a more boosted look.
Enabling Reshade effects within the PUBG Game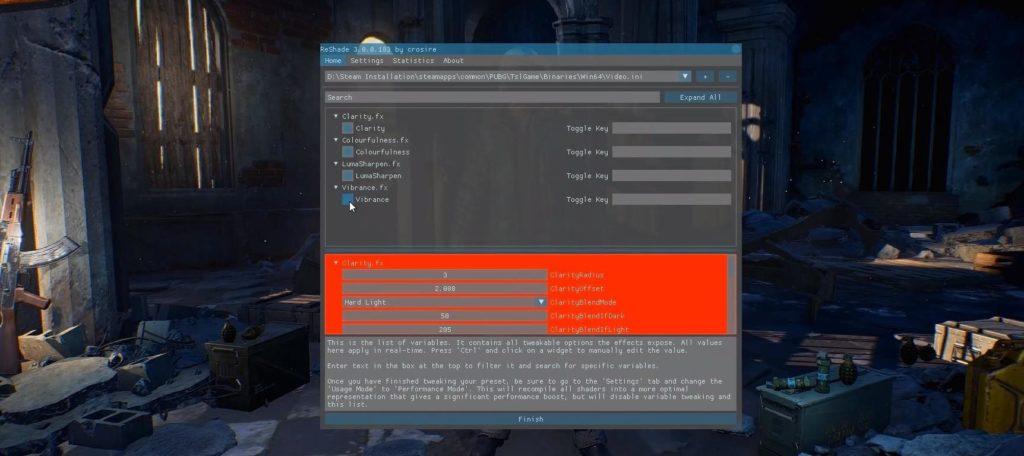 Firstly, open the Game
Next, press the SHIFT + F2 key simultaneously, and the Reshade config menu will pop up within the game.
Now at the topmost corner of the Reshade Config window, you'll see a

+

button. Click on it. This is where you name your custom Reshade preset, so start typing in there.
Once your custom preset is named, have a look below that, and you'll see all the effects you selected earlier. Now we'll enable them.
Just select the Checkbox of all the effects you have selected, and they'll be applied from now on, and every time you open the game.
Again Press SHIFT + F2 to minimize the Reshade Config window.
With that said, this was it; this is how you do superimpose post-processing effects and improve the color scheme of PUBG. You can also try various combinations of effects that we talked about in Step 5 of installing the Reshade section.
The ever-growing battle Royal game, PUBG, has also been racking up a huge number of Downloads on Mobile devices. And in this further continuation of the PUBG settings guide, we'll look at how to get the best possible frame rate and graphics settings for a better visual experience.
For this, you'll be making changes to the custom config settings. If you're not very confident about the new settings we'll be making, a backup copy of the original settings file is recommended. Also, Download and install ES file explorer on your Android Smartphone.
Step 1: Go to Es file explorer and go to this path ==> SD card > Android > Data > com.tencent.ig > Files > UE4Games > Shadow Tracker > Shadow-Tracker- > Saved > Config > Android > UserCustom.ini
Step 2: Now make a backup of the original UserCustom.ini somewhere in a new folder on your phone, so if anything happens or something doesn't work, you can restore it back
Step 3: Once, backup is done, now you will Download this new UserCustom.ini file from the link given here
Step 4: After downloading the new UserCustom.ini file, PASTE the file by heading over to this path ==> SD card > Android > Data > com.tencent.ig > Files > UE4Games > Shadow Tracker > Shadow-Tracker- > Saved > Config > Android > (–New Downloaded UserCustom. ini–)
(Note: Do not name it newly downloaded usercustom.ini, keep the name similar to the Original file)
Step 5: Now, close the ES file explorer app and open PUBG on your Android smartphone
Step 6: Next, go to game settings and set the graphics to Ultra HD, the Frame rate to High, and lastly, the Style to Realistic.
This setting should easily get you the best optimized visual experience of PUBG on your Android Smartphone.