Internet wasn't arguably a boon to Indian users due to its cost & affordability of monthly rental plans and low-quality service at the same time, till Reliance Jio came into the picture with its 4G Connectivity which drastically changed internet usage history of Indian users and also brought a new age digital revolution so far.
Ever since Reliance Jio's inception, the area of service was only confined to mobile data plans in a dirt cheap price. However, things have started changing a lot as Reliance Jio already begun to procure the Broadband marketplace with its Fiber To The Home service GigaFiber also known as Jio Fiber.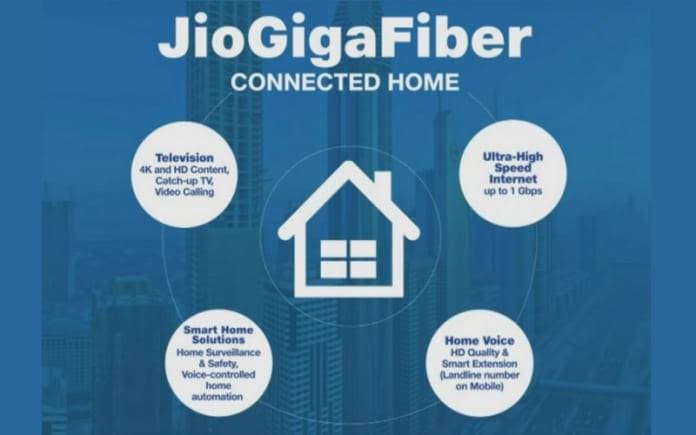 Although, Reliance Jio officially announced its Jio GigaFiber Broadband services in the past and also been surfing in the news for quite long. Reports suggest that Jio went through a testing period with its GigaFiber in several Metro cities and suburbs of India.
And the initial results were quite overwhelming which leads to getting a positive response from 1,400 cities so far. Among, a lot of hype in the market due to this Pre-launch of the service, Reliance Jio calmed everyone's anticipation with an official statement that the service of its Jio GigaFiber Broadband offering will initially be available in first, 1,100 cities of India depending upon the number of registration request received so far. And to back the statement as mentioned above Reliance Jio is also waiting to complete an investment with the existing service provider such as Hathway Cable, Den Network limited & Datacom Limited to make it a healthy business for 27,000 for local cable operators all across India.
Meanwhile, reports hinted that the very first plan of Jio GigaFiber would start from as low as Rs. 500. Where a user gets 300 GB monthly data at a bandwidth which is kept at 100mbps for first three months, though it's not officially confirmed yet from the Reliance Jio's end. Although the commercial launch is expected to happen anytime sooner in the first quarter of 2019, most probably in March this year.
However, the rollout date still remains vague at the moment. Jio GigaFiber's objective is to occupy 50 million homes in India eventually. However, initially post the launch selected users from Mumbai & Delhi circle will have access to the services. Also, according to the latest report by MSP Jio GigaFiber Gets One Step Closer to Commercial Launch as CCI Gives Nod to Acquire Hathway Network and DEN Network.
Overall, Reliance Jio GigaFiber is a Fiber To The Home (FTTH) service, which has high claims to deliver blazing fast speed fixed line broadband connection. And for the sake of clarity Jio GigaFiber's wall-to-wall FTTH service means that the wall won't obstruct the internet connectivity.