It has been a few months now since Apple has released the iOS 11 update for some Apple devices. iOS 11 comes with a lot of new helpful features, and one of them is Screen Recording which is now easily accessible by just going to the control center customization options in the settings and selecting the Screen Recording option.
However recording screen on the iPhones on iOS 10 is somewhat tricky as Apple doesn't allow it for some confidential reasons, most probably is due to sharing of videos and songs from iTunes. But there are still a bunch of apps which you can use to record a video of your screen on your iPhone or any iOS device. The following iPhone screen recording apps will help you achieve this task, be it for sharing your gameplay on youtube or be it for any other purpose.
Also, Check- iPhone 8 and iPhone X Wallpapers.
Keep in mind that some of these apps mentioned below have been removed from the App Store. So, what you can do is get the TutuAPP which should have all these apps. Just download it from the TutuAPP STORE and install them by trusting the apps when asked for it to get the iPhone screen recorder apps.
Following are the Screen recording you should use on your iPhone/iPad/iPod touch
NOTE: These apps don't require any jailbreaking
1. BB RECORDER
It is one of the versatile screen recorders as it has many inbuilt functions and very user-friendly interface. So this makes it easy to operate. It has all essential screen recording features, and top of that live screen recording is also present. Along with that, you can also mirror while recording.
Features
It can record your iPhone iPads up to 3 hrs so very good this for gamers who want to record gameplay and other live events on youtube.
You can directly share your recorded video on any social networks. And social buttons are inbuild as well.
User interface is easy to use so navigating inside the app with a breeze
You can change video quality as per your choice.
Rated as one of the best iPhone screen recorder app.
You need TutuApp to download the BB Recorder as it has been removed from the App Store.
2. AIR SHOU
One of the most famous iOS screen-recorder currently available and in fact, many mobile gamers and professionals YouTubers use this app to record their iPhone and iPads screen. It's very simple and intuitive to use. So, if you need a screen recorder which doesn't require any jailbreaking of your iOS device, then this app is for you.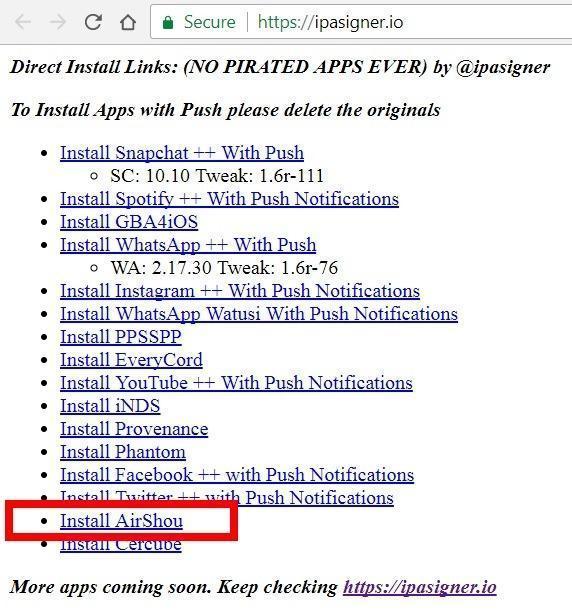 However, this app isn't available on your Apple's App store so what you need to do visit here! Then you will find the text which says Install Airshou just click on it to download the AirShou. Once it is downloaded, install it by allowing all permission and Trust it. Open the app and start recording your screen.
Compatible devices
From iPhone 4 to iPhone 6s
iPad Air and iPad Air 2
iPad mini/mini 2/3
Ipad 2, 3, 4
iPod touch 5 and touch 6
From you must be on iOS 7 to iOS 11
3. COOL PIXEL
This is a  fully fledged screen recorder and also features an inbuilt video editor. So, now you can not only record videos but also edit them within the video editor. All the essential video recording and as well as editing is done inside the single app itself. Hence you don't have to jump between apps anymore. Another question is that is this reliable, well it might have a few crashes here and there, but when it works, it's pretty reliable. By the way, you can find it on Apple's app store and also on the Google Play Store.
Features
In this screen recorder, you get a video editor, which has options to add cool looking text effects in that you can also change font-size and the text's shadow as well.
It also supports dubbing in available languages.
It is loaded with many rich filters which will make your recorded videos look more cinematic.
You can also add background score/music; this facility is made available via online searching for music, just stay away from DRM content.
This app is available for both iOS & Android.
Sharing video becomes comfortable directly via facebook, google+ and also can be shared on Twitter.
4. iRec
Last on the list is iRec, this is a paid app and is much more reliable than everything mentioned above. Moreover, it manages the resource on your iOS device very well and is still able to capture high-quality videos. iRec also doesn't require any jailbreak or such to run on your iOS device.
Features
Reliable iPhone screen recorder
Optimized for recording high-quality videos
So if for some reason you haven't updated to iOS 11 yet or have an older Apple device, these are your best options if you want to get screen recording feature on your Apple device.