The last recent update of Fortnite did not finish implementing all the changes that were expected, for which this task will be finalized soon. Maybe it was due to internal complications, or perhaps they have tried to find a new way to implement updates to the game. Hence this required the update 7.10 of Fortnite to come in two parts, and at the moment the players have received the only first part of it.
Now Epic Games has released the final version of 7.10 Update, and after presenting a few weeks ago the first content package of version 7.10 for Fortnite, which is currently the largest game on the planet, the company once again provides its loyal players with the third release of a new update with more new features implemented. Among the major new introduced items is the Boom Box for Battle Royale Mode, a powerful radio weapon that damages large-scale enemy structures and destroys newer buildings, but does not cause damage to players.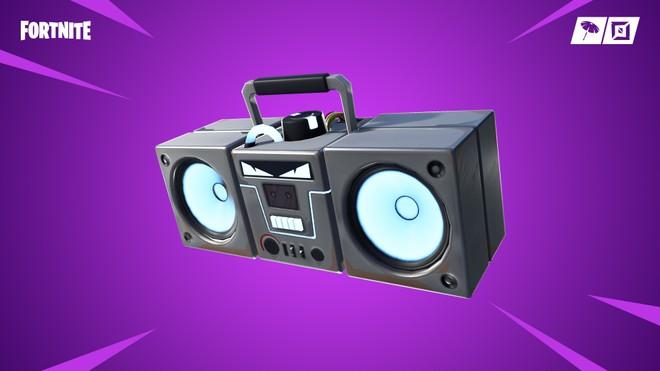 Among other new content is The Block, a new creative community with Market Town created by Bludrive and can now be accessed if you have the latest update installed. Also, new modes with limited time are presented: there are only 14 days left for the event with large team modes that change every two days and other small-time modes that updates every 24 hours.
According to Fortnite official patch notes, These are the further changes in the 7.10 update version:
Pain Train Assault Rifle
Bring the pain with this heavy hitting assault rifle, available in the Weekly Store.
Tree of Light Sword
Chop down Husks and stun enemies with the light from this melee weapon! Unlock this reward from Fortnite Weekly Challenges.
Weekly Frostnite Challenge Missions: Each week during the Frostnite event, there will be a new Weekly Challenge mission in the Frostnite zone. These zones include specially crafted challenges to push player's skills using a variety of modifiers
Weekly Frostnite Challenge 1: Slip Out – Touching snow or ice will cause players to slide. Use building to your advantage!
Weekly Frostnite Challenge 1 Quest rewards include: Challenge Banner 1 and Snowflake Tickets
HEROES
Crackshot Soldier is available as a quest reward from 14 Days of Fortnite.

A Legendary variant of the Rescue Trooper subclass.
WEAPONS + ITEMS
The Pain Train Assault Rifle will be available on the Weekly Store

Assault rifle with a slow rate of fire that packs a punch per shot.  Slow and steady wins the race!
Available in the Weekly Store from January 2 at 7 PM ET until January 9 at 7 PM ET.

The Tree of Light Sword will be available as a Frostnite Weekly Challenge reward

A slow, edged weapon with high damage per hit.
Includes a new 6th perk that stuns nearby enemies after eight hits.
PREFABS
8 Ice Castle Prefabs
5 Ice Castle Galleries including with and without snow

Ice Castle Prefabs: Sculpt your masterpiece in Creative with eight new Ice Castle Prefabs!