There're many threats online with latest exploits being developed every hour, the Internet is not a safe place anymore, and a VPN alone can't keep you away from the bad guys for a long time. There's something called as MAC (Media Access Control) address which is a unique 12 character code given to your device to identify you over a network be a local or over the Internet. So, if you have done something or you end up at the wrong place, and you have a fear of getting traced then you should take the following steps to change the MAC address of your Android smartphone.
Note:- This is purely for Educational Purposes only.
In this post, we will discuss two methods for both rooted as well as non-rooted Android users on how to change their mac address and have a better chance of preserving their privacy. Some of you might be wondering, what are the advantages of changing the MAC address on your device and following are some of the major benefits.
Benefits of changing your MAC address:
First of all, privacy is the main concern here and even people who do credit card fraud also first hide their/spoof or change their MAC address, as with the help of mac address your machine can be easily identified. Then by identifying your ISP and getting to your computer can be easily done, so to prevent any detection, changing mac address can help.
Your MAC address is publicly visible, so a smart intruder can use it and impersonate as you and start doing all sorts of illegal activities in your name, they can also use your internet connection without you knowing about it. Or could also plant a sniffer in your network, as the network would authenticate by your mac address by instead it will be hacker instead of you
Some networks could also restrict your access to the internet by identifying your mac address to access such networks you can change your mac address and start using that network again, without anyone ever knowing.
Change MAC address (No Root method)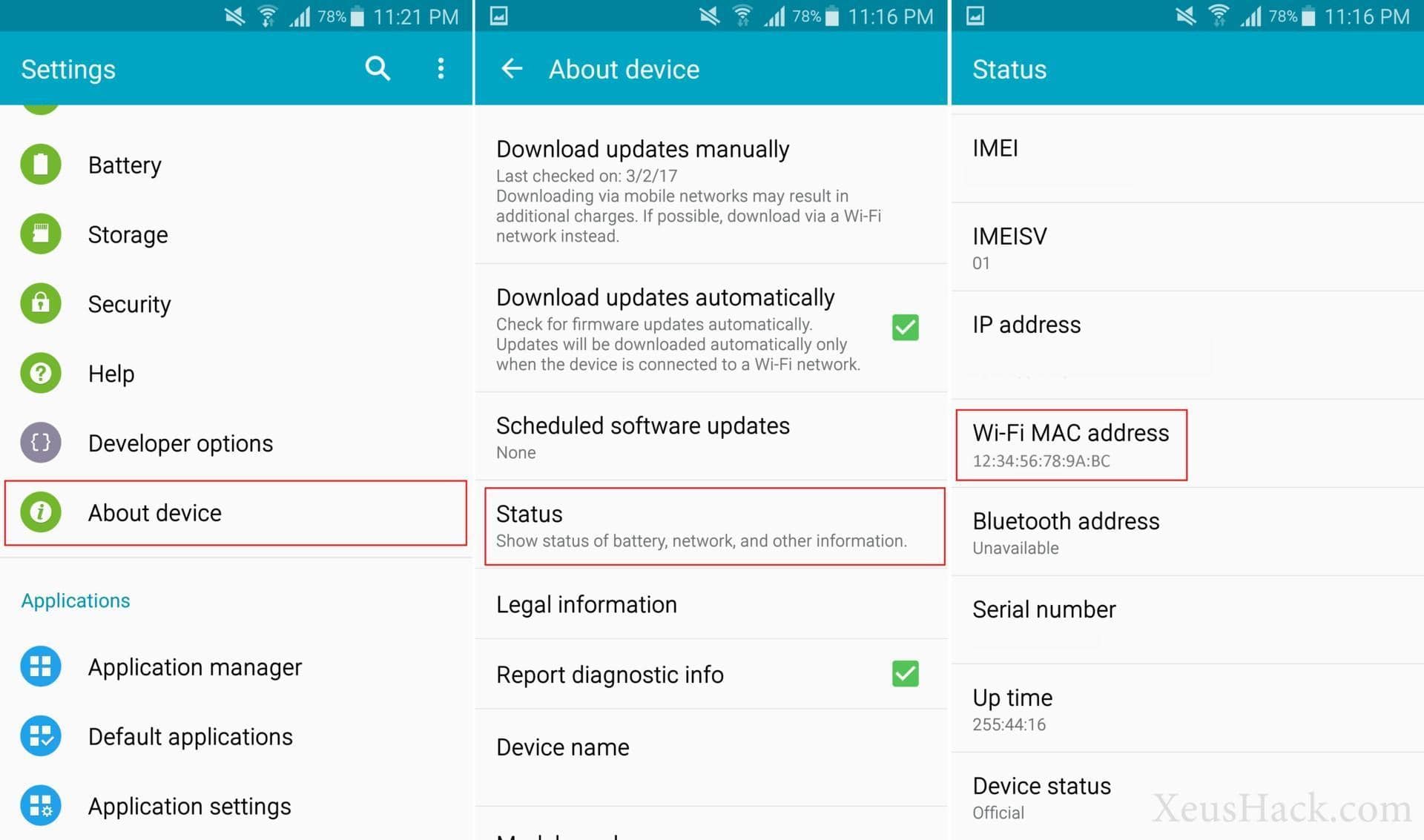 Note: mac address is usually not case sensitive, a MAC address looks like this (1X:2B:3Z:4D:5E:6Y), note that it is just an example or a format of the MAC address
Step 1: Firstly, store your current mac address by heading over to Settings > then About Phone > and then you have to tap on the Select Status option, within which you will find your current MAC address, copy that in notepad
Step 2: Now we need a terminal to fire some commands, and you can easily get one from the Google Play Store, by searching for Terminal for Android and install it
Step 3: Open the Terminal and type the following commands -> ip link show
Step 4: A lot of information will show up after this, and within that info, you need to find the mac address under either link or ether, most of the time it is wlan0 or maybe eth0
Step 5: Now we will set a new mac address, you can make up your own or use this tool given here to generate a New random mac address for you
Step 6: You have to type the following command: ip link set wlan0 address XX:XX:XX:YY:YY:YY, where wlan0 is the name of the interface, that we find out in the earlier step and XX:XX:XX:YY:YY: YY is your new MAC address which you will now change to something different, using that link given above.
Note: It is advisable to keep the first six digits of your mac address as it is because they specify your vendor details and are used in many networks to identify the vendor of that device.
One thing you have to remember is that this will just temporary change the MAC address of your Android handset, and next time you power off your phone and start it again, you have to perform the steps mentioned above again, for the change to be in effect. There might also be some cases for non-rooted users that after entering the command you will see the output of any info and if the information doesn't show up, then you are one of those unlucky users as you got a device which doesn't let you change your mac address without root access.
Change MAC address for Rooted devices
Rooted users do have a couple of options to change their mac address with ease.
Step 1: Download Chamele MAC App from the link given below and install it on your Android handset
Step 2: Launch the app, and from there it's pretty straightforward, Generate a random mac address
Step 3: And once you're satisfied with the newly generated ADDRESS, hit the Apply Mac address button, additionally you can even check the box where it says generate new MAC address whenever you restart your device, which is a handy feature.
Thus, that's how you change your mac address on your android phone whether it is rooted or not.