Ringtones are a vital part as they alert us to so the most primary function of a phone that's picking up calls, and nowadays most of us neglect them by just using the default ones and never change them, and most iPhone users keep the default ones and never change it. So, here're five ways to change your ringtone or set a custom ringtone on your iPhone 8/8 Plus and the iPhone X.
The regular approach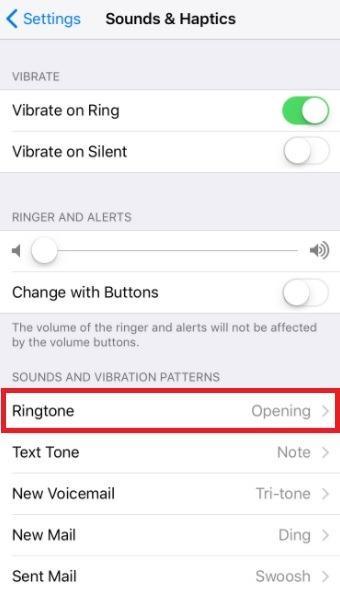 Open settings of your iPhone
Now tap on Sound and Haptics
Next, you see a field named Sound and Vibration patterns
There select the Ringtone option
And choose from the ones pre-loaded into your iPhone
Change via iTunes
One of the greatest hub for music streaming and purchasing them.
The steps are same as the regular method, just after when you reach
Ringtone options, tap on it
Select Tone Store, from the store section
In there, tap on Tones
You'll be taken to iTunes store and just get any ringtone you want from there; it will be set.
Create one with Garageband
If you don't want to buy anything from Apple's iTunes then why not compose one with this app called GarageBand.
Open the app and tap on the Add icon, which is to your top left side
Next, hit the create new song option
Now, select Live Loops as its a better fit for a ringtone
After that select a genre, you like
And now start composing hits like RedOne
After you're done, select the song by long pressing on it
And choose the share button, on the top left
When the sharing menu appears, just select the RingTone option in it
You'll be asked to name your song, after doing so, select it as your ringtone
Download Garage Band from iTunes
Setting a Custom Ringtone Via third-party apps
Connect your iPhone to iTunes on your Mac
Download Zedge from the App Store, which is one of the best places to find a plethora of wallpapers and ringtones.
Open the application, explore the burger menu on the top left, and go into the ringtones section.
Download any ringtone you want from here, and then just hit the Save Ringtone button, and your work with this app is now fulfilled.
Head over to iTunes on your MAC, and select the device you have connected to it, as it will appear on the top left corner of iTunes.
Now a menu will pop-up consist of summary apps, movies, music, etc.., just select Apps from that list.
Next it open ups a list of apps on your iPhone, in that select Zedge( because it contains the song you just downloaded and now you need it for your ringtone).
Once, you select the Zedge app, in a side window all files in that app will show up, in this case, the song you downloaded via it, will be displayed.
Now hit the Save to button from that window, and just remember the location where you're saving it.
Okay, now that it's saved(and you know the location), we need to get this into the right spot.
Head back to iTunes and open a menu from the top left corner, and select Add file to Library, when you choose this, a new window will open up.
You need to select that saved file from this window and hit open.
Next, again open your connected devices menu and hit Tones from it.
On the right side, a window will pop-up, in that first select SYNC TONES, next choose Selected Tones, and browser your downloaded song in that.
Once found, select it and hit the Apply button. (You're almost there hopefully).
Again grab your iPhone, and go to settings > sound & haptics > ringtone
Here, you should see the Downloaded song from Zedge, and just select it, and you're good to go.
These are some of the ways through which you can change a ringtone on your iPhone 8/8 Plus and the iPhone X.