Technology is great! It brings you closer to the infinite number of possibilities. Technology is making our lives better by improving everything around us. From medical facilities to entertainment, everything relies on the advancement of technology. We love to explore cool tech around us. We've been doing it for a long while now. But this is something I couldn't get over with. Recently, I came across this cool app on my iPhone which can make our pets talk. It indeed is unbelievable, but it works. Although it's an app developed purely for entertainment, it is fun and overwhelming to watch this application in action. If you are a pet parent, you must try this app, it will bring a few smiles to your face.
About the App – Pet BlaBla
Tractive Pet BlaBla App is one of a kind in the entire App Store. It is one of the most popular applications in the category of entertainment. The app is developed by a company called Tractive. Tractive's primary objective is to make pet tracking much easier than ever. The company offers tracking software for your pets in the form of smartphone applications for both Android and iOS devices. However, they also sell gadgets that act as GPS trackers for your pets and work with the applications integrated with them.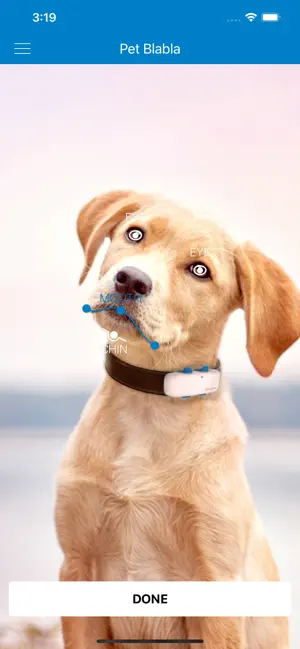 Pet BlaBla is a completely different offering. It is an app made just for fun by Tractive. The app is available for iPhone users on the app store for free. There are rumors that the app is also available for Android users but we couldn't find it anywhere. Tractive only offers two applications on Google Play Tractive GPS for Cats & Dogs and Dog Walk – Track your dogs! Just like every other app of Tractive, this one is also very easy and intuitive to use. The app has excellent user ratings and reviews on App Store. The app is rated 4.6 stars on the App Store. Once you make the app familiar with the appearance of your pet, it will make your pet talk to you.
How to use the application?
While the functionality of this app may sound very scientific and futuristic, it is very simple to use. Since the app is solely made for entertainment, it has nothing to do with the feelings or sentiments of your pets. This application is just for fun. And it is very fun to use. Here is a step-by-step guide on how you can make your pet talk with the help of this application:
Select a photo of your pet from your photo gallery or take a picture right from the camera of the app.
Mark the eyes, chin, and mouth of the animal for the AI to detect the facial features of your pet.
Type the text you want them to speak for you to record your pet speaking.
Push the play button!
The app allows you to use several video effects such as grayscale, sepia, high contrast, or even a soccer-themed effect which are provided with the application for free. You can also directly share the video of your pet to your favorite social media platforms instantly to surprise your friends. This app is not restricted to just dogs and cats. It can be any animal with two eyes, a nose, and a chin. It can even work with horses, cows, mice, guinea pigs, or any other animal. You even get integrated access to the Tractive Photos Social Network for Pet Lovers. You can share your talking pet and see other people's pets as well. Just a suggestion, the Pet BlaBla can be used to create a very clever birthday wish as well.
Download Tractive Pet BlaBla on Android and iOS devices
Download Tractive Pet BlaBla on iOS devices
Tractive Pet BlaBla is available on the App Store. All you have to do is go to the App Store or CLICK HERE to download the app on your iPhone or any other iOS device. Once you find the app, simply download and install it on your Apple device. Once you are through, open the app and enjoy the limitless fun with all the versatile ideas you have in your mind.
Download Tractive Pet BlaBla on Android devices
After a lot of searching and research and lots of misleading websites, we figured out that this app is currently unavailable for Android users. However, you can download a similar application on your Android device. Go to Google Play Store and search My Talking Pet or CLICK HERE to download and install the application on your Android smartphone or tablet. The app has similar functionality and has good user reviews as well. The app is rated 4.3 stars and has been reviewed by 119K users. With more than 5 million downloads on Play Store, it is the best application for the same purpose in the Android ecosystem.
Verdict
Overall, Pet BlaBla is a very entertaining free-to-use app. The application is very intuitive to use, the user interface is simple and friendly and it delivers some good results too. The app will surely fill you up with joy and will make you fall in love with your pet even more than ever. I sometimes use it to light up my mood and recommend using the app for endless rounds of laughter. I would rate Pet BlaBla 4 out of 5. This app is not just entertaining for the adults and pet parents, it can also be used to make the best of your kid"s time. It is a good entertainer for kids as well. Therefore, it is a fun-to-use app for all age groups.
Similar talking pet apps for iOS devices
Here is the list of similar apps compatible with iPhones and iPads with their download links. These apps can also serve the same results with different experiences and optimization.
Similar talking pet apps for Android devices
Here is the list of similar apps compatible with Android smartphones and tablets with their download links. Although there are very limited options in the Android ecosystem, there are some apps that deliver the same results with different experiences and optimization.
My Talking Pet by ShareMob [CLICK HERE TO DOWNLOAD]
Talking Animals by Friendzy Limited [CLICK HERE TO DOWNLOAD]
Pet Say – Talking Pet, Cat&Dog Translator by T&D Entertainment [CLICK HERE TO DOWNLOAD]
(FAQ) Frequently Asked Questions about Tractive Pet BlaBla
Is this app available for both Android and iOS?

The app is available only for iOS. However, there are alternatives for Android devices. You can download the app for Android from the link provided above.

Is it safe to use Tractive Pet BlaBla?

The app is listed on the App Store with thousands of positive reviews. It is completely safe for you, your device, and your privacy.

Is this app free to use?

Yes, this app is free to use.

I am facing issues with the app, how do I fix them?

You can always go to Tractive's website https://www.tractive.com/ and contact them for support at the given contact details.

I have iPhone 4, can I still use this app?

Yes! Pet BlaBla supports devices ranging from the iPhone 4 to the current generation of iPhones. However, the app performs best on ARM64 devices such as the iPhone 5s.

Are the recommended apps safe to use?

Yes, the apps are available on both App Store and Play Store. Hence these apps are trusted and safe to use. These apps are also rated well on PlayStore.