Preamble – If you are one of those game geeks who also keep knowledge and sight on what could come shortly. Now your quest for The Elder Scrolls 6 has been brought to this article, and we will not let you down as we have some real rumored information about the sixth installment of The Elder Scrolls. Since debuting with The Elder Scrolls: Arena in 1994, the series produced 5 main games and some spin-offs of the games. And last three installments have each featured two or three expansions.
The hype of the TES 6 has been high since 2018, and everyone is asking when The Elder Scrolls will be released and are searching what the release date of The Elder Scrolls 6 is. The timeline has not yet been confirmed, so The Elder Scrolls 6 could be the sequel to Skyrim or the prequel. So when the TES 6 will take place is not confirmed yet. We have 36 seconds teaser released at E3 2018. We are still in need of any information about the Elder Scrolls release date and wherein the fictional continent, Tamriel, will take place. Neither Bethesda nor Tom Howards has not said much about the game, but here are all details and everything we know so far about The Elder Scrolls 6 based on interviews and rumors about the setting, release date, and much more. Also, read the in-depth guide on everything we know about the upcoming GTA 6 game.
Update: 11 December 2020: Considering the COVID-19 AKA Corona Virus pandemic causing game delays across the board, and the developer's current work on the upcoming space RPG Starfield, a long wait until Elder Scrolls 6 isn't shocking, although it is a bit of a bummer. Game director Todd Howard has previously stated that Elder Scrolls 6 won't come until after Bethesda releases Starfield – if that's any unit of measurement.
It's Official – The Elder Scrolls 6 is officially announced.
At E3 2016, Todd Howard, director of Bethesda Game Studio, announced that the studio was working on the sixth installment of The Elder Scrolls series, although it would still be a very, very long way off. Since then, all the fans are eagerly waiting for the sixth installment. And at E3 2018, finally, Todd Howard himself showcased the teaser trailer of the Elder Scrolls 6 but didn't reveal much information.
The trailer of The Elder Scrolls is finally here:
The Elder Scrolls Release Date – What could be the release date of The Elder Scrolls 6?
Every fan has one question in mind that "when is The Elder Scroll 6's release date?" Currently, Elder Scrolls fans all around the world are dying to play their favorite game's sixth installment. At this time, there are hypes for mainly two games, GTA 6 and The Elder Scrolls 6. As mentioned earlier in this article, at E3 2016, Todd Howard, director of Bethesda Game Studio, announced that the studio was working on the sixth installment of The Elder Scrolls series. However, it would still be a very, very long way off. At E3 2017, a vice president of public relations, Bethesda Softworks, reported that no new title was in development, and they have "at least two major projects in the line" to complete before The Elder Scrolls 6. Now we know that he was referring to Starfield and Fallout 76. Fallout 76 was released last year, but the release date of Starfield has not been announced yet. So possibly we might have to wait more than 1-2 years to get our hands on TES 6.
The game's release date could be years away–perhaps not until the next generation of consoles gets released in the market like PlayStation 5 and Xbox Scarlett, and others. Seeing all the interviews of Bethesda's representatives, we have concrete feelings that the full development of The Elder Scrolls will not even start until Starfield is finished and released, which itself has no release date yet. We are given only a teaser trailer. So all this information indicates that the possible release date of The Elder Scrolls could be in early or mid-2020. Now that's a long wait, we know, but like they say, "good things take time."
In an interview, they said that Bethesda Game Studios does not want to be called a team that makes only Elder Scrolls and Fallout games. So we will be seeing at least one new Bethesda IP like Starfield marching to our screens before we get an Elder Scrolls release date. Like Bethesda's history, Bethesda only announces the release dates of games once they are almost ready to get released. So it is no wonder that we haven't heard anything substantial about Elder Scrolls 6 yet besides the teaser and some quotes from the people of Bethesda.
The Elder Scrolls 6's Development
Todd Howards showed the trailer of Starfield before the teaser of The Elder Scrolls 6 at E3 2018. It is Bethesda's wholly new original game series or franchise in the last 25 years. Todd once said in an interview that Starfield is a game they have spent years thinking about and working on it and are excited about. He also hinted that they are "they are building a game after that, and it is the one fans keep asking about." That's when we knew that he was talking about the development of The Elder Scrolls 6.
Although a while back, a grand job requirement of 20 positions was advertised on Bethesda's job website back in 2017. From Concept Artists to Quest Designers, Bethesda is really up for a grand big project. We hope that these new jobs have been announced for the development of The Elder Scrolls 6.
The Elder Scrolls 6 Setting and location – Where are the next Elder Scrolls 6 is set?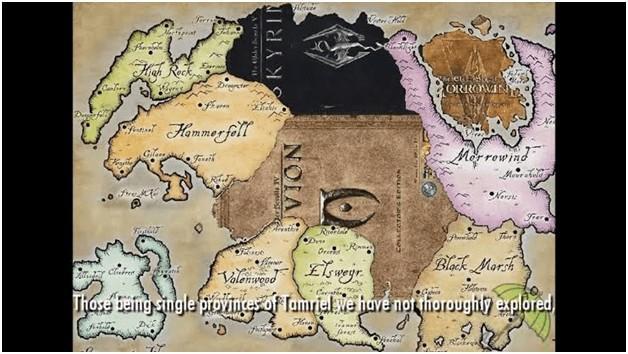 The Elder Scrolls usually takes place on the continent named Tamriel in a high fantasy world with influences from the real world phenomenon and cultures. The game is set in a mix of early pre-medieval real-world elements. Now the question wherein the Tamriel Elder Scrolls 6 will set or the setting location in The Elder Scrolls 6 game.
But with so little information in the teaser, it is tough to guess the setting of the game. Todd Howard answered upon asked about the location that the teaser has the clues about where TES 6 is set. He also confirmed that The Elder Scroll's location had been finalized a while ago. There are a lot of fans who made theories and guessing online about location. We have also tried to crack it by in-depth analysis. It could be High Rock. The teaser shows rocks, and it appears to be high, which leads us to High Rock. But since TES geography changes over a short interval of time and High Rock has been used in early games, so that's not quite enough to be sure about the High Rock.
There is a theory on Reddit that emerged after the in-depth analysis of the trailer, suggesting that there is a concrete case for it being Hammerfell. Referencing the locations of the Alik'r Desert, Volenfelli, and Sentinel City, they used these locations on a map to show that the city you faintly see in the far distance is the capital of Sentinel, which is one of the major kingdoms of Hammerfell. But other game geeks also replied on this theory that Volenfell is located in Alik'r Desert. Closely seeing the teaser, it definitely does not show desert of any kind, plus Volenfel is a Dwemer ruined rather than the imperial fort or crater you can see in the teaser. So none is still certain that will make it High Rock or Hammerfell.
If in case, The Elder Scrolls 6 takes us somewhere new, which it may not, then we are left with Elsweyr, Valenwood, and Blackmarsh, home of the Khajiit, Wood Elves, and Argonians, respectively. Elsweyr can be a tiny possibility as it has been shown up a lot. So it can be presented in whatever way they wish to. It is the homeland of Khalijiit, and it might work if they focus on one of Skyrim's most famous races. The teaser doesn't look like it could be Black Marsh. Valenwwod is also probably no, as we know it to be the land full of swampland.
There are also some speculations that the sixth installment could be the prequel of Skyrim. So there is even one left suggestion; Yokuda, a sunken continent. Yokuda has been described as a place where barren and rocky hills were matched by the combination of politics, warfare, and sophisticated agriculture. The latest teaser of the TES 6 also shows a location that looks both barren and rocky. So there is slightly a slight possibility of the next set of The Elder Scrolls 6.
The Elder Scrolls News and Story
There is a lot of news and fan-made news circulating all across the internet. Some theories suggest that some new races, which have been instinct, could be introduced in the sixth installment if it is set in the past and the timeline is changed.
Currently, there is a legal issue roaming around on the term Redfall, which Bethesda attempts to trademark. Redfall's name itself suggests the name of a post-apocalyptic thriller novel series, which hints that Bethesda might bring another phenomenally-successful post-apocalyptic game. This all is possible if the Redfall term is being trademarked for Elder Scrolls 6.
The Elder Scrolls 6 for PlayStation 5, Xbox Scarlett, and other Platforms: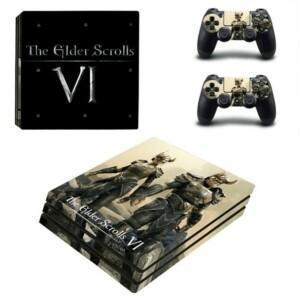 As once Todd Howard said in a conference that if he explains the ideas and things they want for the next installment of The Elder Scrolls, people think we have that kind of technology yet. So it is to keep in mind that this game will take time to get released. Before that, PS5 and Xbox Scarlett are launched, the public and developers can test the game before release.
But still, I hope that The Elder Scrolls 6 will release on PC, PS4, PS4 Pro, Xbox One, Xbox One X, Plus, and other consoles. It might be released in 2020, so it shall be available for PS5 and Xbox Scarlett, too, depending on the consoles' launch date. Bethesda also reported that they are thinking of launching the games on multi-platforms at once, so it could lead to the possibility of release on every possible game mods.
Conclusion:
Now you know when to expect the release of The Elder Scrolls 6 in the future. Till then, relax and play Starfield when released, as it will be available before Elder Scrolls. With no official confirmation from Bethesda or Todd Howard, these all are just nothing rumors. We will regularly update the latest news, stories, theories, and rumors about The Elder Scrolls whenever we will get to know them, so keep an eye on this post of ours to get the news of Elder Scrolls. If you have any suggestions or feedback or have any latest theories or news related to this game, you can share them with our readers through the comment section.