Now that Xiaomi has made Redmi the new Sub-Brand, to make its position tighter in the world, Redmi did something that Xiaomi didn't so for years. Yes, Redmi changed the back body from metal finish to a glass body which just looks gorgeous in the gradient finish. Redmi has also improved the cameras. A new 48MP Camera has been added which is just a marketing strategy according to me as seen in our testing. As usual, Redmi will be releasing a lot of updates for their phones and due to that reason, we have started this update series.
The Redmi Note 7 Pro comes with a 2.5D 6.3-inch FHD+ display with a small dot-notch on its top. The phone has the protection of Gorilla Glass 5 with an aspect ratio of 19.5:9. The phone is given power by a full-fledged 11nm based Octa Core Qualcomm Snapdragon 675 SOC which justs outperforms the 10nm based Snapdragon 710 SOC. The main highlight of the phone is the cameras. The phone sports a 48MP SONY IMX586 Primary sensor with a 5MP depth sensor. While on the front the phone has a 13MP Front facing shooter. It comes with a USB Type C Port and a massive 4,000mAH Battery onboard with support for QuickCharge 4.0. However, the box charger is just a 10W standard charger, but you can buy any Quick Charger to charge the Redmi Note 7 Pro quickly. On the software side, the phone runs MIUI 10 on top of Android 9.0 Pie.
Redmi Note 7 Pro Update Timeline:
Date
Version
Changes
30 May 2019
MIUI 10.3.5.0.PFHINXM
April 2019 Security Patch
Bug Fixes
30 April 2019
MIUI 10.2.10.0
Adds Fortnite Support
New AI Modes
19 April 2019
10.2.8.0.PFHINXM
March 2019 Security Patch
Major Upgrades in Camera Department
Bugs Fixed
23 March 2019
MIUI V10.2.6.0.PFHINXM Stable
Improved Optimization
Improved System Stability
11 March 2019
MIUI 10 9.3.7 Beta
48MP Capture Mode
Enhanced System Stability
Camera's Optimized

30 May 2019: A new update has started to be rolled out for the Redmi Note 7 Pro users, this latest update comes with the version number MIUI 10.3.5.0.PFHINXM, and brings the April 2019 Security Patch, and brings more than 10 bug fixes, hence this is a high priority update.
30 April 2019: Good News for Redmi Note 7 Pro users who love to play Fortnite on their device, Xiaomi has started to roll out a new update with version number MIUI 10.2.10.0 which brings support for Fortnite on the Snapdragon 675 Chipset, Adds new AI Camera modes as well.
19 April 2019: Xiaomi has started to roll out a new update for the Redmi Note 7 Pro with version number 10.2.8.0.PFHINXM, this update brings major changes in the camera department, fixes the screen brightness issues, adds March 2019 Security Patch and fixes an issue where icons overlapped in the notification bar.
23 March 2019: The Redmi Note 7 Pro has started receiving the MIUI 10.2.7.0.PFHINXM while the changelog just mentions that it improves optimization and stability and some camera improvements as well. The Download Link could be found in the above table
11 March 2019: The Redmi Note 7 Pro received the MIUI 10 9.3.7 Beta with an added 48MP shooting mode,               enhanced system stability, improvements in performance and security. This is the first MIUI 10 Beta that the phone has received and is expected to improve system performance drastically.
Redmi Note 7 Pro Android Q update:
Update: Redmi Note 7 Pro which is a budget oriented device will get the Android Q 10.0 Update by next year in Q1 of 2020.
As we all know the Redmi Note 7 Pro was launched with Android 9 Pie onboard, we can expect from Redmi to provide at least a major OS update. This is the time when Google is mostly to announce the Android Q soon. As the Redmi Note 7 is already running on Android 9 Pie Redmi can soon start working on Android Q as well. Before the stable update, Redmi will soon release the official Beta for the Android Q. Stay tuned
Redmi Note 7 Pro MIUI 11 Update:
As we all know the development of the MIUI 11 has started, and we all are expecting some amazing new features. The MIUI 11 will be minimizing the number of ads and bloatware as stated by Xiaomi. The Redmi Note 7 Pro will be receiving the MIUI 11 Update soon after the official launch. We can guarantee you that the Redmi Note 7 Pro will be receiving the MIUI 11 Update. The MIUI 11 is expected to release in the Q3 or Q4 of 2019. We will update you as soon as the beta, and the official update releases.
How to install the Update Manually on Redmi Note 7 Pro:
While it may take some time for all the users to get the OTA update, some users like to have the update as soon as possible. Xiaomi has also given an inbuilt ROM flasher in the settings so the users can download the file and flash it if they need to do so. So here are the steps if you want to flash the MIUI ROM manually.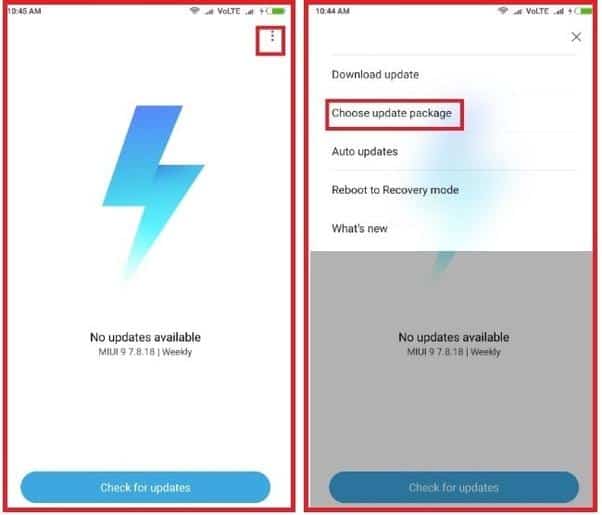 Step 1: Download the MIUI ROM for Redmi Note 7 Pro and save it to your phones internal storage.
Step 2: Open the Settings App and move to System update; this will open the MIUI Updater App.
Step 3: Click on the three-dot icon and select "Choose Update Package" and click ok.
Step 4: It will verify the package and start installing the update
Step 4: Do not try to shut down or reboot the phone while the update is in process
We will keep updating this article if any future Redmi Note 7 Pro update arrives, make sure that you keep visiting our site.