If you're hunting for some solid gaming accessories from popular brands like Razer, then your search has ended as we have spotted some compelling deals on Razer's gaming accessories. Some products on this list have seen the lowest price yet. So, its a good day for gamer's who looking to grab some gaming tools to step up their gaming prowess.
This list includes gaming accessories from Razer's elite gaming mice which are now well within reach of average gamer to its mid-range headphones available for up to 54% discount. The list is classified into audio gadgets, gaming mice, keyboards, and some other miscellaneous things such as mouse pad and game-pad. You can check all the Razer's Gaming deals on Geekbuying with this special discount link.
Best Gaming Mouse deals
1) Razer DeathAdder Wired Gaming Mouse
This mouse has three variants this one is a left-handed edition which is now available for $49.99, while the Elite edition costs $54.99 and the expert edition is now retailing for $39.99, which makes the cheapest Razer gaming mouse here.
Features:
3500 DPI Setting

3.5G Infrared

Sensor

for accurate tracking

1000Hz ultra-polling for response time of 1ms
Razer DeathAdder Left-handed edition $49.99
2) Razer Mamba Tournament Edition
Features:
16000 DPI
 5G laser sensor
Ultra-polling up to 1000HZ
3) Razer DeathAdder Chroma Overwatch Edition
Feature:
10000 DPI
OverWatch theme
16.8 million customizable colors option
4) Razer Goliathus Overwatch Mouse Mat
Features:
Anti-slip coating
OverWatch theme
Anti-fraying stitched frame construction
Razer Goliathus Overwatch Mouse Mat $39.99
 Best Gaming Keyboard deals
After proper mice that fits your gripping style perfectly, a Keyboard is the next big thing for gamers, and Razer Keyboard can make a difference with its satisfying button travel which is one of the best in the industry.
1) Razer BlackWidow X Tournament Edition
Features:
Mechanical Green Switches
Mechanical Keys
Separate multi-media keys for various functions
Razer BlackWidow X Tournament Edition $119.99
2) Razer BlackWidow Chroma V2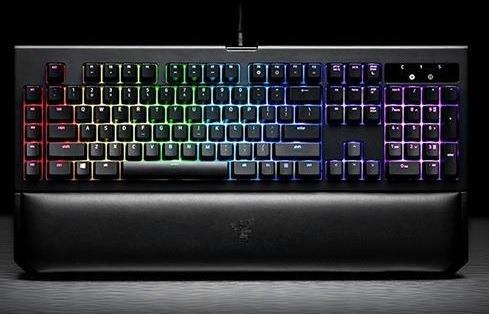 Features:
Supports 50 g actuation force
Five dedicated special macro keys
80 million keystroke lifespan
Razer BlackWidow Chroma V2 $139.99
3) Razer Overwatch BlackWidow Chroma
Features:
Tournament Grade build and keys
1000Hz ultra polling
Braided fiber cable
Razer Overwatch BlackWidow Chroma $189.99
4) Razer Raiju PS4 Gaming Controller
Features:
Four additional customizable buttons
Trigger stop switch for rapid trigger fire
Built-in Profile Toggles
Razer Raiju PS4 COntroller $159.99
Best Gaming Headsets and Speakers
1) Razer Kraken Pro V2
Features:
Retractable mic
Large, light-weight and comfy ear-cups
50mm Custom tuned drivers
2) Razer Electra USB V2
Features:
7.1 Surround Sound
Custom tuned 40mm drivers
Removable Boom Mic
3) Razer Tiamat 7.1 V2
This is the most expensive Premium headset in this list and has all the essential audio gearing as well as a specially tuned Audio controller along with customizable lighting colors.
Features:
7.1 Surround Sound
Separate master Audio control unit
Foldable Unidirectional Mic
4) Razer Hammerhead V2
Features:
Tangle Free cables
10mm Drivers
Comes Black and Signature Green
Some of this deals are available for a limited period, while some of them are available for more than ten days so, bookmark them whenever you're ready to purchase them.