5G the next big thing is here, and 5G smartphones are soon going to be in our hands.
It's human nature to be curious about what's coming next, we are never satisfied with what we have and have a constant curiosity about what's coming next.
About 4-5 years ago when 2G or GPRS was the prominent way of accessing the internet, speeds like 1MBPS seemed really fast.
But know when we are using 150MBPS + internet on our smartphones, again the question arises.
What will be the future of the mobile internet in 2-3 years?
To answer all those queries we have prepared the ultimate guide which will help you get up to date with what's happening in the world of mobile internet.
4G or LTE( Long term evolution) technology has been pretty mainstream in developed countries for some time now and developing countries have now also joined the league with access to 4G in even rural areas.
But if we are to talk about the future of Mobile internet, well we can just say that 3G or 4G was just a trailer, and the Movie is about to begin.
The next generation of mobile internet is going to change the way we access the internet on our devices.
What is 5G?
Broadly speaking till date there have 4 generations wireless broadband services and the 5G simply refers to the 5th generation of mobile wireless broadband technology.
It will be based on the IEEE 802.1 standard of broadband technology services.
Here is a very simple explanation of 5G.
Courtesy of IEEE Spectrum
We have seen, 2G, 3G and currently using 4G on our cell phones to access the internet wirelessly, with the launch of 5g we are going to have fifty times fast mobile internet speed.
Nokia seems to be leading from the front when it comes to 5G technology, the company has shown the world through "World's first 5cmWave Technology" the potential of next generation of mobile network. Here are the key points which were demonstrated by the company.
19GBPS downlink speed
Ultra Reliable
Virtual Zero Latency
15Ghz carrier frequency
The employment of widescale 5G technology is not at all an easy task and scientists and industry experts from around the world are working in harmony to find a solution for easy implementation of the network which has ultimately lead to the use of the Millimetre Wave.
Now you must be wondering what is Millimetre wave, well, in simple terms its is nothing but just a band of the wireless spectrum ranging from 30Ghz to 300 Ghz, this spectrum of frequencies have various applications and as such it can also be used for extremely fast wireless internet speeds as well.

Even though utilizing the Millimetre wave to bring 5G faster into the world is possible but it has its own several shortcomings as well, telecommunication companies are spending a lot into R&D to achive a way to use these Waves in a possible way.
Qualcomm has recently announced that it will release chips supporting next gen mobile connectivity as early as summer of 2018.
Telecommunication companies and smartphone manufacturers are working together to bring the future of the internet as soon as possible.
Some latest news hints that Japan might actually be the first country to commercially launch next generation of the mobile network along with 5G smartphones.Several telecommunication companies of Japan are working to launch country-wide 5G internet in the major cities of Japan, ahead of the 2020 Tokyo Olympics.
The Mobile world congress 2017 was all about next generation smartphones, and cellular connectivity and companies like AT&T and T-Mobile have already announced to start the 5G rollout from the year 2020 commercially.
If you think that 4G or LTE is very fast, this will blow off your Mind. With speeds reaching 1.5GBPS this network will be the fastest way to access the internet on your smartphones and the best part, it is going to be here sooner than you expected.
Now let's talk about smartphones and smartphone companies and see who will be the first one to revolutionize the way we use the internet.
Nokia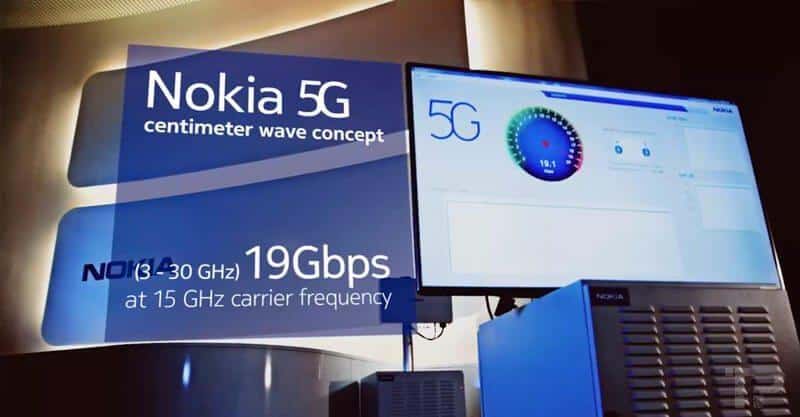 The So-called "Nokia First" has been launched to help telecommunication companies deploy 5G in some for or another for use before the network has been fully standardized.
Understanding the power and potential of the next generation of mobile internet and 5G smartphones the company, Nokia has launched quite an interesting project to boost the launch 5G smartphones.
This project shows Nokia's ambitions when it comes to 5G and there is a fair possibility that Nokia might be the first company to launch a commercial 5G smartphone.
Samsung
It looks like the Korean giant is gooing to be the first smartphone manufacturer to launch a 5G smartphone, and we think that it is going to be none other the Samsung Galaxy S9.
There were rumors that Samsung Galaxy S8 will be the first 5G smartphone from Samsung but it looks like that won't be possible.
Samsung has recorded groundbreaking mobile internet speeds reaching 1.3Gbps while using next-gen high-speed internet on a train moving at 100 Km/h; you can read more about the test here.
Here is a self-explanatory video on 5G by Samsung.
Samsung is going to be very influential when it comes to the launch of the next-gen mobile network in South Korea.
ZTE
ZTE seems to be leading the pack when it comes to 5G smartphones, the company has recently unveiled the first 5G smartphone the "ZTE Gigabit" which the company claims to be capable of handling internet speeds of even 1Giga bit per second which is almost 10-12 times faster than what we see on the current 4G internet.
A ZTE spokesperson said that upcoming 5G technology will be company's major priority as a part of company's overall global development.
The company has doubled the budget for research on 5G.
It will be interesting to see ZTE's plans for 5G internet in upcoming years.
Huawei
Huawei is also another smartphone manufacturer that is working in the development of 5G technology, the company partnered with the Candian Telecommunications company Telus to test Fixed 5G at 28Ghz spectrum.
Apple
Apple will be the company next in line to launch an iPhone supporting 5G connectivity.
The company is doing several tests regarding high-speed mobile connectivity and has managed to achieve some great results as well.So we don't think the company would want to delay launching a 5G smartphone once the technology is stable enough for commercial use.
So we don't think the company would want to delay launching a 5G smartphone once the technology is stable enough for commercial use.
So we don't think the company would want to delay launching a 5G smartphone once the technology is stable enough for commercial use.The next year Apple iPhone 9 could be the first device to come with support for the 5G network if everything goes right for Apple.
The next year Apple iPhone 9 could be the first device to come with support for the 5G network if everything goes right for Apple.
LG
LG might also be one of the first smartphones company to launch a 5G smartphone, the company has tested high-speed internet in the past and has achieved remarkable results. Following company's current flagship G series, the LG G8 might be the phone from LG to be compatible with the next-gen network.
There is a rumor floating around that LG has been testing high-speed wireless internet on their devices for a long time but the company hasn't made any public announcements about the same.
Xiaomi
The Chinese giant might be the first company to launch a budget 5G smartphone, thus bringing high-speed connectivity to a wider audience.
China was pretty fast in deploying country wide 4G network, and with companies like Xiaomi constantly innovation and upgrading launching the next generation of mobile network and 5G smartphones won't be an issue.
5G Potential
"Tech Gurus" and industry professionals from around the globe have already stated that next generation of mobile internet is going to bring 4th Industrial revolution.
The future of technology is heading towards the rise of artificial intelligence and automated tech which requires the transfer of data at very high speeds.
It would be kind of interesting to see how the global rollout of the next-gen Internet takes place.
4G connectivity became available in developed countries log ago before it was available in developing countries.
With all these companies working hard to develop the next generation of the cellular network we can say for sure that Internet speeds on smartphones are going to be incredibly fast in coming 3-4 years.
Stay tuned for further updates.